Para-athlete Tay Wei Ming crowned S'pore's first-ever badminton world champion
SINGAPORE — They had never trained together before last week's Badminton World Federation (BWF) Para-Badminton World Championships, let alone play a match as doubles partners.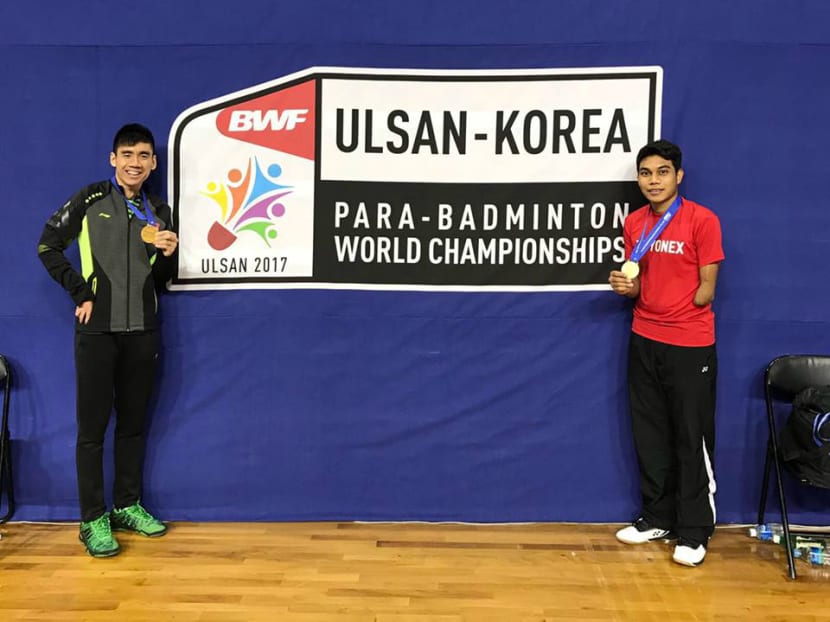 SINGAPORE — They had never trained together before last week's Badminton World Federation (BWF) Para-Badminton World Championships, let alone play a match as doubles partners.
But the 11th-hour pairing of Team Singapore shuttler Tay Wei Ming and Suryo Nugroho of Indonesia delivered the biggest surprise of the tournament in Ulsan, South Korea on Sunday (Nov 26), as the duo defeated world No 1 Malaysians Cheah Liek Hou and Hairol Fozi Saaba to claim gold in the men's doubles SU5.
Tay's world title is a first in the sport for Team Singapore's able-bodied and para athletes.
The victory was even more impressive as Tay is primarily a singles player, and the 29-year-old did not have a regular doubles partner before the competition.
The pair had only linked up at the world championships after Nugroho's regular partner pulled out from the event, and while both shuttlers had never played together before, the regular foes - who had previously met across the net at the Asean Para Games - were familiar with each other's playing styles.
The Singapore-Indonesian partnership proved to be a winning combination on the court, as Tay and Nugroho won all three group matches before dispatching their rivals in the elimination rounds to qualify for the final against the defending champions from Malaysia.
The gold medal match delivered a thriller for fans in the Dongchun Gymnasium, as the see-saw battle for supremacy between the top-seeded Cheah-Hairol pair - who had only been beaten once in their careers before Sunday - and their challengers saw Tay and Nugroho eventually emerging victorious, 18-21, 23-21, 21-18.
The gold medal was also particularly satisfying as Tay and Nugroho had earlier lost their singles matches to Cheah in the quarter-final and final respectively.
With 11 world titles under his belt, including six in men's singles, the Malaysian shuttler is regarded as one of the world's best shuttlers in the SU5 class for athletes who have upper limb impairments.
Tay was delighted to claim his first world title after winning three bronze medals at the previous editions of the world championships in 2013 and 2015.
"It really was a shock for me when we won... never in my entire life have I dreamt that I would be crowned a world champion, let alone in the doubles, which wasn't my main focus," Tay told TODAY.
"I know Suryo is very good at the back court and my strength lies near the net. He's a right-hander and I'm left-handed... So I thought that we might have complimentary skillsets and can build a pretty good chemistry. Happily, Suryo and I just clicked on the court."
Tay revealed that his father, Mr Tay Kok Heng, was the first person to congratulate him after his world title win on Sunday. The father and son pair share a special bond, as it was the elder Tay who first introduced him to the sport when he was 10.
Tay has a condition called Erb's palsy that arose due to trauma during his birth, and it affected the growth of his right hand and caused nerve damage.
Bullied often as a child, he found confidence and purpose after picking up badminton.
Tay added: "He told me he was very proud of me (in his text message)... but he also told me 'it doesn't stop here, this is not the end, you must keep working hard and use this experience to motivate yourself to go even further'."
The 29-year-old has now set his sights on qualifying for the 2020 Paralympic Games in Tokyo, and the full-time athlete is training 12 times a week with both para and able-bodied players in order to improve his game.
"The ultimate goal is to qualify for the 2020 Tokyo Paralympics, and for that I need to be ranked among the top six in the world," he said.
"For all the competitions before that, including the Asian Para Games, I can't really say I have set a target for myself because I tend to take tournaments one at a time. But of course, I want to do well as they all go towards that 2020 dream."