Parliament in brief: 4 things you need to know
SINGAPORE — More than 2,000 people have applied to be exempted from Covid-19 rules based on vaccination status because they claim to have bad reactions to Covid-19 vaccines.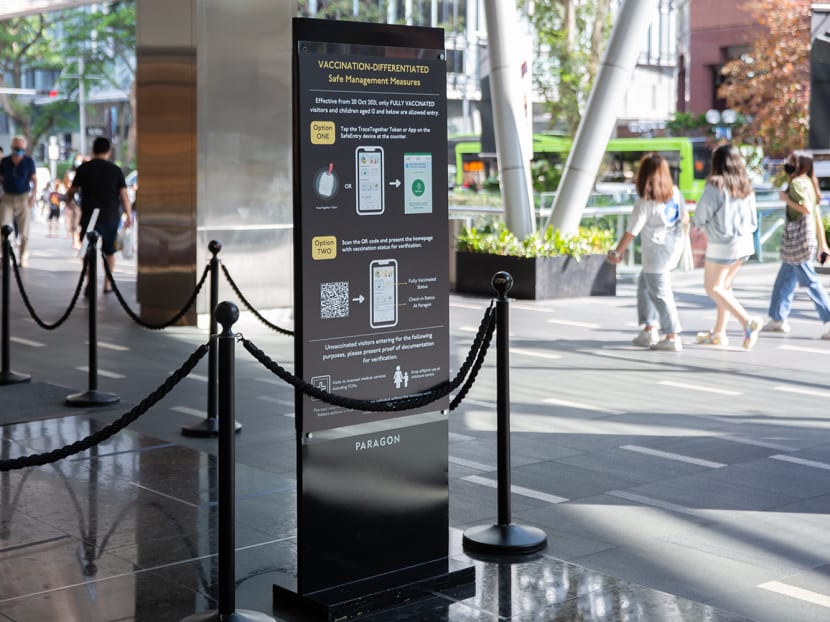 Members of Parliament filed questions on Covid-19 rules, deaths of Home Team officers and more
The replies showed that 2,100 people were exempted from Covid-19 rules based on vaccination status
Between January 2018 and September 2022, 74 uniformed officers in the Home Team died while in service, of which eight were suicide cases
The number of people caught illegally using active mobility devices was on average about 870 a month in 2020
SINGAPORE — More than 2,000 people have applied to be exempted from Covid-19 rules based on vaccination status because they claim to have bad reactions to Covid-19 vaccines.
Health Minister Ong Ye Kung said this on Monday (Oct 3) in response to questions filed by Members of Parliament.
In another reply to questions, Law and Home Affairs Minister K Shanmugam said that since 2018, eight officers from Home Team have committed suicide while in service.
Other items that were raised included the number of people caught for illegally using active mobility devices and the number of unscheduled disruptions to fibre broadband services.
The following are some extracts of the written and oral answers for questions asked.
1. People exempted from Covid-19 regulations that are tied to vaccination status
Questions by Dr Tan Wu Meng, MP for Jurong Group Representation Constituency (GRC)
Whether there will be a continued, further and deeper study of excess mortality from the Covid-19 pandemic
What is being done to identify potentially preventable causes of excess mortality
Reply by Mr Ong Ye Kung, Minister for Health
Mr Ong said in an oral response that in general, unvaccinated persons "disproportionately contributed to Covid-19 deaths".
People have applied to be exempted from Covid-regulations based on one's vaccination status, claiming that they have adverse reactions to Covid-19 vaccines.
MOH looked into these claims and granted 2,100 such exemptions.
However, among this group, the observed rate of Covid-19 deaths was about two in 1,000, compared to 0.3 in 1,000 observed for the whole domestic population.
"In reality, the number of people who are medically ineligible for Covid-19 vaccine is very small, given the choice of vaccines they have access to," Mr Ong said.
MOH is now bringing in updated bivalent vaccines that can offer better protection against the coronavirus strains.
2. Suicides and deaths among Home Team officers in service
Questions by Mr Melvin Yong, MP for Radin Mas
How many Home Team officers have died during active service in the past five years?
How many of these were suicide cases?
What is being done to ensure the mental health of Home Team officers?
Reply by Mr K Shanmugam, Minister for Law and Home Affairs
Between January 2018 and September 2022, 74 uniformed officers in the Home Team died while in service. 
Departments in the Home Team include the Singapore Police Force, Singapore Civil Defence Force, the Immigration and Checkpoints Authority, the prisons service and others.
The majority of these deaths were due to illnesses or natural causes.
Eight deaths were ruled as suicide.
The cause of death for three others, which had elements to suggest possible suicide, are pending coronial investigations.
Resilience and stress management training are provided to all new officers, including training on detection of personal distress and suicide prevention.
Feedback is collected through regular engagement with staff members and through surveys, and the concerns raised included issues that officers may face in the workplace.
Home Team supervisors are trained with the skills to identify and support officers who need help.
Across the Home Team units, in-house psychological services are made available to officers, including first responders.
Psychologists in the Home Team units attend to the mental health needs of the officers.
Peer support programmes, such as para-counsellors, have also been implemented in Home Team units to provide care and support.
For the police, there is also a 24-hour helpline managed in-house by its psychologists and senior para-counsellors. 
The Home Team makes external counselling services available to all its officers, including front-line officers. The aim is to make it easier for them to access external help.
3. Enforcement action against illegal use of mobility devices
Questions by Mr Seah Kian Peng, MP for Marine Parade GRC
Since May 2018, what are the number and types of enforcement actions taken against people who have illegally used their active mobility devices, including power-assisted bicycles, personal mobility devices (PMDs) and personal mobility aids along void decks of public housing blocks, pavements and other common areas?
Reply by Mr S Iswaran, Minister for Transport
From May 2018 to December 2019, before strict enforcement of the ban of e-scooters on footpaths at the start of 2020, there were a total of about 7,500 offences detected on public paths, or an average of about 370 a month.
Offences included users using non-compliant devices, riding on the wrong paths, speeding, or riding recklessly.
The Active Mobility Act, which took effect in May 2018, spells out rules governing the use of PMDs and other equipment on public paths.
Among other things, it limits the speed for those riding bicycles and PMDs on footpaths to 10km/h.
Personal mobility aids such as motorised wheelchairs and mobility scooters must have a maximum device speed of 10km/h. 
Then, from January 2020 onwards, when the Government stepped up enforcement against the use of e-scooters on footpaths and introduced new rules such as mandatory inspections, the number of offences detected increased, with an average of about 870 offences a month in 2020.
As the public grew accustomed to the new rules after strict enforcement and public education efforts, the monthly number of offences detected dropped to about 670 last year and 610 so far this year.
4. Number of unscheduled disruptions to fibre broadband services
Questions by Dr Tan Wu Meng, MP for Jurong GRC
How many incidents of unscheduled disruption of fibre broadband service have occurred yearly due to construction activity since 2019?
What is the average number of households that have been affected during each of such incidents?
What penalties have been applied against contractors involved?
Reply by Mrs Josephine Teo, Minister for Communications and Information
There were eight cable-cut incidents causing broadband service disruptions as of September this year — one more than the year before.
In 2020, there were four and in 2019, there were 12.
From 2019 to this year, an average of 570 end-user connections, comprising both residential end-users and commercial entities, were affected by each cable-cut incident.
Under the Telecommunications Act 1999, IMDA may impose composition fines for minor cable-cut cases, or prosecute errant contractors in court for failing to comply with the earthworks requirements and for causing damage to telecommunications cables in the course of carrying out earthworks.
The contractors shall be liable, on conviction, to a fine of up to S$1 million or a jail term of up to five years, or both.
Since 2019, more than S$1.13 million in composition sums and court fines have been meted out to errant contractors found to have damaged telecommunication cables due to the conduct of earthworks.