Parliament stirred up over minimum wage debate again as WP defends its proposal
SINGAPORE — A heated debate over a minimum wage erupted in Parliament once again, just slightly over a month since Associate Professor Jamus Lim of the Workers' Party (WP) drew fire from members on the other side of the House.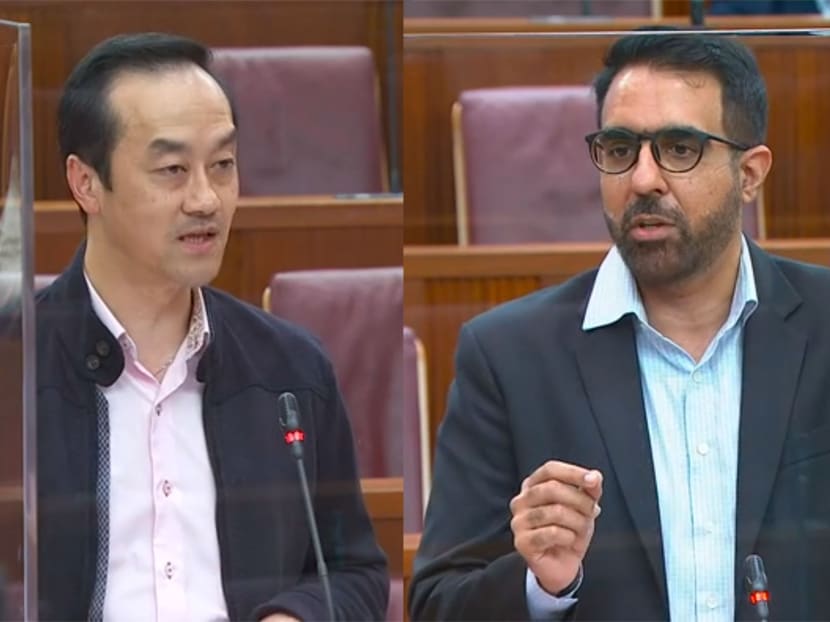 WP MPs and PAP's Dr Koh Poh Koon argued over the proposal of a minimum wage
Leader of the Opposition Pritam Singh said that wage support for vulnerable workers should be given soon
Dr Koh questioned the effectiveness of a minimum wage policy and warned that it could be politicised
WP MPs said independent experts can be relied on to prevent the issue from being politicised 
The relevance of academic studies on minimum wage was also brought up during the debate
SINGAPORE — A heated debate over a minimum wage erupted in Parliament once again, just slightly over a month since Associate Professor Jamus Lim of the Workers' Party (WP) drew fire from members on the other side of the House. His maiden speech at the time touched on that topic and led to Senior Minister Tharman Shanmugaratnam making a rare turn to give a rebuttal. 
On Thursday (Oct 15), Dr Koh Poh Koon, who was speaking in his capacity as the deputy secretary-general of the National Trades Union Congress (NTUC), criticised WP's proposed policy of setting a universal minimum wage here and said that it could lead to unemployment instead as businesses may face unsustainable higher costs — an argument that the Government has frequently brought up before. 
His objections were mainly focused on a Facebook post on Monday by WP chief and Leader of the Opposition Pritam Singh, who wrote that the WP's suggestion of implementing a universal minimum wage of S$1,300 a month as a base could run parallel with the present Progressive Wage Model (PWM) and other government schemes. 
The PWM sets a minimum wage for the cleaning, landscaping and security sectors with mandated wage increases as the worker gains more skills and experience, and the Government is looking to apply it to other sectors. 
Dr Koh's remarks drew an impassioned response from Mr Singh, who said that his Facebook post was to "nudge the Government" to move quicker in helping out the most vulnerable workers. 
The fiery exchange, which lasted close to 50 minutes, saw Assoc Prof Lim and Mr Leon Perera, also a WP Member of Parliament (MP), jumping in to counter the arguments brought up by Dr Koh, who warned that such a policy might overlook the circumstances of people with disabilities or those who voluntarily work part-time. 
Assoc Prof Lim, who is MP for Sengkang Group Representation Constituency (GRC), said that he finds Dr Koh's use of these special cases "a bit disconcerting" and also a "straw man" — a possible reference to Mr Tharman's remark to him to "avoid straw-man arguments" when both men crossed swords over this same topic in Parliament in September. 
Pressed by the WP MPs, Dr Koh — who is also Senior Minister of State for Health — had to rise to speak several times to defend his points and reiterate the Government's position. 
"In the PWM construct, it is not just a wage ladder... but there is a skills ladder tied to it. So that as the employee gets the skills that justify the productivity, the work output and the work delivery, wages that commensurate with those skills will be paid to the employee," Dr Koh said. 
"So it has to go hand-in-hand. It cannot be 'de-synced' from one another. The problem with a minimum wage is that it is not connected to any skills ladder. It is a number and the employer then has to decide if the employee makes the mark or it's too costly for him." 
EFFECTIVENESS OF MINIMUM WAGE POLICY 
Repeating the point that the Government is not against a minimum wage policy ideologically, Dr Koh said that the problem is how it can be implemented effectively. 
For one thing, he reasoned that it is difficult to find the right, single minimum wage for all sectors. 
If it is set too low, workers do not benefit. If set too high, businesses, particular small- and medium-sized enterprises (SME), will suffer. 
Meanwhile, the PWM has lifted the income of 80,000 workers in the cleaning, landscaping and security sectors by 30 per cent. 
Dr Koh cited the example of how cleaners employed by town councils are already paid S$1,442 a month. With government assistance schemes, namely the Workfare Income Supplement (WIS) scheme and bonuses, they would be taking home an amount "much higher" than WP's proposed minimum wage of S$1,300. 
Dr Koh also said that WP's proposed S$1,300 would help just about 32,000 workers, which make up 1.7 per cent of Singapore's workforce.
That is because out of the 100,000 low-wage workers who earn below S$1,300 a month, including employer Central Provident Fund (CPF) contribution and Workfare topups, only 32,000 are full-time employees. The rest are either self-employed or part-time workers.
"So what the WP wants to achieve with the proposed minimum wage of S$1,300, we have already achieved through PWM, WIS and other policy measures," Dr Koh said.  
In response, Mr Singh said that 32,000 is not a small number and his main point behind his Facebook post is about reaching out to these individuals more quickly. 
"I don't think it's acceptable that any Singaporean is earning below this number (of S$1,300). If we can do something about it in double-quick time, let's do it," he said.
Mr Perera, MP for Aljunied GRC, also questioned Dr Koh's argument that SMEs would be affected with a minimum wage policy since Dr Koh himself said that only 1.7 per cent of the workforce would benefit from WP's proposal. 
"How does such a small number (end up being) a very substantial disadvantage to SMEs?" he asked. 
He added that many SMEs are reportedly open to a minimum wage if it is not set too high. 
Backing up this point, Assoc Prof Lim said that supporting SMEs is not contradictory to advocating for a minimum wage.
Mr Edward Chia, MP for Holland-Bukit Timah GRC, asked the WP MPs if they recognise that there is a possibility low-wage workers may lose their jobs with technology being increasingly adopted by businesses. 
Mr Singh said that none of the WP MPs made any remark about automation and in turn asked whether Mr Chia is willing to pay the 32,000 low-wage workers S$1,300 a month. 
"Is he prepared to do that? I hope he is," Mr Singh said. 
Mr Chia, who is also the business owner of food-and-beverage chain Timbre, replied that a business owner's responsibilities are to his entire company and not to the employees of a specific sector. That would include finding ways to be sustainable and to expand to provide more jobs for Singaporeans. 
"A minimum wage may be more negative for a business. We need to look at it as a holistic approach, helping businesses upskill their employers, helping businesses grow their business," he said. 
ISSUE IS BEING POLITICISED: DR KOH
Apart from questioning the effectiveness of a minimum wage policy, Dr Koh sought to make the case that the issue could be politicised and eventually lead to a "political auction". 
Picking up on what Mr Singh said in his Facebook post that setting a universal minimum wage is a moral imperative, Dr Koh said: "In a political contest, a political party will likely come along to say S$1,500 reflects higher 'moral imperatives'.
"Yet another will come and say S$1,300 is good, S$1,500 is better, but S$1,700 is an even more 'divine' moral imperative."
Dr Koh noted that this political auction is already happening in other countries and so, his concern over WP's proposal is more about what it could mean for the future. 
"When this process, this political auction, gathers momentum, it becomes detached from market realities, the minimum wage escalates beyond what employers are able to pay, and the jobs of our more vulnerable (workers) will be threatened with the risk of unemployment," he pointed out. 
Mr Singh said that one way to prevent the politicisation of minimum wage policies is to defer to the experts and rely on useful statistics, such as data on household expenditure, while Assoc Prof Lim said that an independent wage committee could be formed comprising academics, representatives from the labour movement as well as employers. 
Mr Perera also questioned why Dr Koh thinks that a minimum wage policy could be politicised but not the PWM. 
Dr Koh responded that the PWM was a result of negotiations between the tripartite partners, namely the Government, NTUC and employers, and not decided by one political party. 
THE USE OF ACADEMIC EXPERTS
One of the arguments tossed up in the debate was whether academic studies done on minimum wage are relevant.
Dr Koh said that the tripartite partners already look at data in their discussions, but the practical considerations of carrying them out may be challenging. He brought up Hokkien idioms used by a union member to illustrate this and the colloquial wisdom lying behind these phrases. 
Assoc Prof Lim then impressed upon the House that WP's proposal is based on studies that show that a minimum wage does not lead to an increase in unemployment, and is not based on "folksy wisdom and beliefs of labour union leaders". 
In a speech separate from the exchange between Dr Koh and several WP MPs, Mr Zaqy Mohamad, Senior Minister of State for Manpower, said that economists have not conclusively found that minimum wage has not led to unemployment, and went on to mention a few studies that show that.
To this, Assoc Prof Lim said that academics do not rely on single studies but an aggregation of several of them before evaluating the results of a policy. 
Ultimately, WP's proposal is made based on the totality of results rather than a single study, he added.