Pearl Bank Apartments sold for S$728 million, CapitaLand to launch new project in 2019
SINGAPORE — Developer CapitaLand has bought Pearl Bank Apartments for S$728 million through a private treaty collective sale, and expects to launch the new development in the first half of 2019, with a target completion date of early 2023.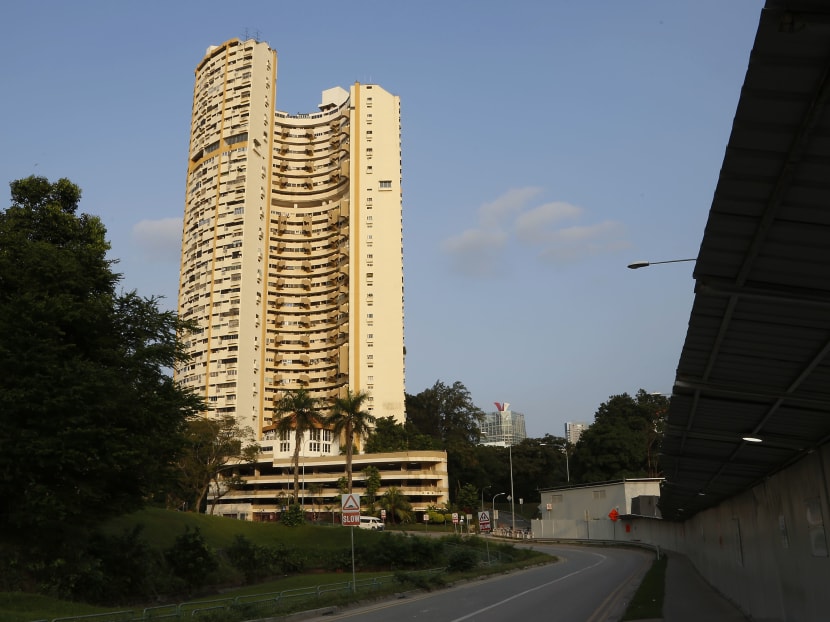 SINGAPORE — Developer CapitaLand has bought Pearl Bank Apartments for S$728 million through a private treaty collective sale, and expects to launch the new development in the first half of 2019, with a target completion date of early 2023.
The iconic horseshoe-shaped residential building in Outram is the latest development to be successfully sold on the red hot en bloc market.
Announcing the sale on Tuesday (Feb 13), the development's marketing agent Colliers International said the sale price, which met the owners' reserve price, works out to a land cost of about S$1,515 per square foot per plot ratio.
This is after factoring in an upgrading premium of about S$201 million for the lease top-up, with no development charge payable.
This was the fourth attempt at a collective sale of the 37-storey development near Chinatown, which launched its latest collective sales tender a month earlier on Nov 16.
Although the public tender closed on Dec 19 last year with no buyer, laws governing collective sales allow the owners to enter into a private treaty contract with a buyer within 10 weeks from that date.
Pearl Bank Apartments comprises 288 units — 280 apartments and eight commercial units — and has a 99-year leasehold tenure, with effect from June 1970.
Apartment owners, whose units range from 1,323 sq ft to 3,993 sq ft in size, stand to receive between S$1.8 million and S$4.9 million from the property's successful sale. Owners of commercial units ranging from about 700 sq ft to 5,630 sq ft in size will potentially receive between S$1.2 million and S$6.9 million.
Mr Alex Poh, the collective sale committee chairman, said that residents had previously explored the idea of conserving the building due to its history and history, but found out that conservation would be costly and a "huge burden", following deeper analysis of the building structure and required enhancement work.
"In addition, the redevelopment of the ageing building will also be in line with the ongoing renewal of Outram. The future development will enhance the architectural transformation of the area and the owners strongly support the redevelopment of Pearl Bank Apartments," he added.
The building site is also subjected to the Pre-Application Feasibility Study, announced by the Urban Redevelopment Authority on Nov 13 last year.
The introduction of the study, just weeks before the close of the public tender, was a setback for the collective sale as interested parties needed more time to assess its impact, noted Mr Poh.
In a separate media release, developer CapitaLand said subject to approval by the authorities, it plans to redevelop the site into a high-rise residential development comprising around 800 units with a host of social, shared facilities, which will "foster community spirit and celebrate the area's unique heritage".
The site atop Pearl's Hill in Outram Park has a land area of 82,376 sq ft, with an existing plot ratio of 7.45.
Calling it a "rare gem" with its prime location at the confluence of Singapore's business and cultural districts as well as its excellent transport connectivity, CapitaLand's president and group chief executive officer Lim Ming Yan said: "We look forward to creating yet another architectural icon in Singapore by reinvigorating the area with a unique design – one which will blend modern aesthetics and heritage elements to reflect the rich, multifaceted culture of Chinatown."
The new development is slated to be launched for sale by the first half of next year, said a CapitaLand spokesperson, and targeted to be completed by early 2023, after the opening of the Thomson-East Coast line, the third MRT line, in Outram.
Colliers International managing director Tang Wei Leng expects future apartments in the development to be sold at around S$2.5 million.
"(This is) relatively affordable for such a choice location. Such a prominent site at the fringe of the Central Business District, with excellent connectivity via the Outram MRT interchange station, is hard to come by," she added.
Noting that there hasn't been any major residential land sale in Chinatown for quite some time, ZACD Group executive director Nicholas Mak said it would set a benchmark for residential land in the city fringe area, and have a bearing on other en bloc sales in the area.
Adding that CapitaLand could be trying to catch the market on the upcycle following three-and-a-half years of declining property prices, Mr Chris Koh, director of property firm Chris International, said the projected launch and completion timeline shows that the developer is "rushing to get it out".
But International Property Advisor chief executive Ku Swee Yong cautioned that delays might be inevitable, given the booming number of en bloc sales recently on top of the usual Government land projects.
Not only could the Urban Redevelopment Authority's planning department have a lot on its plate now, but CapitaLand might also need to strengthen the foundation before beginning construction, which could result in a delay of six to 12 months, he added.
In the meantime, veteran architect Tan Cheng Siong, who designed Pearl Bank in 1976, told TODAY that he hopes the existing building will be converted rather than torn down. 
The current interior could be remodeled to accommodate more units, and a new block built to house 200 more units, he said.
"I hope the new owner (CapitaLand) will adopt our voluntary conservation development strategy, not just focus purely on development," he added, referring to the "voluntary conservation" project that he and his partner Daniel Law embarked on at Pearl Bank three years ago.
While the pair had gotten 92 per cent of approval from residents on the redevelopment then, they needed to get unanimous consent under the law to realise the project.
Mr Tan also called for the Government to give more incentives, such as extra plot ratio, to developers to conserve buildings like Pearl Bank. 
"Conservation is not understood by developers or owners as value-adding to an existing property. There is no extra incentive from the Government, no reason for conserving," he said.