PM Lee calls for commitment to regional economic integration, embracing technology
SINGAPORE – Prime Minister Lee Hsien Loong has urged the Association of South-east Asian Nations (Asean) to remain committed to economic integration amid escalating trade tensions between the major powers, and to "make full use of technology" to bring member states closer together.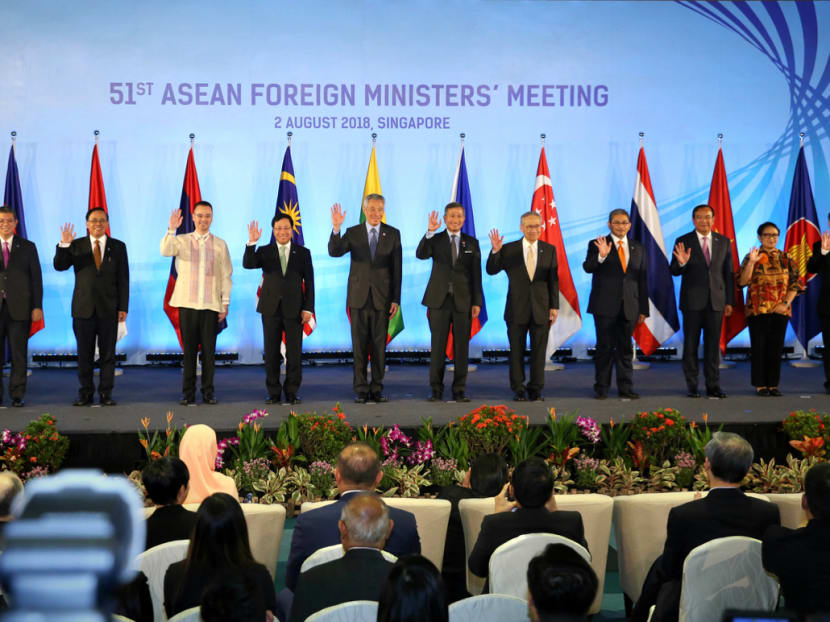 SINGAPORE – Prime Minister Lee Hsien Loong has urged the Association of South-east Asian Nations (Asean) to remain committed to economic integration amid escalating trade tensions between the major powers, and to "make full use of technology" to bring member states closer together.
Speaking at the opening ceremony of the 51st Asean Foreign Ministers' Meeting on Thursday (Aug 2), Mr Lee announced that the Republic will enhance its support for the Initiative for Asean Integration (IAI), which aims to bridge the gap in different levels of development in the region.
He said Singapore will upgrade three IAI Centres in Vietnam, Cambodia and Laos to become Singapore Cooperation Centres.
"The new centres will expand our range of technical assistance and offer new modalities for capacity building that go beyond classroom training," he said.
They will give a boost to regional economic integration and adoption of technology, he noted.
"Singapore hopes to share our experiences, and at the same time learn from our neighbours and partners."
Mr Lee said in his speech that Asean must continue to strengthen the regional dialogue architecture.
This comes against the backdrop of growing geopolitical uncertainties while each Asean member state is "subject to different pulls and pressures from bigger powers", he said.
"In these circumstances, all the more we must stay united and strive to maintain our cohesion and effectiveness. That is the only way for Asean to remain relevant and to be of value to our members as well as our external partners," added Mr Lee.
One area where more can be done together is in economic integration, he said.
He noted the escalating trade tensions between the United States and other dialogue partners, such as China, the European Union (EU) and Canada. The rules-based multilateral trading system, which has supported Asean's growth and prosperity, is also under pressure.
"It is important that Asean continues to support the multilateral system and work with like-minded partners to deepen our web of cooperation," said the prime minister.
To that end, Mr Lee was glad that the Asean countries are redoubling efforts to conclude the Regional Comprehensive Economic Partnership (RCEP)– which involves the ten member states as well as, Australia, China, India, Japan, New Zealand and South Korea – by the end of the year.
The partnership will create the world's largest trading bloc and cover a third of the world's current annual Gross Domestic Product.
Asean is also working with the EU on the first substantive aviation arrangement between the two major regional groupings. When established, the Asean-EU Comprehensive Air Transport Agreement will "send a clear signal of Asean's commitment to trade liberalisation and economic integration", said Mr Lee.
"I do not expect negotiations to be easy, especially with the growing mood of nationalism and protectionism in many countries," he added.
"Every participant will have to make trade-offs and difficult compromises but I am glad that Asean member states have taken a long-term approach and made a collective decision to stay on course, in order to bring tangible benefits to our peoples."
The Republic is serving as the rotational chairman for Asean this year and has earlier identified digital integration as one of the priorities.
Mr Lee said that as the world enters the fourth industrial revolution, Asean member states need to embrace innovation, build up digital connectivity and prepare themselves for the future.
Through the Asean Smart Cities Network, he hopes that the cities will come together to establish a common framework for smart city development, and develop city-specific action plans and innovative projects that will improve the lives of people.
Mr Lee added that Singapore's recent experience with a "major intrusion" into largest public healthcare group SingHealth's data systems only underlines the seriousness and urgency of the task of stepping up cyber security defences.
Speaking after the prime minister, Foreign Minister Vivian Balakrishnan noted the member states have laid the ground work for enhanced cooperation against security challenges, including terrorism and cyber threats.
The group is also working on an e-commerce agreement to facilitate the digitalisation of trade.
Dr Balakrishnan reiterated the need for Asean to remain a testament to the benefits of free trade and economic integration given how those have been "a recipe for peace and prosperity in South-east Asia over the last five to seven decades.
"But we also have to acknowledge that Asean cannot do this alone and we have to collaborate with our external partners through Asean-led mechanisms," he added.
Speaking later in a press conference, Dr Balakrishnan said that the comments by Mr Lee and himself earlier in the day showed that Singapore sees Asean "at an inflexion point."
"This is a time in which we are facing challenges because the world as we know it for the past 70 years has changed. We are transitting to a multipolar world, we are also in a world in which free trade and economic integration … is now on the back foot," he added, noting the digital transformation has also transformed how we live, work and play.
"In the midst of these three tectonic changes, Asean has to remain relevant."
To this end, the Joint Communique released by the foreign ministers on Thursday covers a variety of policies and projects that reflect the grouping's responses to these challenges, from terrorism to environmental challenges, tapping on opportunities for new technologies and creating collaborative platforms to innovate together.
"We have reaffirmed our beliefs in the role of free trade and multi-lateral institutions as a formula which has brought peace and prosperity for seven decades, especially in South-east Asia," said Dr Balakrishnan.
The joint communique also reiterated Asean's commitment to wrap up RCEP negotiations, saying it will form a "centrepiece of its external economic relations, particularly at a time of growing uncertainties in global trade".
It added: "We reaffirmed our belief that regionalism and multilateralism are important principles and frameworks of cooperation, and that their strength and value lie in their inclusivity, rules-based nature and emphasis on mutual benefit and respect."