PM Lee urges resumption of direct talks for Israeli-Palestinian solution
JERUSALEM — Prime Minister Lee Hsien Loong on Monday (April 18) urged Israel and the Palestinian Territories to resume direct negotiations towards a "just and lasting two-state solution", and expressed gratitude to Israel in helping Singapore build up its defence capabilities.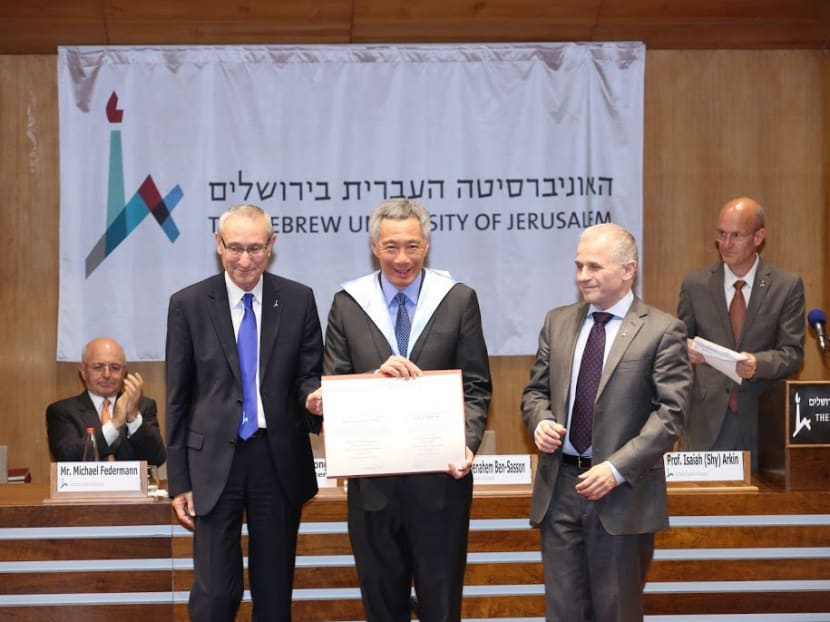 JERUSALEM — Prime Minister Lee Hsien Loong on Monday (April 18) urged Israel and the Palestinian Territories to resume direct negotiations towards a "just and lasting two-state solution", and expressed gratitude to Israel in helping Singapore build up its defence capabilities.
Noting that the Israeli-Palestinian conflict is a complex one, he said: "Progress will require enormous imagination, determination and political leadership on both sides, as well as getting the stars aligned in the right places in the firmament, with the great powers supporting you."
Mr Lee, speaking at Hebrew University in Jerusalem where he was conferred an honorary doctorate, is on the second leg of a week-long trip to the Middle East.
He is visiting both Israel and the Palestinian National Authority in Ramallah to signal Singapore's friendship with both sides and better understand developments in the region, he said.
He expressed hope that "both sides will take steps to resume direct negotiations and to work towards a just and lasting two-state solution."
The Prime Minister is on his first official visit to Jordan, Israel and the Palestinian Territories. He met Jordan's Chief Advisor for Religious and Cultural Affairs Prince Ghazi Bin Muhammad Bin Talal before crossing the border to Jerusalem on Monday.
In his speech, Mr Lee noted that Singapore and Israel share a "longstanding friendship" with the earliest Jews - mostly from Iraq - migrating to Singapore in the 19th century.
Singapore is now home to a small Jewish community, numbering a few hundred, but "has contributed to our society out of proportion to its numbers", he said, adding that the Republic's first Chief Minister, David Marshall, was a Baghdadi Jew.
He also shared an anecdote on how Dr Albert Einstein had visited Singapore in 1922 to urge the Jewish community to donate towards the setting up of Hebrew University. The community raised about £750 (worth about US$300,000 today). A week after his visit to Singapore, Dr Einstein was awarded the Nobel Prize in Physics.
Through the years, more Jewish expatriates including Israelis came to work and live Singapore. There are now 2,500 of them - enough to sustain a successful kosher restaurant, he shared.
Israel was also the only nation that responded to the Republic's call for help to set up a military when it became independent in 1965. The Israeli Defence Force (IDF) sent advisors who were nicknamed "Mexicans" for operational security, said Mr Lee.
"By July 1967, guided by the IDF team, the SAF (Singapore Armed Forces) commissioned our first batch of officer cadets from the Officer Cadet Course. This was a decisive step in building up a credible and professional defence force for Singapore," said Mr Lee.
"Without the IDF, the SAF could not have grown its capabilities, deterred threats, defended our island, and reassured Singaporeans and investors that Singapore was secure and had a future… We will always be grateful that Israel helped us and stood by us at our time of great need."
Singapore, he added, learnt two things from Israel at that time — which Mr Lee's father, the late Mr Lee Kuan Yew who was then the Prime Minister — told one "Mexican general": "How to be strong and how not to use our strength".
Over the years, ties between both nations have expanded beyond defence and security, with companies from both sides very active in exploring opportunities in technology research and development.
In fact, the Singapore-Israel Industrial Research & Development Foundation (SIIRD) has provided US$170 million (S$) in funding for about 150 projects since 1997, said Mr Lee who witnessed on Monday the signing of three agreements between the Hebrew University and the National Research Foundation, National University of Singapore and Nanyang Technological University respectively to manage the Hebrew's University's research in Singapore.
Mr Lee was also optimistic about the future, referring to a recent interview by former Israeli President Shimon Peres who painted a vision of Israel in 2048 - 100 years after its founding - that will be much better for the nation and Middle East. Mr Peres envisioned that borders will become less relevant, while science and technology will force people to become more open-minded to the world.
"Today, such a Middle East looks a long way off – perhaps more distant even than 2048. But I sincerely hope that one day, Mr Peres' vision will be realised. Swords will be turned to ploughshares. Israel and your neighbours will live side-by-side, in peace and prosperity," he said. "And your friends in Singapore and around the world will rejoice with you too."
Multiple efforts have been made to broker an agreement on a "two-state solution" in which Israel would exist peacefully alongside a new Palestinian state created in the West Bank and the Gaza Strip, lands seized by Israel in the 1967 war.
However, such a solution appears remote because of ongoing Jewish settlement building; a split between the Palestinian Fatah and Hamas factions; preoccupation within the Palestinian National Authority about who may succeed aging President Mahmoud Abbas; and a wave of Palestinian stabbings, shootings and car rammings of Israelis.
Efforts led by the United States to broker peace between Israel and Palestine collapsed in April 2014, although France is making another push by convening an international peace summit to work towards a two-state solution.
Senior Minister of State for Foreign Affairs Dr Maliki Osman recently told parliament that Singapore welcomes the latest French initiative.
"The Israeli-Palestinian conflict is longstanding and resonates with many in Southeast Asia including Singapore and Singaporeans … Singapore's position on this has been consistent. We support the rights of the Palestinian people to a homeland. We have also voted for several Palestinian-related resolutions at the United Nations National Assembly," Dr Maliki said during the Ministry of Foreign Affairs' Committee of Supply debate two weeks ago.
Mr Lee will meet Israel's Prime Minister Benjamin Netanyahu as well as other Israeli high-tech industry leaders on Tuesday, and Prime Minister of the Palestinian National Authority Rami Hamdallah on Wednesday.
For PM Lee's full speech, see:
http://www.pmo.gov.sg/mediacentre/pm-lee-hsien-loong-hebrew-university-18-april-2016