Singapore, Indonesia move to boost trade ties
SEMARANG — Singapore is looking to enhance cooperation with Indonesia through investments beyond traditional destinations, increasing tourist traffic and by setting up a business council involving both countries.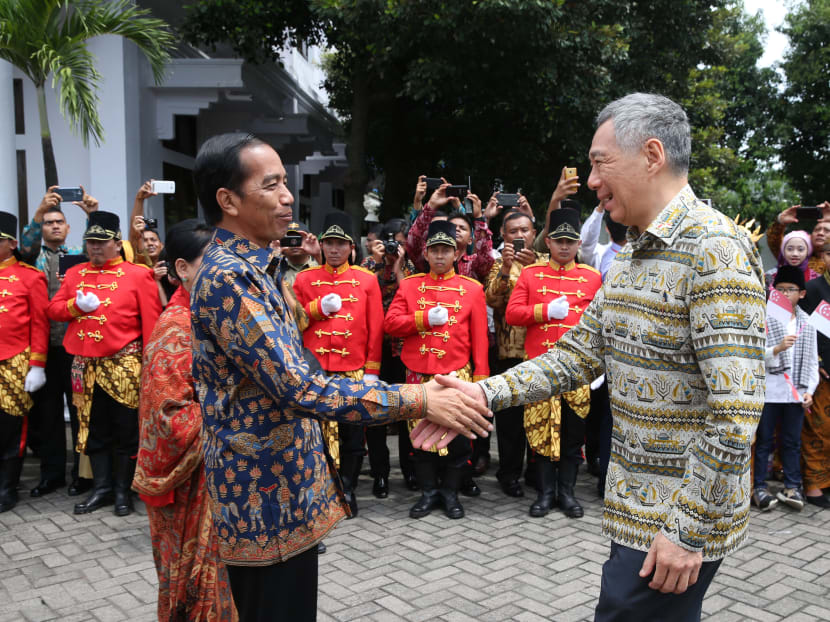 SEMARANG — Singapore is looking to enhance cooperation with Indonesia through investments beyond traditional destinations, increasing tourist traffic and by setting up a business council involving both countries.
This was announced on Monday (Nov 14) by Prime Minister Lee Hsien Loong and Indonesian President Joko Widodo, following an inaugural retreat held in Semarang between the two leaders. The meeting came after Mr Widodo's state visit to Singapore in July last year. 
Speaking at a joint press conference after the retreat, Mr Lee said: "I told the President we are keen on strengthening our economic cooperation with Indonesia and we would like Indonesia to succeed."
Last year, Singapore invested US$5.9 billion (S$8.3 billion) in Indonesia, making it the latter's largest source of foreign investment. Investments have grown further this year, with Singapore investing US$7.1 billion in Indonesia within the first nine months. 
Mr Lee noted that Singapore companies are investing in other regions of Indonesia, apart from the traditional destinations of Jakarta and Batam-Bintan-Karimun (BBK). Citing the Kendal Industrial Park — Singapore's first industrial park outside BBK — in Semarang as an example, he noted that this "significant project" would create up to 4,000 jobs. "So it's a win-win outcome for Singapore and for Indonesia," Mr Lee said. 
During the retreat, both leaders also reviewed the progress of other areas of cooperation, including tourism. 
Mr Lee and Mr Widodo witnessed the signing of a Memorandum of Understanding (MOU) between the Singapore Tourism Board and the Indonesia Ministry of Tourism to, among other things, develop the cruise industry and build capacity in the sector. Several other MOUs were also signed on the sidelines of the retreat, including an agreement to develop smart city solutions for Makassar City in Indonesia.
During the press conference, Mr Widodo said he had a productive meeting with Mr Lee and the Singapore delegation, where they discussed economic collaboration as well as the terrorism threat and the South China Sea issue. He agreed that both countries should continue their economic cooperation, and welcomed the signing of the new bilateral agreement on tourism.
Speaking to the Singapore media to wrap up his visit to Indonesia, Mr Lee said that while there are issues for the two countries to deal with — such as terrorism and the transboundary haze problem — there is a "willingness and desire on both sides to take the relationship forward".
Mr Lee said of bilateral relations: "The cooperation is good, it's progressing, we work together ... the economic relations are very intense, the investments are continuing from Singapore into Indonesia and growing, and we are looking at new areas of cooperation as well, including tourism (and) the digital, IT field."
Mr Lee said the setting up of the business council — which could be co-chaired by the Singapore Economic Development Board and Indonesia's Investment Coordinating Board — was timely. Noting the private sector's involvement in economic projects between the two countries, he added: "The best way to do that is for our business people to get together and meet one another regularly, and a business council, I think, is well justified because we have this format with quite a number of our other partners but we have not had one with Indonesia yet."
On the haze problem, Mr Lee noted that this was high on Mr Widodo's agenda. During their meeting, Mr Lee thanked Mr Widodo for his actions in tackling the haze issue in Indonesia, which "has made a difference this year". Mr Lee also offered Singapore's help to deal with the problem, which he noted affects all South-east Asian countries.
Turning to terrorism, Mr Lee said Singapore and Indonesia have been cooperating together, "mostly quietly". 
"It is an issue of concern to us and to them," he said. Singapore has encouraged Indonesia to take the lead on the sharing of intelligence and best practices among Asean members in terms of "not just fighting the terrorist but also dealing with this at the ideological level because there are groups within Indonesia which are quite radical but ... are not proscribed yet". During the meeting, Mr Lee said he thanked Mr Widodo for Indonesia's role in arresting the terror suspects in Batam who planned to attack Singapore in August.
Next year, Singapore and Indonesia will celebrate 50 years of diplomatic relations. Following yesterday's meeting, Mr Lee and Mr Widodo announced that both countries will hold "commemorative events to showcase the breadth and depth of the close and warm bilateral ties", Singapore's Ministry of Foreign Affairs said in a press release. Singapore will also host the next Leaders' Retreat.