'Talking ATMs' to help the visually-impaired
SINGAPORE — POSB Bank has added functions such as Braille instructions and audio guidance to 86 of its ATMs to help visually impaired customers perform basic transactions by themselves.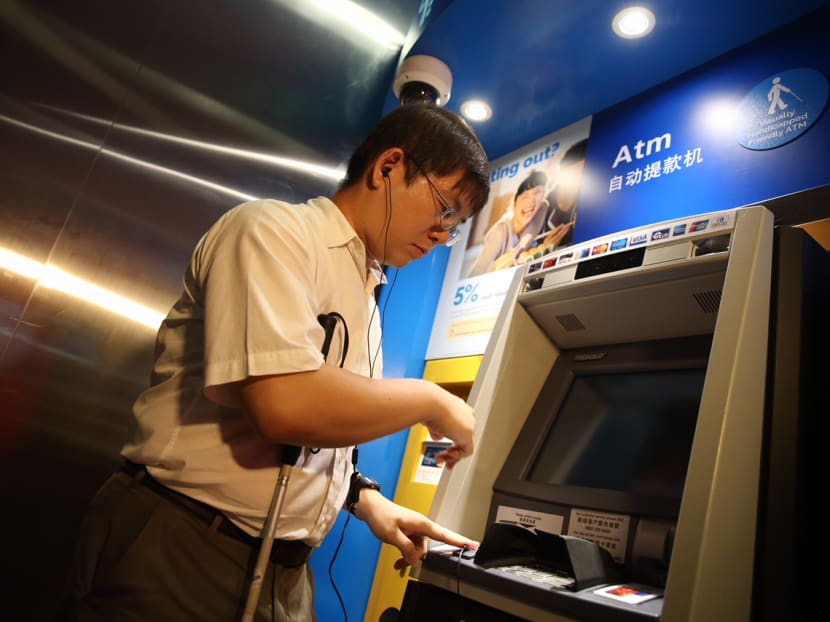 SINGAPORE — In the past, Mr Danny Chia, who is partially visually impaired, had to be accompanied by a friend to help him out with basic transactions, such as cash withdrawals, at an automatic teller machine. 

If he was alone and had to seek a stranger's help, he had to tell the person how much money he wanted to withdraw and also be assisted with keying in his PIN number.

Today, Mr Chia, 56, will no longer need such help, thanks to POSB's "talking ATMs".

POSB has enhanced 86 ATMs around the island to provide visually-handicapped-friendly functions, such as Braille instructions and English audio guidance.

However, users such as Mr Chia will require the public's help in directing them to the ATMs that are labelled with the "Visually Handicapped Friendly" signs.

With the help of the enhanced ATM's voice instruction feature, these users will be able to perform two basic functions – cash withdrawals and balance enquiries.

Users have to plug in their own headsets into the ATM's standard 3.5mm headphone jack, which will activate the English voice instruction feature.

For security purposes, the screen will go blank, as visually impaired users may be "taken advantage of", said Mr Jeremy Soo, managing director and head of DBS' consumer banking group.

The ATMs have also been fitted with Braille touch pads, to enable users to navigate their way as they follow the audio instructions.

Mr Chia, who is the vice-president of the Singapore Association of the Visually Handicapped (SAVH), said: "Previously, I didn't even know how to insert my own card. 

"(The enhanced ATMs) have Braille to indicate where to insert the card, where to take out the money, and there are a lot of Braille signs. I think it is very safe and convenient."

These talking ATMs are more popular in Europe and the United States, but they are still an uncommon sight in the region. The POSB initiative marks the first time that a local bank is introducing such machines in Singapore. 

The SAVH was consulted on the type of banking transactions and functions that its members need. 

It was also asked to provide feedback throughout the six-month period that the POSB took to develop the enhancements. 

DBS Singapore Country Head, Mr Sim S. Lim, said: "POSB aims to build a more inclusive society by ensuring that its services are easy to use and takes into account the diverse needs of its customers. 

"We worked closely with SAVH to ensure that for the visually handicapped, the process of using these ATMS would be as simple and easy as possible."

POSB will be seeking the public's feedback before it considers rolling out more features for the talking ATMs. For example, the audio guide is currently available only in English.