POV: Raising respect for skilled workers boils down not to pay alone but value system of S'pore society
For many of us, skilled workers like plumbers, carpenters and rope access technicians very rarely cross our minds.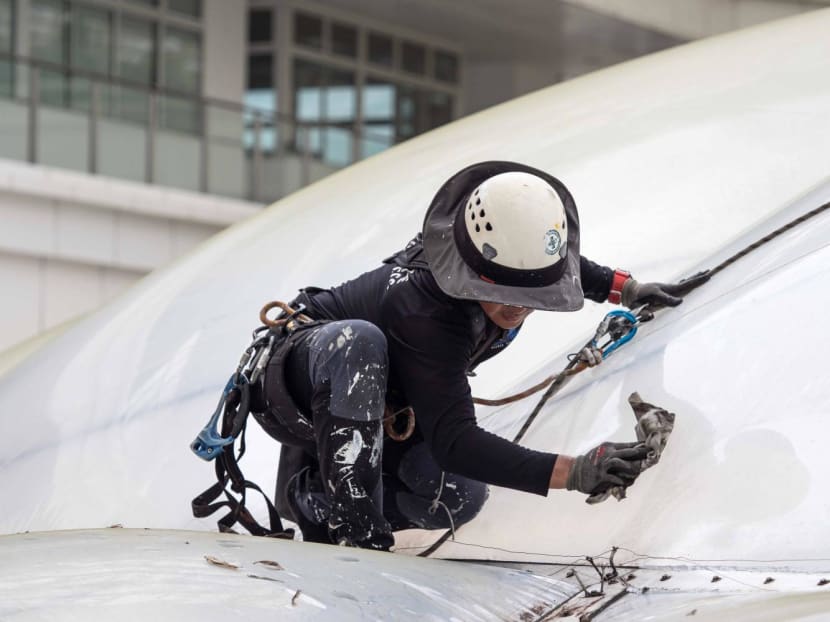 For many of us, skilled workers like plumbers, carpenters and rope access technicians very rarely cross our minds.
The only times we think of them are usually when we have an emergency or a need to engage their services.
Singaporeans' long-running obsession with the paper chase has often led to a misconception that those in technical, service and community care roles have less brain power and do not have a bright future.
But my interviews with such workers in TODAY's feature on this issue found that it takes months, if not years, to sharpen their skill sets and collect the necessary certificates to perform the work they do.
Deputy Prime Minister Lawrence Wong last month pointed out that Singapore places too much of a premium on intellectual work, and undervalues technical, service and community care roles, and worryingly, this has led to a growing divergence in salaries between workers of different educational backgrounds.
The median starting salary for a university graduate is now almost twice that of an ITE graduate, said DPM Wong, who also noted that this earnings gap increases over the graduates' lifetime.
He also highlighted Singapore society's preference for intellectual "head" work, while not according sufficient value to "hands-on" technical jobs or "heart" work such as services and community care roles.
But as one of those I interviewed, former carpenter Ziyad Ahmad Bagharib, so rightly pointed out – the lack of regard may partially stem from a lack of understanding of what is involved in the work of tradespeople.
Sometimes we do a little fix-it work around our own homes and figure that it's not that hard.
We watch tradespeople on television who make their work look easy, and think, "Oh, well I could do that." 
But it actually only looks easy because they've spent years perfecting their craft.
My worry is that this lack of regard is leading our nation down an unfortunate pathway, as fewer and fewer young people may pursue jobs in these professions.
It does not help that many parents would not exhort their children to aspire to become tradesmen like plumbers, carpenters or workers but rather professionals like doctors, lawyers or engineers.
And if we don't change our attitude about the worth of tradesmen, who will build our homes and schools, clean the buildings we work in, keep our water flowing and our power turned on — unless we continue to rely on cheap foreign labour?
One expert says there is no point to society talking about "upgrading" technical and vocational job status — until those jobs pay better.
And yes, while this is a step in the right direction, I believe it should not just come down to wages but our value system as a society.
What we should do is to stop valuing people by the amount of monetary value they can generate, but the quality of their work.
Till then, I hope you take this ongoing debate over "head" work versus "heart" and "hands-on" work as a sign to honour the vocational workers in our midst.
Drop a box of doughnuts at the job site near your home, wish your bus captains good morning, or call your plumber and aircon serviceman and say, "Thank you for your help over the years."
This could be the start to building a more inclusive society where every worker and every job is valued.