The power of a scar: Teenager opens up about suffering from uncommon scoliosis, writes book on ordeal
SINGAPORE — For most of her teenage years, 17-year-old Singaporean Elizabeth Paulyn Gostelow's self-esteem was heavily weighed down by a severely curved spine caused by scoliosis. It was a physical and emotional weight because in getting treatment, she had to wear a back brace for years and also sit through what looked like a medieval torture contraption that stretched and pulled her spine for about a month.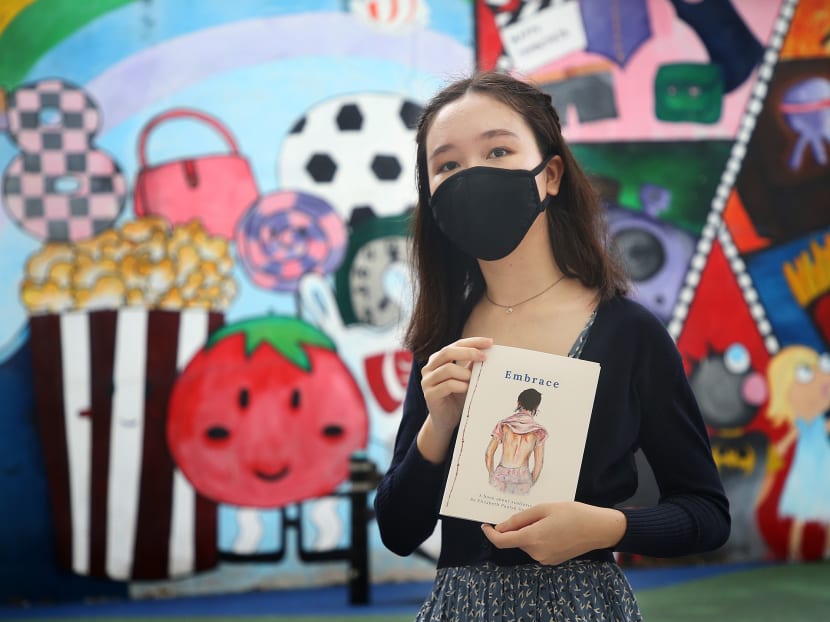 Scoliosis, an abnormal curvature of the spine, affects every two to three adolescents out of 100 in Singapore
A 17-year-old student with an uncommon form of scoliosis talks about her challenging medical journey in a book
To enhance screening and monitoring of the condition, NUH is using a new low-radiation imaging machine and "smart" braces
SINGAPORE — For most of her teenage years, 17-year-old Singaporean Elizabeth Paulyn Gostelow's self-esteem was heavily weighed down by a severely curved spine caused by scoliosis.
It was a physical and emotional weight because in getting treatment, she had to wear a back brace for years and also sit through what looked like a medieval torture contraption that stretched and pulled her spine for about a month.
Scoliosis is characterised by an abnormal curvature of the spine. It is more common in girls and is usually detected during the adolescent years.
Elizabeth suffers from an uncommon form known as neurogenic scoliosis. Her condition was especially severe, progressed rapidly and could not be contained with a traditional back brace.
Describing herself as a "shy" person, she often felt that the back brace she wore to keep her spinal curvature from worsening was a "shameful secret" that had to be concealed from friends.
But after braving one of the most challenging medical journeys for scoliosis sufferers, she is now ready to open up about her experience, her fears and how she had coped back then.
Now studying in junior college, the teenager has chronicled her personal journey in a book titled Embrace, which covers her thoughts and feelings on the gruelling treatments she had. They include undergoing two surgeries, one at the lower back part of her brain and another to correct her curved spine.
During an interview with TODAY, the soft-spoken teenager, who also did the illustrations for her book, said she hopes to raise awareness of scoliosis and help other patients make sense of their condition and feelings.
"I remember feeling very isolated. I couldn't even reach out to others with the same type of scoliosis because what I had was uncommon. Hopefully, the book will provide a source of comfort for other people with scoliosis."
The book, which includes a foreword by her doctor, Assistant Professor Lau Leok Lim from National University Hospital (NUH), also includes useful tips for patients as well as advice on how family and friends can support their loved ones. This includes refraining from using words like "weird" or "deformed" to describe a scoliosis patient's curved back, for example.
It is expected to be published in the coming weeks and will be donated to her school, public libraries and clinics.
WHAT IS SCOLIOSIS
Scoliosis affects 2 to 3 per cent of the population.
Asst Prof Lau, a senior consultant at the department of orthopaedic surgery and University Spine Centre at NUH, said that the condition often occurs at the time of growth spurt during the adolescent years.
Most girls with scoliosis are diagnosed at around 10 to 12 years old; boys around 13 to 14, he said.
"Asymmetrical growth of the spine during the growth spurt results in three-dimensional deformity.
"The spine has a curvature when viewed from the front. When viewed from behind, there is an unevenness across the body surface that may result in rib or hip prominences."
Often, there is no readily identified cause, and this is termed Adolescent Idiopathic Scoliosis (AIS).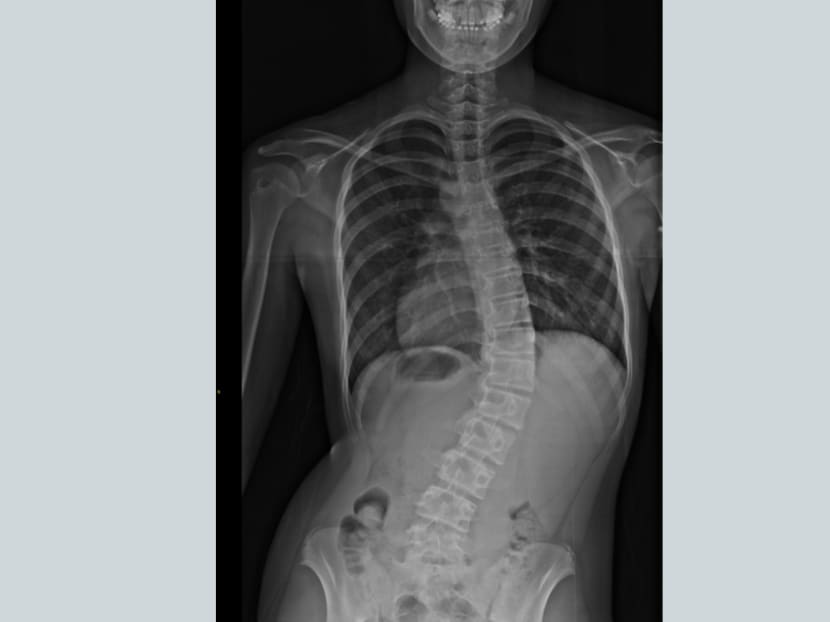 For the less common neurogenic scoliosis, which Elizabeth has, there is an underlying mechanical cause.
In such cases, Asst Prof Lau explained that the skull that contains the hindbrain (cerebellum) is too small, causing the lower part of the cerebellum to displace into the upper part of the spinal canal. This results in the disruption of the internal circulation of the spinal cord.
While neurogenic scoliosis may look identical to AIS, the pattern of the curvature and speed at which it progresses may be different, he said.
AN UNCOMMON FORM OF SCOLIOSIS
A mild curve in Elizabeth's spine was first observed by her family when she was in Primary 3.
She was prescribed a back brace to stop the progression of the spinal curve but it continued to worsen over the next two years.
Further investigations found that hers was not the usual type of scoliosis but the more uncommon neurogenic scoliosis. NUH sees around two to three such cases each year.
In 2016, Elizabeth underwent surgery to restore the internal circulation to her spinal cord. The following year, at 14, she had surgery to correct her scoliosis.
Given the severity of her condition, the surgery was deemed higher risk than usual with a potential risk of neurological damage that could leave her paralysed.
Before the surgery, she had to go through a procedure known as halo-gravity traction. It is usually used to prepare patients for scoliosis surgery, especially the more severe cases.
A metal halo ring was affixed over her head externally and to keep it in place, screws have to be inserted surgically into her skull.
Once the halo was in place, it was attached to a pulley system and weights were gradually added to gently stretch and straighten the spinal cord and spinal column.
She was admitted to NUH for almost a month for this, all while having the metal ring attached to her head daily.
In her book, Elizabeth described how she initially vehemently resisted the idea of having to go through halo-gravity traction as it looked like "torture".
But she steeled herself and persisted, despite her fears, the discomfort and bizarre sensations of being stretched.
FEAR OF BEING 'A BURDEN'
Besides the physical discomfort, scoliosis also took a toll on Elizabeth emotionally, shaping her personality and experiences during her teenage years as she took pains to hide her condition.
For instance, she would intentionally choose loose-fitting clothes that hid the outlines of her back brace.
She avoided going out with friends, declined to take photos and panicked each time someone tried to hug or touch her.
"The brace probably wasn't very obvious under clothing, unless it was tight or I was moving around. But I think it was my own fears at play — I kept thinking everyone would be able to see it," she said.
Conversations with her teachers and peers almost always revolved around scoliosis. While she understood their concerns and curiosity, she sometimes felt uncomfortable answering certain questions.
"I became known as the girl who needed a lot of adjustments at school, for example, needing to take the lift, needing to sit on a chair all the time instead of the floor or as the girl who didn't do PE (Physical Education). I think that shaped my secondary school experience," she said.
One of her greatest fears, Elizabeth said, was inconveniencing her family and friends.
"Before the surgery, I was nervous about the risks of paralysis. I felt that if I can't recover, I would be a burden to everyone."
THE RECOVERY
Elizabeth's scoliosis corrective surgery was a success, correcting most of her spine curvature.
While her recovery journey was fraught with challenges and pain, she recalled feeling pleased when she caught a glimpse of her visibly straighter back in the mirror after the surgery.
In spite of the long scar snaking down her back, she said that she never felt better.
Today, Elizabeth is leading a normal life and has no problems moving around although she avoids more intense workouts. She enjoys cycling and going for leisurely jogs with her 23-year-old sister.
Her parents are both pianists and she also has a 31-year-old brother.
No longer requiring treatment, Elizabeth now feels more confident than before. She also gained 3cm in height after the surgery to now be 1.56m tall.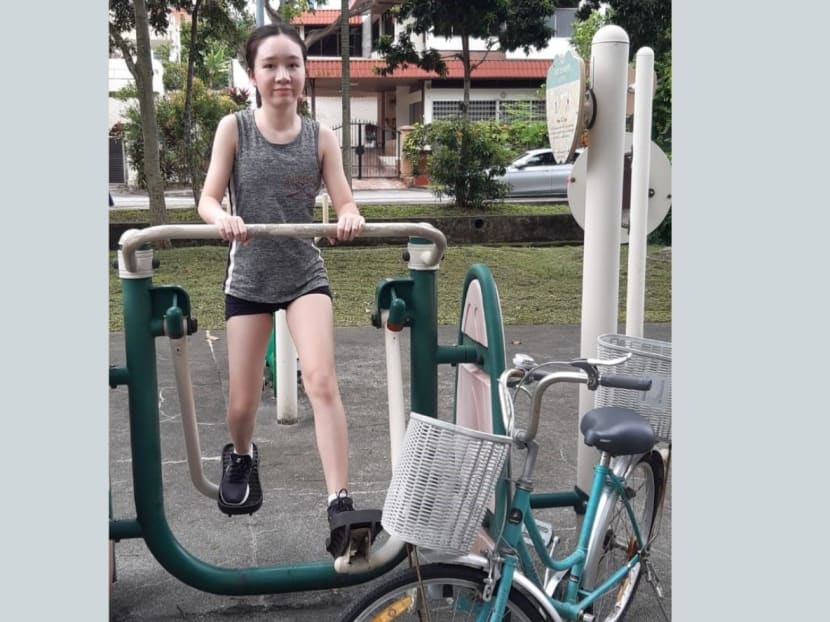 Urging people with scoliosis to be more vocal about their experiences, Elizabeth said: "There's nothing to be ashamed in your recovery as I was, because I didn't understand that people could be so understanding or accepting of my condition."
Encouragement and kind messages from her friends, teachers and support from her family made her recovery more bearable.
With hindsight, she realises that she should have opened up about her condition and feelings right from the beginning.
These days, she embraces the long scar along her spine — it is a reminder of all that she has overcome during the darkest period of her young life.
"Over the years, I think I've grown to be proud of my scar. Whenever I'm upset, I run my hands over the smooth, raised skin of my scar and remind myself that I can get through anything."
SMART BRACES TO SUPPORT SCOLIOSIS PATIENTS
Children and teenagers who may have scoliosis are usually detected through the annual health screening in school.
To enhance the screening process, the University Spine Centre at the NUH recently ramped up its diagnostic and monitoring capabilities at the hospital and at its satellite clinic, the Scoliosis Specialist Clinic, which is located in the Health Promotion Board building in Outram.
Scoliosis affects around two to three in 100 people in Singapore between 10 and 18 years old.
Left uncontrolled, it is possible for scoliosis to result in severe spinal deformity in some cases, restricting the lungs and heart functions and even leading to paralysis.
A new imaging machine that emits less radiation than conventional X-rays is now used to support screening for upper primary and secondary school students.
Asst Prof Lau of NUH said that the low-radiation imaging system uses a micro-dose of radiation to produce radiographical images.
Depending on the machine setting and study quoted, the radiation dosage is reduced by 25 to 94 per cent when compared to conventional X-ray machines used previously, he said.
This makes it suitable for adolescents who require regular X-ray examinations to monitor the progression of scoliosis curvature.
Once diagnosed, suitable candidates are managed with a "smart" brace that allows wear-time to be calculated and recorded over a period of six months. Being compliant with brace wear-time has been shown to reduce the need and the risk of surgery significantly.
Asst Prof Lau said that the smart brace allows doctors to assess the patient's scoliosis curve's response to a treatment and the patient compliance to treatment, and personalise brace wear-time.

"For instance, if 13 hours wear time is effective, there is no need to dial up to 20 hours," he said.
Since the start of the programme, more than 50 patients have been prescribed smart braces.
To improve the process of scoliosis screening nationally, the University Spine Centre has been working with KK Women's and Children's Hospital and the Health Promotion Board Student Health Centre since July last year to establish a local central database for Adolescent Idiopathic Scoliosis.
It will look into the quality of life of patients under different treatment categories such as watchful observation, smart bracing and surgery.