Pre-exposure pill could be game-changer in HIV prevention
SINGAPORE — In what could be a game-changer in Singapore's fight against acquired immune deficiency syndrome (Aids), a pill that can prevent human immunodeficiency virus (HIV) infection is now more widely available here.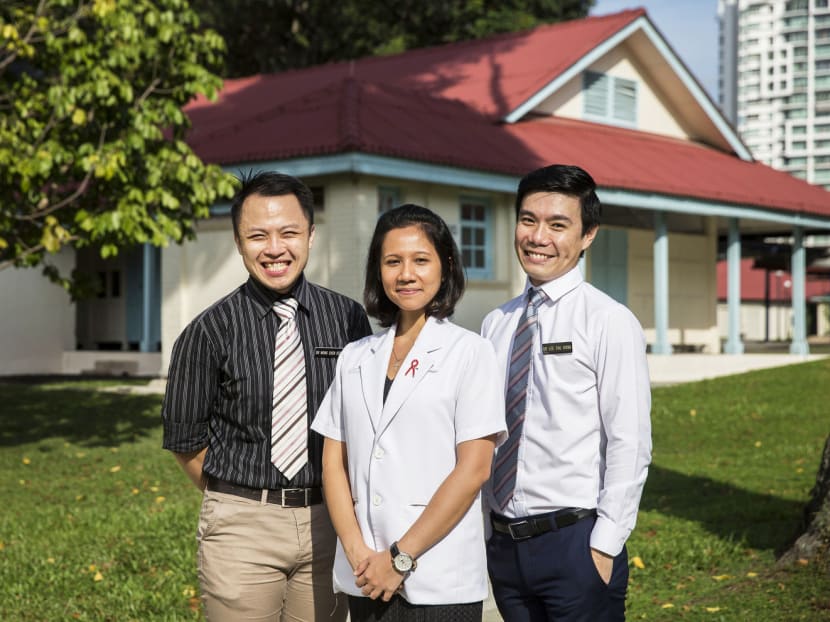 SINGAPORE — In what could be a game-changer in Singapore's fight against acquired immune deficiency syndrome (Aids), a pill that can prevent human immunodeficiency virus (HIV) infection is now more widely available here.
Called pre-exposure prophylaxis, or PrEP, the medication was previously only available at a few private clinics here, but is now also offered by Tan Tock Seng Hospital (TTSH), which sees more than one in two people with HIV. Two other establishments — DSC Clinic at Kelantan Lane and National University Hospital — also plan to offer PrEP, said Dr Wong Chen Seong, a consultant at TTSH's Institute of Infectious Diseases and Epidemiology.
PrEP is given to HIV-negative people who are at high risk of contracting the virus, such as those who have sex with people who are HIV-positive. A patient takes a pill daily for about two weeks before he or she is considered protected. PrEP has been shown in overseas studies to be generally 60 to 70 per cent — and sometimes up to 96 per cent — effective.
"This is the first new (method) of HIV prevention that we have had in many, many years," said Dr Wong.
"In many different settings and countries, we have condoms, the safer-sex message, treating those who are HIV-infected to try and reduce (transmission) rates. But (for) people who are HIV-negative but may be at risk of being infected, this is the first new way of protecting themselves that has come along in a long time," he said. "So I think it's a potential game-changer, but it needs to be introduced well, and in a responsible way."
The pill, made up of two antiretroviral drugs, is part of TTSH's care package, which includes the assessment and counselling of patients as well as sexual-health screening.
Among the groups likely to benefit from PrEP are men who have sex with men and heterosexual couples in which one partner has HIV. Dr Wong said it would offer an extra degree of protection and peace of mind to such couples, especially those who are thinking of having children.
Dr Lee Tau Hong, an associate consultant at TTSH, said the concept of HIV medication for people without HIV is not new, but the previous approach was to prescribe it post-exposure to patients who thought they had been exposed to HIV.
He added that a closer look at the overseas PrEP studies showed that participants who subsequently contracted HIV were not fully compliant in taking the pill. "The protection rate was much higher for those whose bloodstream had the drugs," he added.
PrEP was previously available at private clinics such as the six outlets under Dr Tan and Partners — which began offering it about two years ago — said one of the clinics' founders, Dr Tan Kok Kuan. The take-up rate was initially very poor, but more people are coming forward likely due to increased awareness, he said.
TTSH had decided to offer PrEP early this year, and staff had been putting procedures in place to provide the service in a systematic and comprehensive manner.
So far, the hospital has prescribed PrEP to one client — a middle-aged man who found out about the service through word-of-mouth.
TTSH is in the midst of revising the cost of the medication, while Dr Tan said an original Truvada pill for PrEP costs about S$30 each, with other costs involved for consultation and various tests.
Asked if PrEP could encourage those at risk of HIV to be lax about safe sex, Dr Lee said it was a concern for many physicians here and abroad. But it is better to offer this "layer of protection" that complements other existing strategies, he said.
The TTSH team also spends time telling patients about the prevention of other sexually transmitted diseases, as the pill does not prevent conditions such as syphilis or gonorrhea.
TTSH senior medical social worker Amanda Yap said the introduction of PrEP allows the hospital to play a powerful preventative role, reaching out to people at risk.
Dr Tan agreed that during PrEP consultations and follow-ups, doctors are able to reinforce the need for safe sexual habits. From his experience, PrEP does not lead to people engaging in higher risk behaviour, as individuals willing to invest in it are more aware of, and hence concerned about, their sexual wellbeing, he said.
The number of new HIV cases in Singapore in the last five years has been about 450 annually, said Senior Minister of State for Health Amy Khor last year.
Late-stage HIV diagnosis remains a concern here, and Dr Wong said society can do a lot more to reduce discrimination against people with HIV and Aids.
World Aids Day falls on Dec 1, and the Singapore Aids Conference organised by Action for Aids and TTSH's Institute of Infectious Diseases and Epidemiology will be held on Dec 3.