Pre-school to push expertise in bilingualism through research
SINGAPORE — One of the Republic's largest preschool operators is joining hands with researchers to boost understanding of how children develop bilingual competence in early childhood, and form racial identity and biases.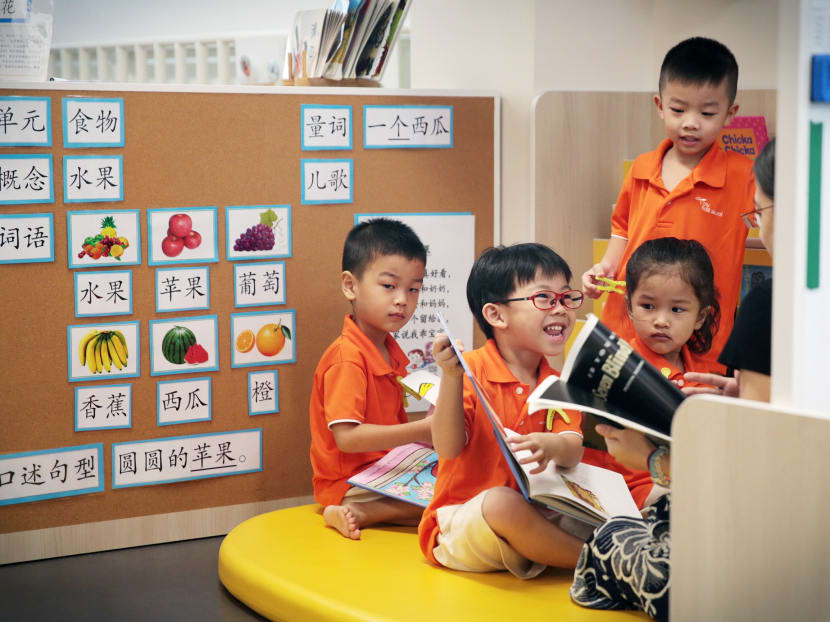 SINGAPORE — One of the Republic's largest preschool operators is joining hands with researchers to boost understanding of how children develop bilingual competence in early childhood, and form racial identity and biases.
The National Trades Union Congress' (NTUC) My First Skool at 10 Jurong West Street 65 – its largest in western Singapore – is already a model preschool for the learning and teaching of mother tongue languages.
To sharpen its niche in bilingualism, the preschool announced on Wednesday (Oct 4) a multi-year partnership with the Chinese University of Hong Kong's Childhood Bilingualism Research Centre (CBRC). The study, led by CBRC director Virginia Yip, will examine how picking up two languages in a child's formative years affects his or her cognitive and social development. It will involve about 100 three- to four-year olds in its first year and will test the children's English and Mandarin proficiency and general intelligence.
In the second year, it aims to study about 50 children and their parents, to find out how living environments influence language proficiency. The study, which will also look at how technology affects learning and how children behave socially, is expected to take four to five years.
Professor Yip, who has conducted similar studies in Hong Kong and various cities in the United States, said the first four years of life are a "golden" but "most neglected" window for honing bilingual competency.
Past studies have found bilingualism has a positive impact on social and cognitive development – such as by enhancing creativity, flexible thinking and helping with developmental issues, said CBRC's Professor Stephen Matthews, who will also be involved in the study.
NTUC First Campus' group mother tongue languages officer Connie Lum said the study aims to help the preschool sector enhance its curricula to strengthen linguistic and cultural awareness among children. There are over 120 My First Skool preschools islandwide.
Parents will be key partners in the preschool's bilingual strategy, said Dr Lum, who noted the increasing number of Singaporeans who predominantly speak English at home instead of their mother tongue.
The other research initiative on development of racial identity and biases was launched last year in partnership with Nanyang Technological University's Early Cognition Lab. Led by the university's Assistant Professor Setoh Pei Pei, it seeks to develop a curriculum to foster racial and religious harmony among children. The research will involve 30 My First Skool preschools including the Jurong West St 65 centre and is funded by the Social Science Research Council.
At the Jurong West St 65 preschool, which can take in more than 300 children aged two months to six years, children play games that require them to switch between English and Chinese, and are taught basic greetings in the four official languages. The children also get to engage with other cultures through puppet theatre, technological tools and current affairs.
The 1,500sqm, three-storey centre was officially opened by NTUC secretary-general Chan Chun Sing on Wednesday.
Mr Chan said bilingualism is a way that children can develop their potential in the formative years. "Unlike schools for older children, we need a greater variety of teaching methods and learning styles to cater to the various needs of (young) children," he said.
A parent, Ms Tang Xuhua, said she enrolled her six-year-old son at the centre earlier this year after hearing about its strong emphasis on bilingualism. "I think it is important to expose them to both languages at a young age as they learn new things quicker then. It helps them build a solid foundation for their later years," said the 40-year-old biology researcher.
Children at all My First Skool centres are taught in English and mother tongue for equal duration.
While the majority of pre-schools here follow Singapore's bilingual education system with English as the main language of instruction, a number offer programmes that immerse children in a Mandarin-rich environment.
They include Chengzhu Mandarin Kindergarten at Buona Vista, which offers Chinese cultural arts and abacus classes; and Joy Little Schoolhouse at Thomson which prides itself on a predominantly Mandarin curriculum. Preschools under the Odyssey group also have a designated full-time Chinese language teacher in every class who remains with the students throughout the day.