Preparations for Singapore's leadership transition going 'as well as they can': Shanmugam
SINGAPORE — Singapore's preparations for its political leadership transition are being done "as well as they can", said Law and Home Affairs Minister K Shanmugam.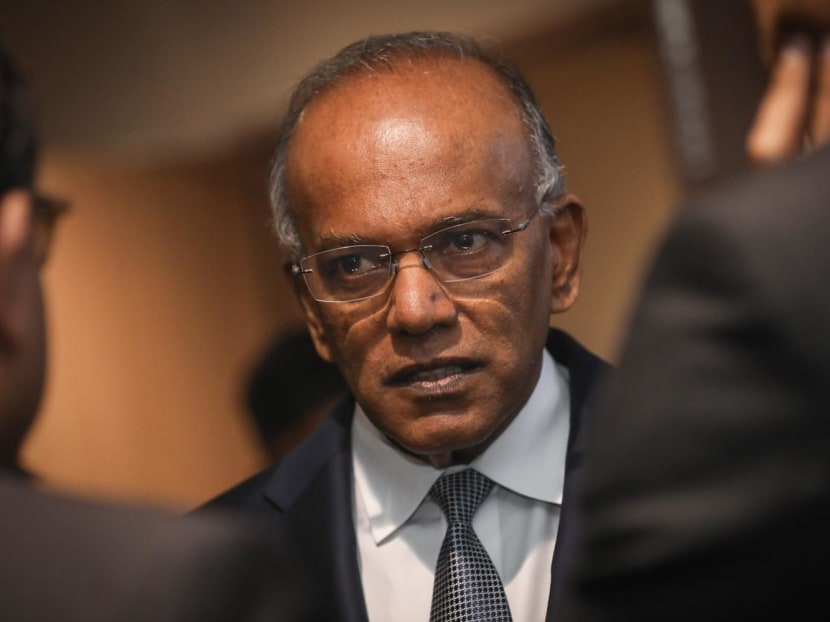 In an interview with the South China Morning Post, Law and Home Affairs Minister Shanmugam spoke about the training that Singapore's leaders go through as they rise up the ranks
He noted, for example, how Singapore's fourth generation of political leaders have gained valuable experience through the Covid-19 crisis and current housing issues
This is different from the process in many other countries, he said, where people do not need training before becoming prime minister
Mr Shanmugam also touched on geopolitics, including the tensions between the United States and China, and the Russia-Ukraine war
SINGAPORE — Singapore's preparations for its political leadership transition are being done "as well as they can", said Law and Home Affairs Minister K Shanmugam.
He also noted that what sets Singapore's leaders apart from their counterparts in many other countries is the "degree of training" they go through before moving up the ranks.
And in that vein, the fourth-generation (4G) leadership is "doing well", Mr Shanmugam said when asked for his assessment on how the new team is "making their mark" during a wide-ranging interview published by the South China Morning Post (SCMP) on Saturday (Apr 8). 
Referring to the COVID-19 crisis and current housing issues for example, Mr Shanmugam said the 4G leaders have gained invaluable experience over the years. He also cited the likes of Deputy Prime Minister Lawrence Wong and National Development Minister Desmond Lee, who were in public service before they entered politics.  
"Now, if you look at DPM Lawrence, who has been identified by his peers (as their leader), he came (into politics) in 2011. Before that, he already worked as Principal Private Secretary to (Prime Minister Lee Hsien Loong) and at other senior civil service positions, so he understands public policy," said Mr Shanmugam. 
"And in politics, he started as a Minister of State, he's now had 12 years. He will have a little bit more before he takes over. Not as much as PM, but quite a lot."
He added: "If you look at the 4G... take any one of them. Look at Desmond. He was in public service. Then, he's been with me at Home Affairs, so he understands security. Now, he is dealing with a problem, an issue which bedevils many countries – housing... He will, I have no doubt, deal with it."
DPM Wong was named in April last year by Cabinet ministers as the leader of the fourth generation of Singapore's political leadership. The decision was also endorsed by all government members of Parliament in a party caucus. 
The timing of the leadership handover has not been set, with DPM Wong saying in September last year that he will take over the mantle of leadership from PM Lee at a time when both he and the rest of the 4G team are "ready for it".
In his interview with SCMP, Mr Shanmugam noted that "if you want to be a prime minister, in most countries, you don't need any training".
"All you need to do is stand for elections, look somewhat good, say something attractive and you could be elected," he said. "We are, however, different. We think some degree of training is generally useful, some degree of experience is useful, before you become a minister or prime minister."
CUTTING THEIR TEETH
Mr Shanmugam noted how both PM Lee and his predecessor, Mr Goh Chok Tong, had handled a variety of portfolios over more than a decade in politics, before they took the top post. 
He added that ministers are not only assessed by how well they handle their portfolios - they also need to be able to hold their own at the weekly Cabinet meetings. 
"As important as the ministries, are the weekly Cabinet discussions, the way you deal with problems," he said.
"You come up against issues – whether it's foreign policy issue, or the American view, Chinese view, the European view, Malaysian view, Indonesian view. How do you deal with this? How do you deal with that? What's your position from the perspective of a small country?"
Referencing how PM Lee learnt the ropes, Mr Shanmugam added: "From 1984 (his entry into politics) until he became prime minister in 2004, we are talking about 20 years of experience.
"How many countries are there where people have 20 years of experience in ministerial portfolios? There will be some, but it's not common. And then, he becomes prime minister. By then, he has pretty much seen most of the problems."
The same applies to Mr Goh, who cut his teeth at several ministries.
"If you look at (former) prime minister Goh, I think he came in 1976 (General Election), and he became Prime Minister in 1990. So, 15 years, also held a variety of portfolios – defence, finance, health, various portfolios," Mr Shanmugam said.
CONCERNS ON 'CLASS DIVIDE'
During the SCMP interview, Mr Shanmugam also touched on geopolitics, including the tensions between the United States and China, and the Russia-Ukraine war which he had also spoken about last month at an event organised by the ISEAS-Yusof Ishak Institute think-tank.
On the domestic front, he responded to a question on whether he was concerned that the "influx of wealth and talent" could impose "new pressures on divisions within Singapore society". 
Mr Shanmugam acknowledged that the competitive nature of Singapore's society has led to the "pressure to compete". 
Part of that pressure boils down to Singapore being a "very small place", but he assured that the Government will continue to look after the basic needs of Singaporeans.
"In a very small place like Singapore, where you can travel from one side of the island to the other in about 40 minutes by road, the people with a lot of wealth live right next to the people with less wealth," he said.
"Any urban financial centre, international financial centre - you can take New York, you can take London, you can take Singapore, Hong Kong - it will attract capital. It will attract people of talent... and their incomes will be on the international scale."
But unlike the other cities, people in Singapore "can't move out" to other parts of their country if they did not like it here. 
He added: "It's a sovereign country, which is also a city-state, and you are in Singapore. And because wealth creation in Singapore is based purely on being able to compete with the world — it doesn't produce the resources that Malaysia produces, or any other country produces — it's got to be competitive.
"In any such competition, there will be winners and there will be people who don't do as well. The Government makes sure that most people's basic needs are taken care of — as long as they work hard. So it doesn't matter if you don't reach the top — you will still have a decent life." CNA
For more stories like this, visit cna.asia.