Preparing the workforce for a changing future
In this age of machines, workers will need to acquire new skills and interests as well adopt fresh attitudes, said Minister for Education (Higher Education and Skills) Ong Ye Kung, adding that the more human a worker is, the less likely he will be displaced by technology. Speaking at the Lifelong Learning Festival on Saturday (Oct 27), Mr Ong also announced new initiatives to boost continuous education and training by Singapore's institutes of higher learning, in what he described as a major but necessary transformation for these institutions in response to new challenges. Below is an excerpt from his speech.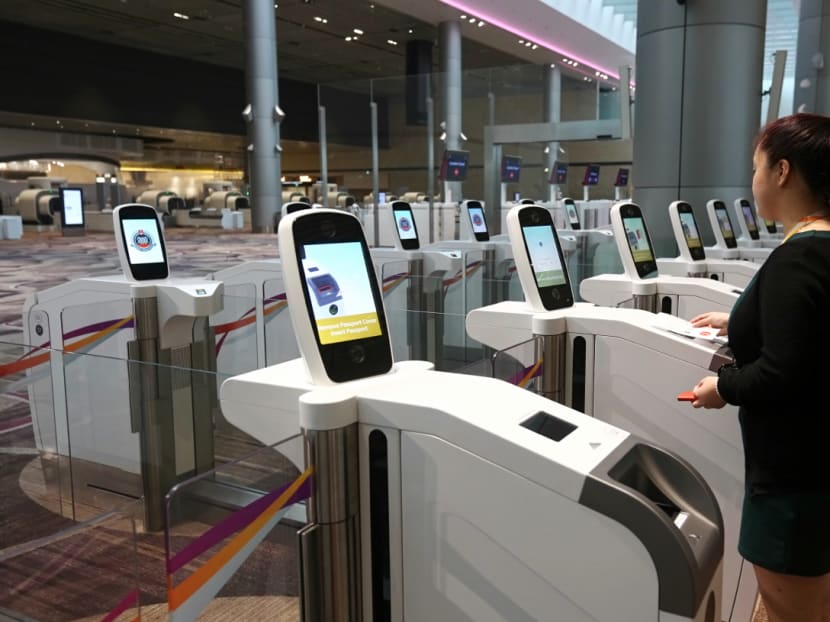 In this age of machines, workers will need to acquire new skills and interests as well adopt fresh attitudes, said Minister for Education (Higher Education and Skills) Ong Ye Kung, adding that the more human a worker is, the less likely he will be displaced by technology.  Speaking at the Lifelong Learning Festival on Saturday (Oct 27), Mr Ong also announced new initiatives to boost continuous education and training by Singapore's institutes of higher learning, in what he described as a major but necessary transformation for these institutions in response to new challenges. Below is an excerpt from his speech.
Changi Airport Terminal 4 will officially open in a few days' time. I was hosted by the Changi Airport Group (CAG) on a tour of the terminal recently. It is a delicately and thoughtfully built terminal, one that we can be proud of.
What left the deepest impression on me was the pervasive and seamless use of technology throughout the terminal.
Self-check in has been made easy, using facial recognition. The gates for the departure lounge are fully automated – again, verification is through facial recognition plus thumb print, to make doubly sure it is you.
It is a seamless process made possible through tremendous co-operation between CAG and the Immigration and Checkpoints Authority.
Security checks of carry-ons are via a CT X-Ray machine. The resolution is high enough that there is no need to take your computers and tablets out of your bags – this also means that handlers are no longer required to help you with the security checks.
At the departure lounge, you will be greeted with delightful art pieces, even moving ones, abundant greenery and robotic cleaners.
The airport system already remembers your face, so you can scan your ticket and board the plane through an automated gate.
You may realise by now that your experience at the terminal can be entirely handled by automation and IT, and you need not interact with another human being. I asked the CEO of CAG, Mr Lee Seow Hiang, that with all these technological applications, what are the manpower savings compared to running it like Terminal 3?
His answer: At steady state, only 10-20 per cent less.
There was no large-scale destruction of jobs, because instead of check-in counter staff, T4 will have customer service staff guiding and giving assistance to travellers going through self-check in and automated immigration counters.
In the backroom, there are numerous IT and technical staff keeping the automated system going.
There need to be supervisors overseeing the cleaning robots. T4 will have half a million plants, and the number of trees is more than T1-3 combined – and has a strong team of horticulturalists and landscape professionals maintaining them.
They will have staff curating the art pieces and the creative displays.
At T4, jobs did not disappear, but the nature of jobs has changed. This is the longstanding tug-of-war between technological advancement and human adaptation. It is part and parcel of human progress.
In the case of T4, airport staff need to learn to work alongside computers and machines, to bring about a better, one-of-a-kind airport experience.
What happens in T4 applies to all industries. Workers the world over need to acquire new skills, adopt fresh attitudes, develop interests and passions.
If you are in the technology sector, you need to be tech-savvy enough to manipulate, supervise and configure the computers and robots, or at least be able to leverage new technological capabilities to raise your performance.
If you are in the services sector, you need to be able to exercise judgement and think on your feet, and provide service with a high touch when the situation requires it.
Ironically, in this age of machines, the more human you are, the less likely technology can displace you. The truth is everyone needs to possess a bit of both high tech and high touch skills.
EMPOWERING LEARNING
How do we prepare a workforce for a changing world? In Singapore, people do look to the Government from time to time. And if we look back over the course of our short history, the Government has played an active role to retool our workforce at critical junctures of our economic development.
In our early years of industrialisation, the Government rolled out Best and Wise to equip the workforce with literacy and numeracy skills.
In the 1980s, the Government established the National Computer Board and embarked on a national training programme to teach Singaporeans how to use computers.
Most recently, we rolled out SkillsFuture for Digital Workplace – targeted at 100,000 workers in the next three years as a start – to help them adapt to a data- and technology-rich workplace environment.
But these programmes address only the basic, foundational skills. They are effective in signalling to workers that major changes are afoot, and it is time to adapt, but it is by no means adequate for workers to chart a whole new career. They also help workers overcome unfamiliarity and apprehension to new work demands. But to adapt to seismic changes, we need every worker to take the initiative to adapt and learn.
The Government's job must be to empower individual workers to exercise such initiative, and take charge of their own lifelong learning journey.
That is why SkillsFuture needs to be a national movement, and not just a Government scheme. And I believe Singaporeans understand the importance of SkillsFuture.
Last year, training participation in job-related training was 42 per cent, a significant increase of seven percentage-points over the previous year, and we still have room for improvement.
There are many things we need to do to strengthen this sense of empowerment for workers. Today, I would like to touch on just one aspect, which is to make good training programmes more accessible and known to Singaporeans. Such training opportunities can be made available to workers through three channels: their employers, private training providers, and our Institutes of Higher Learning (IHLs), namely, the Institute of Technical Education, Polytechnics and Autonomous Universities.
Collectively, they form the three pillars of supply of Continuing Education and Training (CET).
BUILDING UP THE THREE PILLARS OF CET
We built up the employers pillar in the early years of our industrialisation. We were attracting MNCs to invest in Singapore, and these are big companies who know their skills requirements and are able to train their workers well.
So the CET policy at that time was very much about encouraging employers to train their workers well. However, the weakness of the system is the lack of support for those without employers – the unemployed, contract workers, or workers seeking to change industries or trades.
The weakness became more apparent during the Asian Financial Crisis of 1997, when unemployment spiked. Then, there was a deep realisation that we also needed a system for training support to be given directly to the individual worker, to empower him to take charge of his own skills upgrading, to find a job, or upgrade to a better job.
The Government therefore worked with the unions and industry bodies to build up the second CET pillar – private sector training institutions, which offer subsidised training directly to individual workers.
To give dedicated attention to grow this second pillar, the Singapore Workforce Development Agency was established in 2003. WDA worked with private training providers to set up CET training centres – mostly private sector-led – to broaden the range of subsidised training courses to workers.
Today, there are about 50 such CET centres offering training for workers across many industries.
The unfinished work today lies in the third CET pillar, which is workers' training delivered by public IHLs.
If we exclude programmes which may be more academic in nature, such as part-time Diplomas, Masters and PhDs, IHLs account for 8 per cent of total CET delivery today.
It is a pity, given the tremendous delivery capability of IHLs. But it is also understandable, because CET has never been the remit of IHLs, whose primary mission is to educate students. That has changed. Today, SkillsFuture is under the Ministry of Education, and CET forms part of the expanded mission of IHLs.
Over the next three years, from now to 2020, MOE will therefore expand CET delivery capacity significantly, by ramping up delivery by IHLs. This will ensure that our CET delivery system rests on three equally strong pillars – employers, private training institutes, and IHLs – each playing a critical, systemic role.
SKILLSFUTURE SERIES
Let me flesh out our plan a little. We have lined up more than 400 courses as a start, for which IHLs will start enrolment from now till the early part of 2018. We call this initial roll out the IHL SkillsFuture Series.
The programmes will be modular and bite-sized, so that it is easier for working adults to participate in. They will be pre-subsidised, by up to 70 per cent of the course fees for Singaporeans and Permanent Residents, and the remainder nett fee can be paid through your SkillsFuture Credit.
The courses will be focused around eight emerging and important areas that are central to Singapore's future economy needs. Several of these areas will cover new technologies that have caused some sense of uncertainty and worry amongst workers.
We hope that through the SkillsFuture Series, the new and unknown can be demystified, and Singaporeans can pick up relevant skills and knowledge of this era, and face the future with greater confidence and enthusiasm.
As a start, we have assigned specific IHLs to each emerging area, but in time, we must expect each IHL's offerings to diversify and broaden. The eight areas are:
a. Data analytics, which the National University of Singapore will focus on;
b. Advanced manufacturing, which Nanyang Technological University and Singapore Polytechnic will focus on;
c. Finance, which will be Singapore Management University's focus area;
d. Digital Media, by Nanyang Polytechnic;
e. Cybersecurity, by Singapore University of Technology and Design and Temasek Polytechnic;
f. Entrepreneurship, by Nanyang Polytechnic;
g. Tech-enabled services, such as logistics and hospitality, by Singapore University of Social Science and Republic Polytechnic; and
h. Urban solutions, by Singapore Institute of Technology and Institute of Technical Education.
Over the next three years, MOE will be spending more than S$70 million on the SkillsFuture Series. Through the SkillsFuture Series, adult learners will have access to a curated catalogue of industry-relevant training programmes.
By 2020, we expect the total annual CET training hours delivered through the IHL SkillsFuture Series to increase five-fold, from 440,000 hours today to 2.2 million hours by 2020. The number of trainees will grow five-fold as well. By year 2020, the projected annual expenditure by IHLs on modular training under SkillsFuture Series will be about S$40 million a year, compared to less than S$5 million now.
As we invest more in industry-relevant, modular training for adult workers, we face the reality of a finite budget, and the need for prioritisation. MOE will therefore review the funding arrangement and delivery of postgraduate Masters' programmes by coursework at the Autonomous Universities.
Some of these may be skills and vocational-based, and better delivered as modular industry training leading to graduate certifications. Further, we will have to relook the funding levels for coursework programmes which are purely academic in nature. Any changes will take effect no earlier than 2019.
The IHLs are all keenly aware that this is a major transformation for their institutions, but a necessary one, in response to the challenges of our time. In pushing for CET, there is also a great opportunity for IHLs to better synergise research and teaching.
However, while they are leveraging their existing and traditional strengths, I must caution that training adult workers is not simply about unstacking a full qualification programme into modules and dishing them out with a CET label.
The learning needs of students and adults are fundamentally different, and in the coming years, IHLs will build up expertise and experience in this area.
Part of the training may be customised for corporate training, but the bulk must be offered based on open enrolment and be accessible to individual workers. Some of the courses should be structured into Professional Conversion Programmes.
Every evolutionary improvement of our lifelong learning ecosystem has been the result of close collaboration between industries, unions, private training providers, the Government, and now, IHLs.