Prices of HDB resale flats, private homes rise in 2020, sparking concerns about affordability
SINGAPORE — Prices of public housing resale flats surged to multi-year highs last year in defiance of the largest recession since Singapore's independence, while private property prices also climbed, based on data released by the authorities on Friday (Jan 22).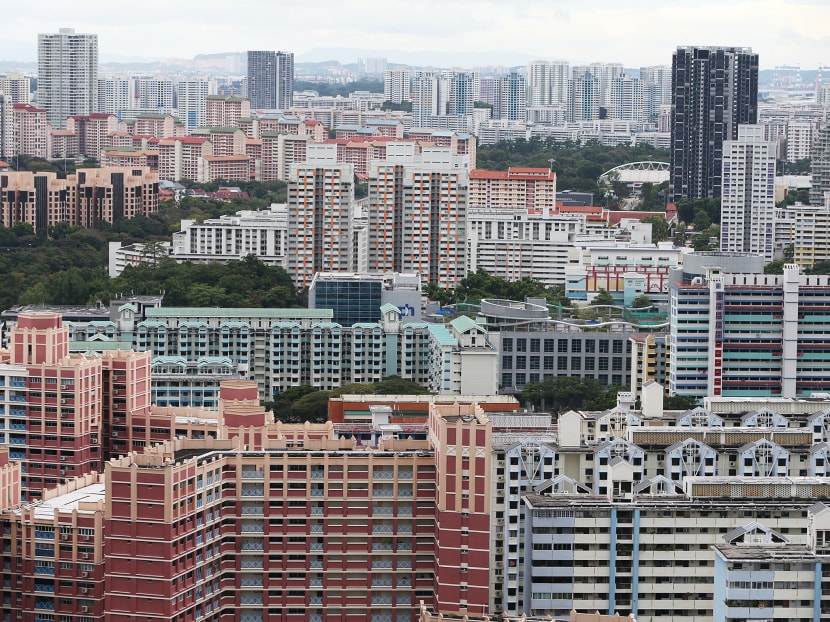 Resale prices of public housing flats rose 5 per cent in 2020, the largest yearly spike since 2012
Private home prices also climbed 2.2 per cent in 2020, in line with government estimates
Some property analysts said property controls might be in the offing
SINGAPORE — Prices of public housing resale flats surged to multi-year highs last year in defiance of the largest recession since Singapore's independence, while private property prices also climbed, based on data released by the authorities on Friday (Jan 22). 
HDB RESALE PRICES
Resale prices of public housing flats rose by 5 per cent last year, the largest yearly spike since 2012, the Housing and Development Board (HDB) said 

The number of resale transactions also increased by 4.4 per cent for the year

Based on HDB's resale price index, prices in the fourth quarter of 2020 climbed 3.1 per cent from the previous quarter, marking two straight quarters of strong growth. The numbers from the latest quarter came close to the peak in the second quarter of 2013,  analysts noted

Analyst's take: "Although the HDB resale price index ended 2020 with an impressive rate of growth, it was still 7.5 per cent lower than the peak of the price cycle in mid-2013, which means that there is still room for growth," said Mr Nicholas Mak, head of research and consultancy at real estate firm ERA Singapore
PRIVATE HOME PRICES
Prices of private property rose 2.2 per cent last year, the Urban Redevelopment Authority (URA) said on Friday, in line with a flash estimate released earlier this month 

Prices went up by 2.1 per cent in the fourth quarter of last year, up from the 0.8 per cent increase in the previous quarter

In 2019, prices had climbed by 2.7 per cent from the previous year

Analyst's take: Mr Wong Xian Yang, associate director of research for Singapore and Southeast Asia at Cushman and Wakefield, a property consultancy, said prices are expected to swell by up to 5 per cent this year, barring new government measures to stabilise the market 
MORE PROPERTY COOLING MEASURES?
Some property watchers said that property controls could be in the offing.
The Government intervened in the market amid surging residential prices in 2012 and 2013, rolling out several rounds of cooling measures. 
These include the Additional Buyer's Stamp Duty, paid by homeowners who buy their second or more properties two weeks after exercising their option to purchase, and the Total Debt Servicing Ratio framework, which requires financial institutions to ensure loans approved do not push borrowers' debt servicing ratio above 60 per cent of their gross monthly incomes.
On Jan 18, Deputy Prime Minister and Finance Minister Heng Swee Keat spoke about rising property prices during the Covid-19 pandemic, saying that young Singaporeans must be able to afford homes and fulfil their aspirations.
"This is why we pay close attention to the property market to ensure it remains stable… We will remain vigilant as the economic outlook remains very uncertain. 
"We do not want to see the property market run ahead of the underlying economic fundamentals," Mr Heng said at an event to mark the 61st anniversary of the Real Estate Developers' Association of Singapore.
His comments were consistent with what National Development Minister Desmond Lee said at a seminar that same day — that the Government is keeping a close watch on the property market.
Mr Lee Sze Teck, director of research at real estate consultancy Huttons Asia, said that the recent price surges could be driven by owners of new HDB flats selling their homes once they reached their minimum occupation period of five years. There were some 50,000 Build-to-Order flats launched in 2011 and 2012 that have hit their five-year mark.
This could have pushed up the overall price index because these owners decided to cash out and move to another property, said Mr Lee.
"Should there be more control measures, it will affect the HDB resale volume, as HDB upgraders account for quite a number of private property transactions," he said.
Mr Wong from Cushman and Wakefield said it was too early to say if more cooling measures should kick in now, since the spurts in private home prices were seen only in the past quarter or two.
"If (private home) prices continue to grow at this rate of more than 2 per cent per quarter for the next one or two quarters, the authorities may step in."
ERA's Mr Mak said that more cooling measures were unnecessary. He noted that last year's increase in private home prices was still a fraction of that in a market boom: In 2010, the residential property price index rose by 17.6 per cent year-on-year.
"It took more than seven years for private housing prices to recoup the losses brought about by government intervention," Mr Mak said, explaining that prices in the fourth quarter of 2020 marked a recovery to the peak in 2013. 
With the Government's aim to keep housing affordable for young Singaporeans, cooling measures would do the "exact opposite".
"How do additional or higher taxes and tighter financing criteria improve housing affordability?" he asked. 
WHO'S BUYING?
Although the pandemic may have hit some Singaporeans in the pocket, analysts said a large pool of buyers were still willing to plonk their money into assets.
Mr Wong of Cushman and Wakefield noted that Singapore appears to be experiencing a K-shaped economic recovery, in which some industries such as manufacturing and finance services have continued to expand, while others such as business services and accommodation have declined.
"Property buying demand could be fuelled by these sectors, which have been relatively unaffected or, in fact, have grown stronger due to Covid-19." 
With the stock market also recovering by more than 30 per cent since bottoming out in the first quarter of last year, many investors could have cashed out and bought property as well, he added.
The longer completion period of recent Build-to-Order flat launches, due in part to the pandemic's impact on the construction industry, could also have driven prospective buyers of new flats to consider the resale market.
Ms Christine Sun, senior vice-president for research and analytics at consultancy OrangeTee and Tie, said that Singapore's fiscal support measures could also have "unwittingly" bolstered property prices by allowing more liquidity to flow into real estate.
Developers dangled attractive offers and sellers eager to offload units were more open to price negotiations. Record-low interest rates also lowered the barriers of property ownership and encouraged undecided buyers to "get off the fence", she added.
"While the pandemic has triggered long-lasting scars and unprecedented challenges for the global economy, certain factors have also made it more favourable for buyers who have been struggling to enter the market for several years," said Ms Sun.