Private property prices post steepest quarterly rise in almost 3 years: URA flash estimates
SINGAPORE — Private property prices have posted a full year of quarterly increases after rising 2.9 per cent in the first quarter from the fourth quarter of last year — the steepest jump since the second quarter of 2018. Prices had gained 2.1 per cent in the fourth quarter.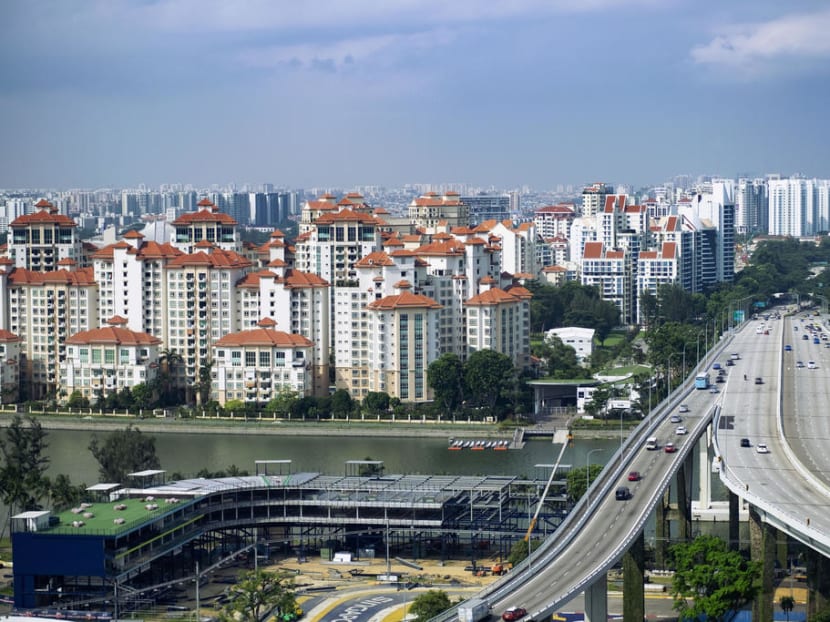 Private property prices rose 2.9 per cent in 1Q 2021, up from a 2.1 per cent increase in 4Q 2020
HDB resale prices rose 2.8 per cent in the first quarter, down from a 3.1 per cent increase in the fourth quarter
Property analysts say further private property price rises will hinge on border openings and an anticipated influx of foreign buyers
For HDB resale prices, the Government is in a position to regulate BTO prices to ensure housing remains affordable
SINGAPORE — Private property prices have posted a full year of quarterly increases after rising 2.9 per cent in the first quarter of 2021 from the fourth quarter of last year — the steepest jump since the second quarter of 2018. Prices had gained 2.1 per cent in the fourth quarter.
Analysts said the Urban Redevelopment Authority (URA) flash estimates, released on Thursday (April 1), indicate that the price rises were driven by sales in non-prime areas.
Private property prices in prime areas recorded a fall owing to the lack of foreign buyers due to Covid-19 travel restrictions, they added.
Housing and Development Board (HDB) resale prices also rose for the fourth straight quarter, increasing 2.8 per cent quarter-on-quarter in the quarter ended March 31, according to HDB flash estimates, also released on Thursday. In the previous quarter, the rise was 3.1 per cent.
Prices of both public and private housing have been on the rise since last year, sparking concerns about affordability.
Property analysts say that prices for private housing will continue to rise as more HDB dwellers look to sell their flats for an upgrade. A potential influx of foreigners as vaccination programmes are rolled out around the world may also lead to a surge in demand, they said.
Experts said that the HDB resale market, though on the rise, will not be as volatile as the private property market, as the Government will be able to cool the market by adjusting the prices of new Build-To-Order (BTO) flats.
HDB said in its flash estimates report online: "Given the economic uncertainty due to Covid-19, HDB is monitoring the housing market closely and will calibrate the supply if required."
Both HDB and URA said that the statistics for the full quarter will be released on April 23. Flash estimates take account of some but not all of the data for the period under review.
PRIVATE PROPERTY PRICES SET TO RISE FURTHER WITH BORDER OPENINGS: ANALYSTS
Analysts said that the price rises were driven by sales of private properties in the rest of central region (RCR), which covers areas such as Chinatown, Tanjong Rhu and Boon Keng, which lie just outside the central core region (CCR).
The URA data showed that RCR prices jumped 6.1 per cent, compared to the 4.4 per cent rise in the previous quarter. In contrast, CCR prices fell marginally by 0.3 per cent, while those in the outside central region (OCR) — covering the rest of Singapore — increased by 0.9 per cent.
The CCR covers the traditional prime areas of Singapore such as Orchard, Newton, Bugis and Sentosa, and property prices are typically high in these parts of the city.
Ms Christine Sun, senior vice-president for research and analytics at consultancy OrangeTee and Tie, said that the surge in RCR prices is due to the increase in sales of pricier homes there.
Mr Leonard Tay, head of research at property consultant Knight Frank Singapore, told TODAY that many families in young HDB flats have reached their minimum occupation period and will be looking to upgrade to a private residence, driving up the demand for homes in the area.
"If their BTO flats are in fairly good locations, there will be some profits, and these profits will enable them to transit to the private market," said Mr Tay.
A lack of foreign buyers, coupled with a dearth of new housing projects, accounted for the marginal dip in CCR prices, the analysts said.
Mr Chris Koh, director of property consultancy Chris International, said that the start of the year is when many foreigners typically return to their home countries while others were unable to travel to Singapore this year due to travel restrictions, thus the number of purchases fell.
The vaccination roll out and anticipated opening of borders in the coming year will probably push up demand again, he added.
"As we create more travel bubbles and once airlines start flying and the country opens itself up to foreigners, that would push the numbers up."
According to URA statistics and those from Orange Tee and Tie Research and Analytics, foreigners bought 1,005 non-landed private homes in the whole of 2019, compared to just 743 they purchased last year amid the pandemic.
Agreeing, Mr Nicholas Mak, head of research and consultancy at real estate firm ERA Singapore, said that he expects a further increase in private property prices as borders reopen.
The URA and Orange Tee and Tie statistics show that the number of non-landed private homes bought by foreigners has jumped from 198 units in the fourth quarter last year, to 255 units in the first quarter.
This is also the highest quarterly number since the fourth quarter of 2019, when 316 units were sold to foreigners.
However, Mr Mak said the extent of any upcoming increase in sales remains to be seen, as the vaccination programmes for countries around the region have been "uneven", keeping in mind that a big bulk of foreign buyers come from China, Indonesia, Malaysia and India.
"If you look at places like Indonesia and India, the pandemic is still not under control," he said.
"No homebuyer would want to come here and go through stay-home notice for 14 days just to visit a showflat."
HDB RESALE PRICES SET TO RISE, BUT NOT AS VOLATILE AS PRIVATE PROPERTY PRICES
While there is a steady stream of resale HDB units going on the market from sellers looking to upgrade, more young families have been jumping into buy flats on the resale market due to the uncertainty caused delays in BTO construction projects.
"(Buyers) are not sure when they can get keys to the flat," said Mr Mak. "In the past it tends to be about three years, but now there are rumours that it could be four years or more."
"As a result, some of these buyers turn to the resale market, where it is more certain, and this leads to an increase in demand and prices of HDB resale flats."
Ms Sun noted that HDB resale prices are now just 5 per cent lower than the market peak in the second quarter of 2013.
"At the current pace of price growth, a new peak may be formed by the second half of this year," she said.
However, Mr Mak said that the Government is in charge of public housing and has a greater influence of the price on resale flats. For instance, resale prices cannot hike too far above the prices offered for BTO flats.
"The Government has said time and again that it wants to keep housing affordable for Singaporeans… it may offer more HDB BTO flats, then it can keep the prices of the new flats low.
"This can have a moderating effect on the prices of the resale flats."