Progress made in forging understanding of race, but issue remains 'spiky': Shanmugam
SINGAPORE — While Singapore is making progress when it comes to moving the needle on race, it is still a "spiky" issue that will take a very long time, if ever, to go away, said Home Affairs Minister K Shanmugam.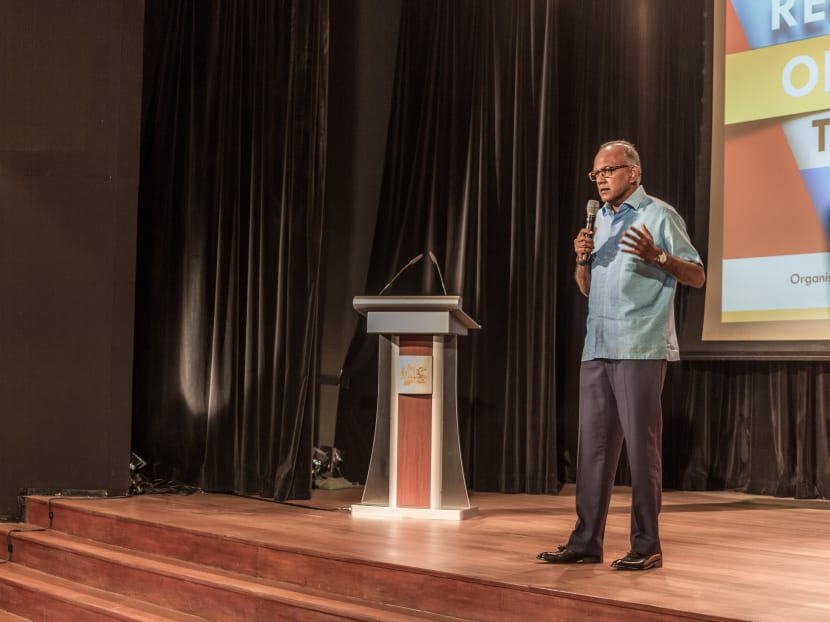 SINGAPORE — While Singapore is making progress when it comes to moving the needle on race, it is still a "spiky" issue that will take a very long time, if ever, to go away, said Home Affairs Minister K Shanmugam.
Speaking on Sunday (Sept 29) at a dialogue organised by regional news channel CNA and OnePeople.sg, an organisation that promotes a deeper understanding of race relations, Mr Shanmugam said the discussion on race needed to be taken to a larger audience to get people up to speed about the sentiments on race and religion, and how the majority and minority races feel about the issue.
In a wide-ranging dialogue session as part of the Regardless of Race series at the Asian Civilisations Museum, Mr Shanmugam, who is also Law Minister, delved into topics such as the saga involving YouTuber Preeti Nair and her brother Subhas Nair, how to deal with racism in the workplace, promoting discussions about race in schools, and putting up an ethnic minority candidate as prime minister.
PREETIPLS SAGA
The Nair siblings were issued a 24-month conditional warning in August for an expletive-laden rap video but the saga resurfaced in the dialogue, which was attended by 150 members of the public and community groups.
The video, brimming with vulgarities against Chinese Singaporeans, was recorded in response to a Nets advertisement featuring Mr Dennis Chew, a Chinese Mediacorp actor decked out as four characters, including an Indian man with a brown face and a Malay woman wearing a religious headdress.
Explaining the decision by the authorities, Mr Shanmugam said it cannot be the case that the Government intervenes only when Chinese Singaporeans, who form the majority, make an offensive video about a minority race. "Either we intervene for all or we intervene for no one."
Chinese Singaporeans could also possibly produce a similarly offensive video on a minority race. "If there was a flood of such videos with the Chinese saying the same things about Indians and Malays, how safe do you think you would feel walking on the streets?" Mr Shanmugam asked.
The Government has to be seen as "fair and neutral and in the middle", the minister added.
CMIO MODEL HAS BUILT TRUST
There have been suggestions that Singapore's long-standing Chinese-Malay-Indian-Others (CMIO) framework prevents integration, but Mr Shanmugam said it has had the opposite effect. The "Others" group is divided into Filipinos, Caucasians, Eurasians, Arabs, Thais, Japanese and others.
While Mr Shanmugam said Singaporeans can be friends with anyone regardless of race, the reality is that appearances differ and "in each community, there are people who need help".
"The CMIO classification has actually, by being frank and honest and direct in recognising that we are different, helped build trust," he said.
In 2016, a study by the Institute of Policy Studies (IPS), a think-tank, and CNA found that almost seven in 10 respondents believed that the CMIO classification helped build trust. Seventy-one per cent thought the model helped safeguard minority rights because "you can then identify the minorities and say you have these rights", Mr Shanmugam noted.
QUOTAS ON HIRING?
Mr Shanmugam was asked by an audience member if tougher rules could be imposed on hiring in workplaces, such as setting a quota for recruiting employees from a certain race to ensure fairness.
In response, Mr Shanmugam said a quota system would be "very difficult". The best antidote to racism, he added, is to ensure that the economy is expanding and the country records full employment, so employers have no choice but to employ everyone.
While a quota is a "sexy idea", Mr Shanmugam said there are many ways in which employers can avoid it. Singapore is already constrained by the size of its population, the high cost base, and competition from China, India, Vietnam and other manufacturing bases.
TALKING ABOUT RACE IN SCHOOLS
Noting the importance of allowing children "safe spaces" to talk about race, an audience member said there was a need for efforts to begin as early as in preschools.
She noted that preschool teachers still view discussions on race and religion as taboo and fear that their jobs could be at stake if they were to talk about these in classrooms.
Responding, Mr Shanmugam said discussions were needed and people must be willing to talk about the issue.
But the minister empathised with preschool teachers, saying that the setting must be right and they must be "confident enough" to discuss the issue.
He believed that the Chinese, for instance, would be less confident discussing the issue in the way he has talked about it. "I have a bit more licence because I am an Indian. If a Chinese were to say the same things, he would feel very much more constrained because he does not know whether he is going to give offence to an Indian or a Malay," the minister said.
Moreover, few people in Singapore are confident enough to talk about race and religion, Mr Shanmugam noted. "For example, how many people do you think out there — well-educated adults — normally would know why Muslim women wear a hijab?" he asked.
Ultimately, Mr Shanmugam agreed that education, awareness and understanding must be ramped up over time. "From toleration, you have got to move towards acceptance and celebration, but you can only celebrate each other if you understand each other's culture."
ETHNIC MINORITY PM
A question that kept arising, said Mr Shanmugam, was why the ruling People's Action Party (PAP) would not field an Indian PM. He noted that some have even called the PAP "racist".
Mr Shanmugam pointed to the 2016 survey by CNA and the IPS, which found that a vast majority of the respondents preferred the country's top leader to be of the same race as theirs.
For example, almost all the Chinese respondents (98 per cent) said they preferred a Chinese Singaporean PM. By contrast, about 53 per cent said they would accept a Malay Singaporean in that role and 60 per cent an Indian Singaporean as PM.
While Senior Minister Tharman Shanmugaratnam was previously billed as a popular choice to take the top job, Deputy Prime Minister Heng Swee Keat has emerged as the frontrunner to succeed Prime Minister Lee Hsien Loong if the PAP prevails at the next General Election due by April 2021.
GROUP REPRESENTATION CONSTITUENCIES
Over the years, Singapore has made efforts to steer politics away from race.
One example is the Group Representation Constituency system, which encourages multiracial politics instead of politics centred on race and religion. It also guarantees minority representation in Parliament.
The upshot of the system is that it has removed race from the rhetoric of electoral rallies, Mr Shanmugam said.