Reports of abuse of sex workers on the increase
SINGAPORE — Her refusal to give in to a client's demands left Ms Sherry Sherqueshaa — then a sex worker — with a swollen eye and a broken watch in 2014. He also left without paying her.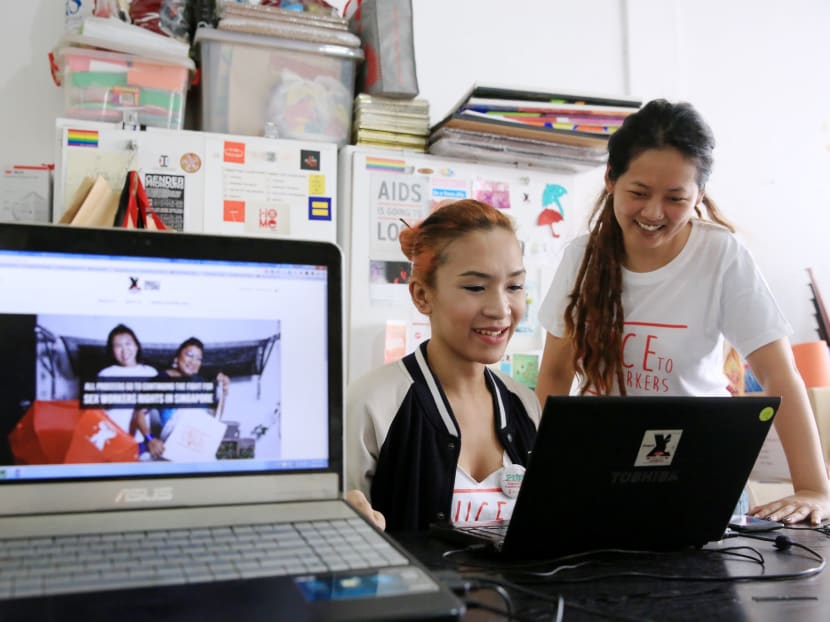 SINGAPORE — Her refusal to give in to a client's demands left Ms Sherry Sherqueshaa — then a sex worker — with a swollen eye and a broken watch in 2014. He also left without paying her.
"I always hear about my friends being abused, but I thought it wouldn't happen to me, that I knew how to fight back. But (in the end), it left ... me on the ground, helpless," said the 25-year-old transgender woman in a recent interview with TODAY.
She is now a researcher and writer with Project X, a sex workers' rights group.
Ms Sherqueshaa's experience is not uncommon among sex workers. According to Project X, the number of reported abuse cases against sex workers has seen a marked increase, partly due to increasing awareness among these workers themselves.
Last year, 72 cases were lodged on "Abuser Alert" — where an individual can submit details about the abuse suffered — on Project X's website, up from 40 in 2014, and 10 in 2013.
And despite the rise in the numbers, the vast majority of cases still goes unreported, said Project X coordinator, Ms Vanessa Ho, 28.
Most victims were physically assaulted (26 per cent), or verbally abused (22 per cent), while others involved unpaid services (7 per cent) or robbery (6 per cent).
But underpinning it all is the same thing: The "systemic disregard" and stigma towards sex workers, said Ms Ho.
While physical abuse against sex workers includes brutal beatings, rape or choking, there are also other kinds of abuse which are more insidious, such as clients using derogatory terms to degrade the workers' self-worth, or paying them with counterfeit cash.
According to Project X, Singapore has about 800 to 1,000 sex workers at any one time, and a majority of them are migrants.
Prostitution is not an offence in Singapore, but it is against the law to solicit in public or for pimps to live off the earnings of prostitutes. Sex workers working at licensed brothels must also undergo monthly health checks.
Last year, 4,976 foreign women were arrested for suspected vice-related activities, said the Singapore Police Force.
Ms June Chua, co-founder of The T Project, Singapore's first shelter for homeless transgender individuals, acknowledged that while abuse has always been part of the sex industry, its workers are now more aware of the avenues where they can get help.
However, due to their vulnerability, sex workers, especially unlicensed ones, live in a "climate of fear", where they are afraid to go to the police for fear of being arrested or deported, said lawyer Josephus Tan, who worked with Project X to hold workshops for sex workers on their legal rights.
This may be more pervasive among younger or less-experienced sex workers, added Mr Leow Yangfa, 41, executive director of lesbian, gay, bisexual, and transgender (LGBT) advocacy group Oogachaga, which has provided counselling services for former sex workers.
The nature of such crimes can also make it difficult for sex workers to seek legal recourse and bring the perpetrators to justice, added Ms Ho.
She advises sex workers to collect evidence such as eyewitness accounts, locating the culprit's phone number in the hotel directory, or closed-circuit television footage.
Ms Ho noted that sex workers often have to solely bear the burden of being abused, as it is often too traumatising to repeat their stories "over and over again".
Of the 72 cases last year, only 17 were reported to the police, and none have resulted in court action so far, said Project X.
Beyond encouraging workers to seek legal justice, the Project X team also spreads the word — through personal contacts or WhatsApp — about the perpetrators, by taking note of their physical characteristics, and encouraging sex workers to keep a lookout for one another.
Last year, Project X invited a transgender woman trained in mixed martial arts to teach a class in self-defence, which included tips on how to get out of a grip, or escape from being trapped in a car.
Ms Ho expressed concerns that intensified policing in the red-light districts is driving workers underground, and this can affect her team's outreach efforts.
"It's very worrying … If I don't see them, there's no way I can do sex education, or tell them about their rights," she said.
Another former sex worker, Mel (not her real name), 20, now part of the Project X team, said the sex workers she has seen are getting younger, and include Singaporeans aged 19 to 23.
She fears that men could easily lure young girls into the industry and exploit them further.
For now, the Project X team is looking to launch another website and social media accounts by August, to provide additional resources for sex workers and encourage them to come forward.
The next "critical" step forward is to create a "meaningful" dialogue with the authorities, so that sex workers who report abuse will not fear getting charged, said Mr Tan. "Their individual safety and rights are paramount ... We need to empower (them) so they will not suffer in silence," he added.
Citing how the authorities can do more to send a "strong" signal to reassure sex workers, Ms Chua said:
"Sex workers are no longer invisible, we are real, we're in the community ... Let's not see this (violence) as an issue against just sex workers, but as a social issue."
On June 28, Project X will be launching an e-store to raise funds for its cause.