Property agencies use tech to boost customer experience, help agents meet rising expectations
SINGAPORE — Just a few years ago, property agent Evonne Tang remembers flipping through the classified advertisements every morning, painstakingly perusing property listings and circling ones that could potentially interest her clients.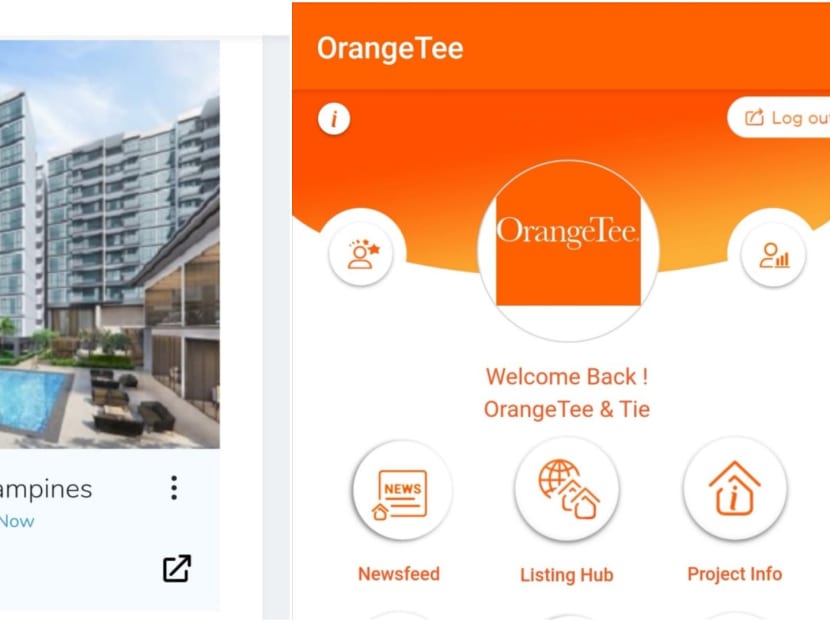 SINGAPORE — Just a few years ago, property agent Evonne Tang remembers flipping through the classified advertisements every morning, painstakingly perusing property listings and circling ones that could potentially interest her clients.
However, all this information — and more — is now at her fingertips, thanks to mobile applications provided by property agencies, drastically reducing the time she has to spend doing "homework" such as digging into the transaction history of the property.
Property agencies have ramped up their use of technology and big data analysis in recent years in a bid to help their agents serve clients more efficiently with a suite of digital services, and to curb increasing marketing costs.
Most recently, ERA Realty Network rolled out a new feature in its mobile application app: A lead generation tool that will allow its agents to better identify potential property sellers.
Other agencies such as OrangeTee & Tie have also tapped technology to help agents meet the growing expectations of clients, with tools such as a free automatic website generator.
MORE TARGETED ADVERTISEMENTS
The new tool launched by ERA will generate business leads for key groups of sellers using data aggregated from sources including the Urban Redevelopment Authority (URA) and Housing and Development Board (HDB).
The feature was available on iERA, the agency's internal mobile application for its agents on Monday (Aug 26). Some 6,800 ERA agents will be able to generate lists of past profitable transactions, using filters such as date of transaction, districts, types of development and the minimum profit percentage, among others.
As a start, the lead generation tool will be able to identify groups of potential sellers including owners of HDB Build-to-Order projects and executive condominiums nearing their minimum occupation period (MOP), and owners of condominiums who have hit the temporary occupation period.
ERA Realty Network's chief operating officer Marcus Chu said: "Before, in order to gain insights into such data, salespersons had to spend an inordinate amount of time doing intensive research on different platforms, even poring through street directories."
With the leads generated, ERA agents will be able to send out targeted advertisements to potential sellers via Facebook marketing, or even direct mailers to unit owners.
EFFORTS TO REDUCE MARKETING COSTS
Meanwhile, OrangeTee & Tie recently launched a tool to help its agents create marketing websites for free for potential buyers of new property launches.
Mr Steven Tan, the company's managing director, told TODAY: "Consumer behaviour and expectations are changing; consumers now want very accurate information, very quickly."
Since the feature was made available in June this year, Mr Tan said about 2,300 OrangeTee agents — about 60 per cent of the company's network — have used the tool, creating more than 12,000 websites in the last three months.
OrangeTee & Tie agent Ms Lisa Seow, 28, said that the tool has helped her cut down on marketing costs, and boosted her clients' "first impression" of her.
Citing an example of how she marketed mega-condo Treasure at Tampines, Ms Seow said that the website was able to give her clients the full spectrum of information on the project.
Ms Tang, who is also from the same agency, said that she is able to advise her potential clients on financial matters speedily.
"Buyers, for example, want to know the amount of capital outlay, their affordability and an optimised purchase based on the amount of cash and (funds from) their Central Provident Fund (CPF) on hand. All I have to do now is to punch in the information and I can get these details within a few seconds."
CHEAPER ACCESS TO ANALYSIS AND REPORTS
ERA agent Jasmine Ye, 35, said that tools that help agents crunch down big data were "especially useful" for her as a new agent starting out in the field.
"I found that all my colleagues were well-versed with using tech, and it has helped me save a lot of time in calculating property valuations and rental yields, for example," said Ms Ye, who has been with her agency for eight months.
Besides using the new feature on her iERA application, Ms Ye said she also utilises platforms like SoReal Prop – a property portal jointly founded by ERA Realty, Huttons Asia and PropNex Realty in 2018 catering to agents, and property buyers and sellers.
Alongside the portal, agents can also tap three other applications, RealAgent, RealHome and RealAnalytics, said Mr Jerimiah Ng, 35, chief technology officer of SoReal Prop.
The apps give agents access to a range of analysis, up-to-date information and reports. RealAgent, for example, enables agents to generate detailed property reports.