Queensway Shopping Centre en bloc attempt faces challenge from shop owners
SINGAPORE — An attempt to put up Queensway Shopping Centre for an en bloc sale is already facing a challenge, as a group of shop owners at the iconic mall are banding together to put a stop to it.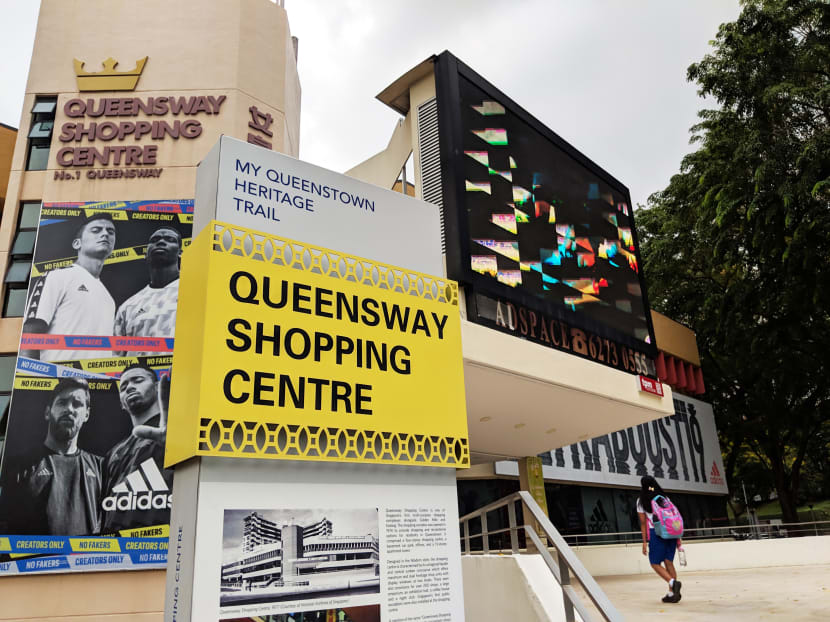 SINGAPORE — An attempt to put up Queensway Shopping Centre for an en bloc sale is already facing a challenge, as a group of shop owners at the iconic mall are banding together to put a stop to it.
So far, a petition against the sale has garnered signatures from more than 20 per cent of the shop owners at the mall, known for its variety of sports apparel and equipment shops.
To succeed, an en bloc sale requires at least 80 per cent of the development's stakeholders to approve of it.
Some residents at the adjoining Queensway Tower, which is included in the en bloc attempt, also told TODAY that they are resistant to a collective sale.
The 100,000 square feet strata-titled mall held an extraordinary general meeting on April 20, and a motion was passed to proceed with the signing of a collective sale agreement (CSA).
The collective sales committee, which was formed last year, has 12 months from the first signature to attain the required votes to launch the public tender for sale.
Savills Singapore was appointed as the marketing agent for the 43-year-old freehold development, which consists of 241 retail units and 78 residential apartments.
SHOP OWNERS SAYING NO TO EN BLOC
In the meantime, one shop owner has started gathering signatures to petition against the sale, saying that the valuation of the shopping centre is too low.
Savills' real estate agency's senior director of investment projects, Ms Suzie Mok, told TODAY the mall is estimated to be worth above S$500 million.
Mrs Lim L.C, who owns a kiosk on the ground floor within the mall, has since gathered more than 50 signatures against an en bloc sale.
"I am quite happy to say that within a short span of about a week, we managed to gather more than 20 per cent of shop owners to object to the en-bloc," she said.
She presented the petition on Tuesday (April 30) to representatives from Savills, the collective sales committee and the law firm that was engaged for the sale, Rajah and Tann.
The valuation that has been given to shop owners is "far below market price", she said, adding that the offer Savills gave her is 60 to 70 per cent of what she could potentially get on the open market.
The businesswoman, who is in her 60s, declined to reveal how much she may receive if the en bloc sale is successful.
Savills similarly declined to disclose how much it was offering the shop owners, saying that valuations were conducted on a shop-by-shop basis.
For one tailor, it is not about the money.
Madam Chee Yoke Cheng, who runs Meng Meng Alteration, says that while business is not as good as it used to be, she hopes the en-bloc sale will not be successful.
The 76-year-old, who has been operating her shop since 1975, has developed strong ties with her customers over the years.
"Some of them have even migrated overseas. But whenever they are back, they will visit me to get their clothes tailored," she said in Mandarin.
"It's not about the money, but the emotional connection I have with this place and its people. Money is always good, but what am I going to do when I sell this place? I could travel, but it won't give me as much satisfaction."
THE CASE FOR AN EN BLOC SALE
In strata-titled malls such as Queensway Shopping Centre, each business owns its own unit.
Ms Mok said that over time, such malls tend to suffer from a lack of diversity in retail offerings, and cannot compete against newer malls.
Not so far away from Queensway are Great World City and Tiong Bahru Plaza, both of which are managed by real estate investment trusts, she said.
These managers decide what would be a good tenant mix to provide customers with a one-stop experience, so the malls have a variety of offerings, she added.
These managers also have a budget for "comprehensive branding programmes", which individual owners of shops in strata-titled malls may be reluctant to spend on, she said.
But Mr Mandeep Chopra, whose family owns several shops at Queensway, disagrees that the mall is failing to face up to competition.
In fact, the 42-year-old said that there are so many shoppers on weekends that he is sometimes unable to find a parking spot in the basement car park of the mall.
Mr Chopra's shops include the football-centric store Weston Corp, and the Limited Edt sneaker shop.
Mr Chopra's father has added his name to Mrs Lim's petition against the en bloc sale.
To survive in today's retail scene, he said business owners have to specialise, a philosophy that he said has worked for his family's business, as he has not noticed a significant drop in sales over the years.
Still Ms Mok told TODAY that there are more shop owners who want the en bloc sale to proceed, than those who are against it.
A shop assistant at a ground-floor sports shop, who declined to be named, said a collective sale would likely be a huge relief for his elderly employer.
The assistant said that business has been slow despite efforts to go digital. While people do walk into the shop, which has been around since the mall opened, he said they often leave without buying anything.
"They're here just to compare prices before they make a purchase online," he lamented.
RESIDENTS LESS THAN ENTHUSED
Residents who spoke to TODAY had mixed feelings about a possible en bloc sale.
While the ageing infrastructure of the property has some leaning towards a sale, they all agreed that they would be sad to move out of a very convenient location in Singapore.
Mrs Lilian Kao, who has been living in the 13-storey apartment for 35 years, said that she was offered about S$2 million for her four-bedroom home.
While her husband is in favour of the en-bloc sale, the 72-year-old retiree said she is not.
"This is a very big house, and for what they are offering I won't be able to get a similar house elsewhere," she said.
Mr Low Swee Heng, who was offered a similar amount as Mrs Kao, is still undecided. 
While the 55-year-old agreed that the amount offered was insufficient to get a similar space in such a central location, he said his decade-old home was looking the worse for wear.
He is also uncertain if he would be able to get a comparable offer for his unit on the open market.
"If the en-bloc is unsuccessful, I might just renovate it," said Mr Low, who owns a renovation business himself.
One resident, who only wanted to be known as Mdm Lee, said she is leaning towards agreeing with an en bloc sale because the lift does not stop on her floor.
However, the homemaker in her 60s said the other members of her family of four are all against a sale. Ultimately, she said, she will go along with what her family decides.
SHOPPERS SAD TO SEE QUEENSWAY GO
Some longtime customers of Queensway Shopping Centre were also wistful about the possibility of the mall being sold and torn down.
Mr Abdulrashid Hashim, 56, has been making regular trips from his home in Pasir Ris to the mall since the 1980s.
"It would be a shame if the mall closes. I've even made friends with some of the shop owners," he said.
Mr Zul Jamil, 39, was more pragmatic in his outlook.
"For us long time visitors, I think it'd be sad to lose an institution…but that's purely nostalgic.
"I think times have changed, especially with (mega sports retailer) Decathlon's presence, as well as online shopping. As a business model, Queensway Shopping Centre is dying and it's just a matter of time."