Like real meat, but guilt-free? Beyond Burger debuts in Singapore
SINGAPORE — They look, cook and supposedly taste like real meat patties, except they are not.
SINGAPORE — They look, cook and supposedly taste like real meat patties, except they are not.
After making waves in the United States, Canada and Hong Kong, Beyond Burger's plant-based (or vegan) patties made their South-east Asian debut in Singapore on Thursday (Aug 16) at a food truck outside the Grand Hyatt Singapore hotel.
Five hundred burgers costing S$10 each were sold on the day, the hotel's food and beverage director Jerome Pagnier said, and patrons were queueing on Friday afternoon for more of the same.
The food truck will operate until Saturday from 3pm to 8.30pm, and from Monday, the burgers will be available at the hotel's mezza9 restaurant.
Beyond Burger is among the plant-based protein products that food technology firms in the US have rolled out in recent years to give meat products a run for their money. Plant-based protein incurs a smaller carbon footprint than animal agriculture, which is one of the world's major contributors of greenhouse gases.
Besides Beyond Meat — the maker of the Beyond Burger — the other firm that has drawn extensive media coverage and high-profile investors is Impossible Foods.
Singapore investment fund Temasek is an investor in Impossible Foods while Beyond Meat's investors include billionaire Bill Gates and Hollywood actor Leonardo DiCaprio.
Beyond Burger is available only at the Grand Hyatt Singapore for now. A lunch or dinner set consisting of a plant-based burger and a side of fries, cauliflower, broccoli or grains will cost S$25++ at mezza9, less than a beef burger (220g patty) on its dinner menu that costs S$32++.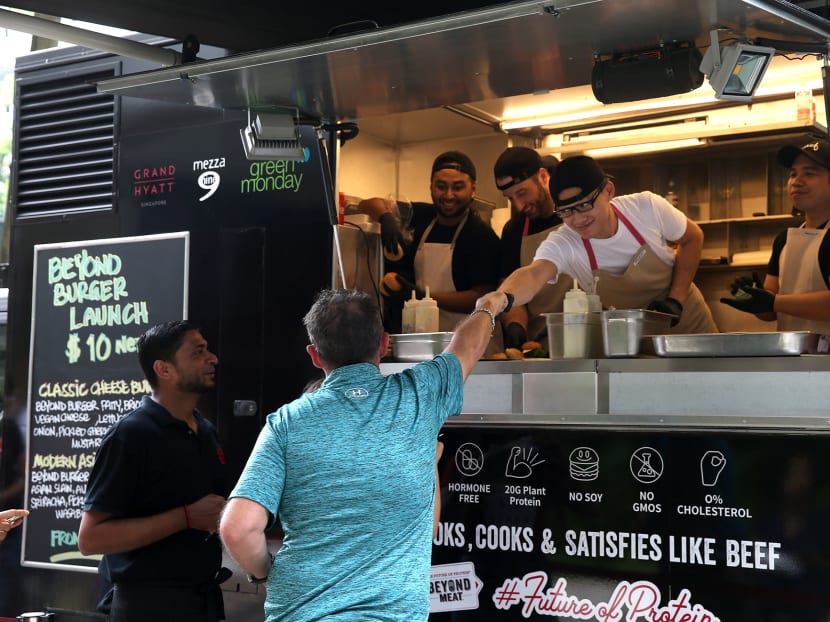 A 113g Beyond Burger patty contains 20g of protein, comparable to beef.
Mr Pagnier said that the hotel wanted to introduce a plant-based protein that mimicked the taste of beef, and had its eye on a few companies.
He got in touch with Mr David Yeung, the founder of Hong Kong social enterprise group Green Monday, through a friend. Green Monday distributes Beyond Meat's products in Hong Kong and this is where Mr Pagnier said the hotel is getting its Beyond Burger supply.
Mr Pagnier, 35, became a vegan two years ago after watching the documentary Cowspiracy, about the negative effects of animal farming on the environment.
"It made me want to give the chance to others to try plant-based alternatives to what they usually eat," he said.
The hotel also offers a plant-based Italian lunch buffet at its Pete's Place restaurant, uses certified-sustainable seafood, and, about four months ago, began using only cage-free eggs — laid by hens that are not confined in wire battery cages.
Not all customers who bought Beyond Burgers from the food truck knew the burgers were meat-free and some were surprised to know the patties were not made of beef, Mr Pagnier said.
Some customers approached by TODAY on Friday said that they were trying to cut down on meat consumption while others were vegetarian.
Member of Parliament Louis Ng, 39, heard about the food truck and made a trip down with his daughter. "I'm vegetarian but hate vegetables, so this is heaven to me," he said. "It tastes like the real thing, but is guilt-free."
Another customer, development manager Pei Yeo, 38, learnt about the food truck through a Meetup.com group for vegetarians. She had heard of Beyond Burger and was curious to try it. "I do eat meat but I try to eat more plant-based stuff," she said. "I think it is quite similar to a real burger."
Other plant-based proteins available in Singapore include Quorn, a British brand. Its products can be found in supermarkets.
Last year, TODAY reported that Singapore food technology start-up Life3 Biotech had developed a plant-based protein called Veego that it was hoping to produce on a larger scale.