Refund scheme for empty plastic containers and other moves to fight climate change
SINGAPORE — As Singapore continues the battle against climate change, the Ministry of Environment and Water Resources (MEWR) unveiled a slew of initiatives to nudge citizens and businesses to do their part.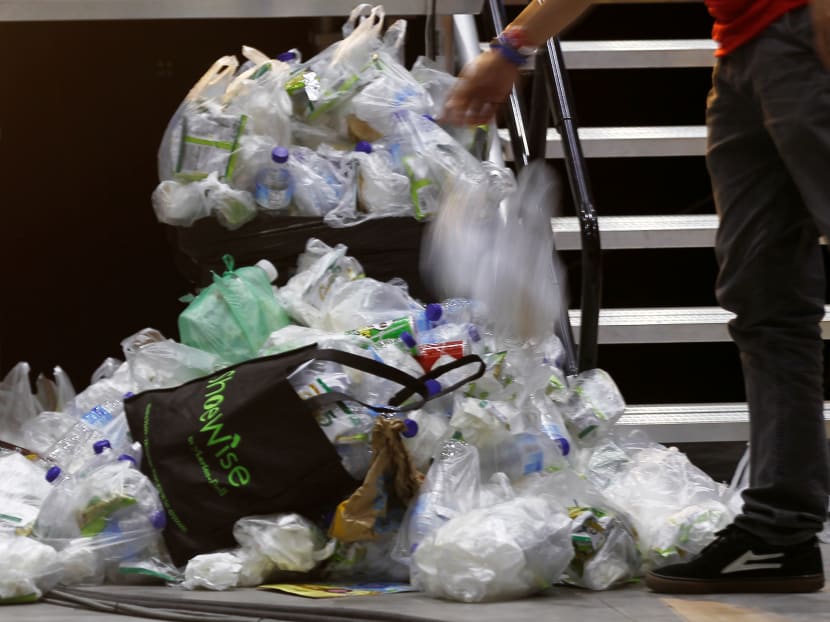 SINGAPORE — As Singapore continues the battle against climate change, the Ministry of Environment and Water Resources (MEWR) unveiled a slew of initiatives to nudge citizens and businesses to do their part.
These include an upcoming scheme that will give people a refund for their empty plastic drink bottles and S$150 vouchers to help poorer households offset the cost of buying energy-efficient refrigerators.
Here is a look at some of the initiatives announced in Parliament on Wednesday (March 4):
1. Get money back for plastic recyclables
From 2022, consumers who return their empty drink containers to designated return points will get refunds from the beverage producers.
The National Environment Agency (NEA) will start industry consultations on this Deposit Refund Scheme this year and work out a framework for its implementation by 2022.
The NEA noted that such a scheme has been implemented in countries such as Sweden, Norway and Germany, which has led to an 80 per cent recycling rate of beverage containers.
2. Potential creation of NEWOil
MEWR and NEA are working with government and industry partners to look into setting up a pilot chemical recycling plant that could potentially turn plastic waste into pyrolysis oil, which can be used as feedstock for Singapore's petrochemical sector.
"If successful, Singapore would be able to create 'NEWOil' and strengthen our resource resilience, just as NEWater has and what is aimed with NEWSand," MEWR said.
Chemical recycling is needed to treat certain plastic waste, such as contaminated plastic bags and other single-use plastics that cannot be recycled mechanically.
3. S$150 vouchers for energy-efficient refrigerators
By the end of this year, all households living in one- to three-room flats will receive a  S$150 voucher to help them with the cost of purchasing energy-efficient refrigerators.
Meanwhile, the "Switch and Save - Use LED" programme, launched in 2018 to all one- and two-room public housing residents, will be expanded to include families living in three-room flats. This programme gives each of these households a S$25 voucher to buy LED lights.
These two initiatives form the S$17 million Climate-friendly Household Package that aims to foster a climate-friendly mindset among households, while encouraging them to take action to reduce energy consumption.
Accounting for about 17 per cent of the total electricity consumption in Singapore households, refrigerators are one of the most energy-intensive household appliances, MEWR noted. 
Despite this, less than 7 per cent of households here are using energy-efficient refrigerators, ones that are rated three ticks and above and that use climate-friendly refrigerants.
4. Mandatory sanitation standards for high-risk premises 
From 2021, higher-risk premises with high footfall and immuno-vulnerable occupants such as childcare and eldercare facilities, schools and hawker centres will have to abide by mandatory environmental sanitation standards. 
The managers of these premises will be required to carry out thorough periodic cleaning at prescribed minimum frequencies. The cleaning will have to include "back of house" areas such as bin centres, refuse holding areas and loading and unloading bays, which are often neglected, NEA said.
Premise managers will also be required to appoint a designated person who would assist them to develop an environmental sanitation programme, provide advice on appropriate remedial actions when necessary, monitor the programme for effectiveness and keep cleaning and disinfection records.
5. S$50 million fund for sustainability initiatives
A S$50 million SG Eco Fund will be launched to support sustainability projects that nudge people and communities towards environmentally-friendly behaviour. 
The fund, administered by a new SG Eco Office, will be disbursed over five years.
Examples of possible projects that the fund would support include a community farm that offtakes food waste from the nearby community for composting, or a collaboration with industry partners to test new sustainable technologies in an HDB town.