'Right norms' for MPs' conduct must be guarded carefully; virtuous cycle will fail if standards loosen: PM Lee
SINGAPORE — To protect the standing and dignity of Parliament, which sits "at the apex" of Singapore's democracy, the "right norms" for members of the House need to be set and guarded carefully, Prime Minister Lee Hsien Loong said.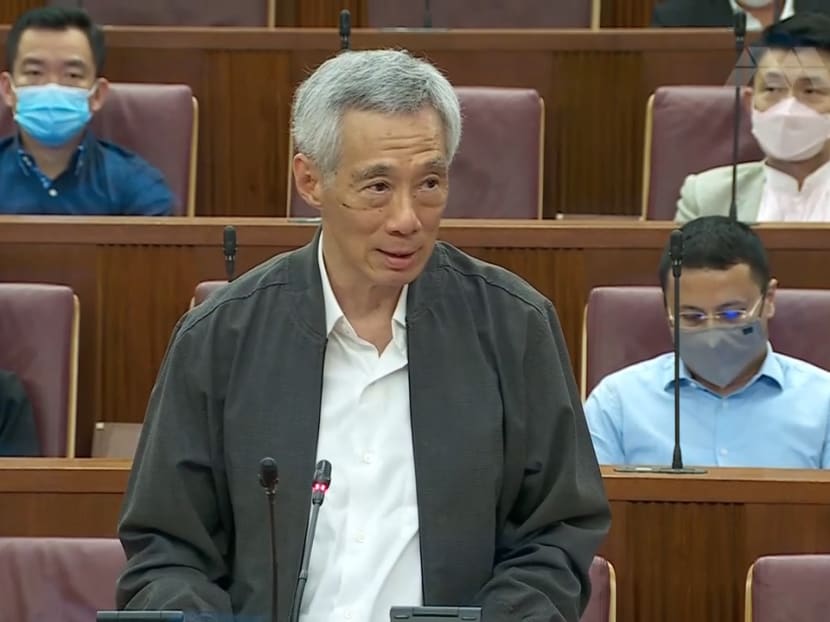 PM Lee Hsien Loong said that the "right norms" for MPs must be set to protect the standing and dignity of Parliament
When something goes wrong, parliamentarians must own up and take responsibility rather than spin further lies to obfuscate
Mr Lee was speaking during a parliamentary debate over a Committee of Privileges' findings into lies told by former opposition MP Raeesah Khan
SINGAPORE — To protect the standing and dignity of Parliament, which sits "at the apex" of Singapore's democracy, the "right norms" for members of the House need to be set and guarded carefully, Prime Minister Lee Hsien Loong said.
"Clear norms and incorruptible values are essential to protect the dignity and standing of Parliament. The system cannot work if the standing of Parliament is called into question." 
Speaking on Tuesday (Feb 15) during a debate on two parliamentary motions on a Committee of Privileges' findings into the lies told by former Workers' Party (WP) Member of Parliament (MP) Raeesah Khan, Mr Lee also said that Parliament must be respected and its members, processes and proceedings must be trusted for it to perform its "vital" role.
This means that parliamentarians have to always tell the truth and do the right thing by Singapore, even and especially when it is hard or awkward.
If something goes wrong, or something wrong has been done, they have to own up and take responsibility, rather than hide or spin further lies to obfuscate and cover up, he added.
"The right norms can only be upheld by people with the right values because norms are not merely social conventions that people comply with for appearance's sake. They have to be expressions of internal values that people believe in and hold dear."
MPs must be people with integrity at their core, who place their highest duty not to their party but to Singapore, Mr Lee said.
Good, functioning democracies have clear and strong norms upheld by the governed and those who govern them, or who aspire to govern them one day, he noted.
So the quality of Singapore's system also depends on voters endorsing the same norms and values and holding accountable those whose actions fall short of these high standards.
"That is how a democracy can function properly," he said.
PUBLIC TRUST
Mr Lee also noted that most countries around the world are founded on the basis of high ideals and noble values, but many political systems at present would be quite unrecognisable to their founding fathers. 
Beyond the initial fervour, succeeding generations find it hard to sustain the idealism and zeal of starting out as a healthy democracy.
"All too easily — a slip here, a blind eye there, a fudge, a trim — and gradually things go downhill," he said. "Respect for politicians declines. After a while, the electorate comes to think this is the norm and you cannot expect better."
Mr Lee cited the examples of two countries to illustrate how such norms, upheld by their founding fathers, can be debased and lead to an erosion of trust and the decline of the country.
Seventy-four years since David Ben-Gurion founded Israel, the country has now morphed into one that can "barely form a government", despite four general elections in two years, Mr Lee said. Several Israeli senior politicians and officials are also facing a litany of criminal charges.
Then, Jawaharlal Nehru's India has become one where almost half of the MPs in its lower house of Parliament have criminal charges pending against them, including for rape and murder, Mr Lee said, referring to media reports. He added, however, that some have said that these allegations are politically motivated.
"What is to prevent Singapore from going down the same road? Nothing." 
It is thus incumbent on each succeeding generation to protect the system they have inherited by upholding integrity, enforcing rules and standards, applying the same rules equally to everyone and making sure nobody is above the law. 
"If we can do that — consistently, persistently, unflinchingly — then we have a shot at making things work," Mr Lee said.
Our democracy can mature, deepen and grow more resilient, as both the governed and the governing embrace and express the right norms and values."
What is critical in keeping this "virtuous cycle" going, to allow Singapore to continue to flourish, is trust — which is also a factor in how the nation has fared better in health outcomes during the Covid-19 pandemic.
On the other hand, the lack of trust in the United States, for example, has led to many refusing to be vaccinated or wear masks, and revolting against safety measures, ultimately resulting in many dying from Covid-19, he added.
And in Britain, with Prime Minister Boris Johnson and government workers ignoring its own rules and holding gatherings in the so-called "partygate scandal", the English government has caused a severe breakdown of trust and lost credibility in its Covid-19 controls, Mr Lee said.
Still, Mr Lee stressed that while Singapore may be a high-trust society today, nothing guarantees that it will always remain one. 
"It is essential that we steadfastly maintain our high standards and ensure we have leaders who embody the right values.
"Call out wrongs when wrongs are done, mete out punishment when punishment is due, preserve the sanctity of our institutions, never take the public trust for granted, and never allow lies, half-truths and falsehoods to become the accepted norm in politics," he added.