'I spent nothing on myself for 5 years': Rights group urges slashing of recruitment fees that burden migrant workers
SINGAPORE — To better provide for his wife and his two young children, Mr Uday Prakash took a bank loan, sold his family land in India and borrowed money from various relatives, just to pay the recruitment fee of S$12,000 to an agent to work in Singapore.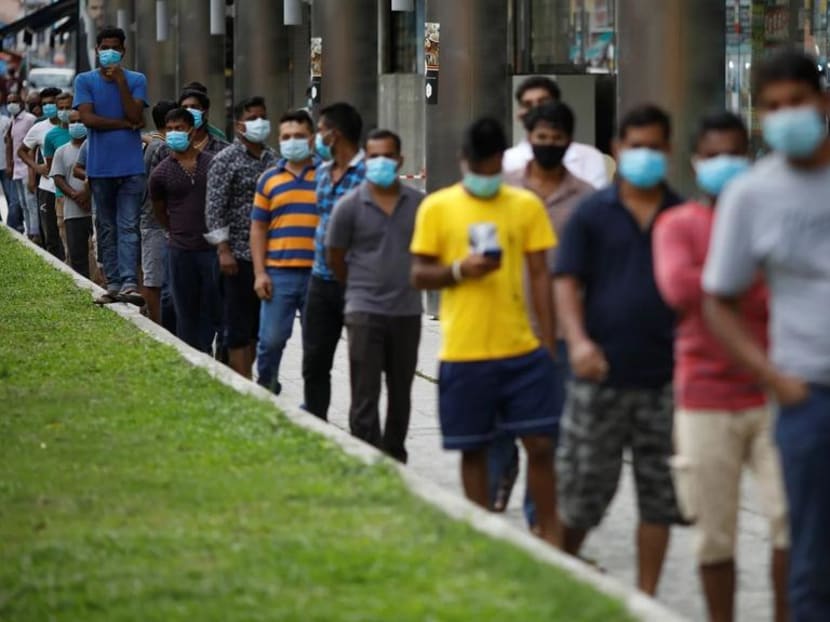 The longstanding practice of paying recruitment fees was thrust into the spotlight when rights group TWC2 released a report recently
TODAY's interviews with migrant workers found that they paid such fees ranging from S$5,000 to S$12,000
They took an average of 3.5 years to pay off on their monthly salary of about S$500 to S$650
TWC2 recommended eliminating the middlemen and having a direct hiring process to reduce this cost
SINGAPORE — To better provide for his wife and his two young children, Mr Uday Prakash took a bank loan, sold his family land in India and borrowed money from various relatives, just to pay the recruitment fee of S$12,000 to an agent to work in Singapore.
It took the 33-year-old construction worker five years to pay off this debt, having to spend only S$2 a meal and travelling by foot most of the time — all that while far from his loved ones.
Mr Prakash, who is heading back to his home in the Indian state of Kerala next month after his contract ends, told TODAY: "I didn't get to buy anything for myself in the last five years. I sent back every dollar to my family to pay all my debt."
The longstanding practice of migrant workers paying agents a recruitment fee to obtain a job here is back in the spotlight after migrant workers' rights group Transient Workers Count Too (TWC2) released a report last month with recommendations to reduce these costs.
"The current practice is untenable, being rife with abuse and fraud, with employers and intermediaries all too often colluding to exploit workers and flout laws to profit from workers through the recruitment process," the group said.
The report, which concluded a research project carried out by TWC2 from 2015 to 2018, studied recruitment practices and costs in countries such as France, Malaysia and South Korea.
The recommendations include eliminating middlemen such as recruiting agents both in the workers' home countries and in Singapore, implementing a direct hiring process where prospective workers can directly apply for work here via the local embassy, and instituting rights-based laws that would better protect migrant workers against exploitation.
TODAY's interviews with eight migrant workers in the construction and shipping sectors found that the recruitment fees they paid range between S$5,000 and S$12,000, and they took an average of 3.5 years to pay these off on their lowly S$500 to S$600 a month salaries.
In 2016, TWC2 found that first-time Bangladeshi construction workers pay an average of S$15,000 in recruitment costs and require an average of 35 months of work in Singapore to pay off the debt.
Asked what the recruitment fee encompasses, Mr Prakash said: "My flight to Singapore, my medical check-up…and I don't know what else."
While Mr Prakash can heave a sigh of relief now that he has finished paying off his loans, another migrant worker, Mr Monir, who declined to give his full name, is still saddled with debt, which he said would take another year to pay off.
The 32-year-old Bangladeshi, who took a loan of S$4,000 in 2017 when he returned to work in Singapore for the third time, has been set back by medical treatments as he is suffering from kidney stones. He was told that surgery to remove the stones could cost him up to S$10,000.
"If no money, cannot do (the surgery). I asked my boss for help but he cannot help… I can't go back to Bangladesh now because I haven't finished paying the bank loan."
Shipyard worker Al Amin, 27, who paid a recruitment fee of S$8,000 to a Bangladeshi agency for a job in Singapore in July 2016, said that he later had to fork out another S$2,000 for training here.
Now that he considers himself less naive, Mr Al Amin said that the pre-departure costs — which included flights and a medical screening covered — could have cost only about S$2,000.
"The problem is we cannot contact people in Singapore directly to get a job. We must go through these agencies…that's why they can cheat and take a lot of money for us," he added.
RECOMMENDATIONS
TWC2 said that their recommendations can cut recruitment costs substantially, adding that its ultimate goal is a "zero-fees" practice, where employers bear the costs of recruitment and workers shoulder costs of becoming eligible for a job, such as training courses and required medical screenings.
TODAY looks at several key recommendations outlined in the report.
Recommendation 1: Eliminating the middlemen by having a hiring system where prospective workers can apply for work in Singapore through the local embassy, authorised recruitment centres or an online portal, without the need of a recruitment agency.
This would cut out intermediaries from the recruitment process and allow both the Ministry of Manpower (MOM) and the authorities at the workers' origin country to assert greater control and enforcement of labour protections

An administration fee could be imposed on employers for the use of the portal, which could be offset by rebates on the foreign worker levy

The report noted that such direct hiring is already in place in South Korea, where recruitment fees fell from S$3,509 a worker in 2001 to S$950 a worker in 2012
However, Ms K Jayaprema, the president of the Association of Employment Agencies here, said that job matching is not just about pairing an employer and a candidate based on information provided on a portal.
"Most often, it takes a skilled interviewer to draw details from a candidate to provide factual information to a prospect and share with the candidate," she said.
She said that an online portal could be less personable and some migrant workers might not be able to effectively use such a system, especially since each employer and worker might have different concerns.
Recommendation 2: Abolish all mandatory trade certification requirements and the bifurcated levy rate that offers an incentive to employers for hiring workers in possession of multiple or advanced trade certifications.
Pre-departure training costs, which are usually unregulated and prone to overcharging, are a significant contributor to high recruitment costs for foreign construction workers

Some of this training is not relevant to the workers' actual job descriptions, the study found

Singapore employers can only hire foreign construction workers with at least a basic trade certification, obtained through the Building and Construction Authority (BCA) testing in countries of origin. This means that workers must pay both training fees and testing fees
BCA said in response to TODAY's queries that the trade certification requirements establish a benchmark on migrant workers' competency in dealing with various construction activities and is important to ensure productivity, quality and safety of the construction work that is carried out.
"It would not be tenable to accept migrant workers to work on our construction projects without a relevant skills certification. Workers need to be skilled in order for them to be able to perform construction works, which is technical in nature, and also for their own safety," BCA said.
It added that its tiered levy framework was designed to encourage employers to bring in higher-skilled migrant workers or to enrol existing migrant workers for skills upgrading.
Recommendation 3: Facilitate rehiring of workers — many of whom have to return to their home countries immediately at the end of their contracts — through a scheme where employers seeking to employ migrant workers must hire from the pool of workers already in Singapore and looking for a new job before hiring new migrant workers.
This would allow workers to save on fees, and employers to meet and interview workers here 

TWC2 recommended using the Foreign Construction Workers Directory System online platform, which already allows contractors to be matched with experienced workers, to facilitate and promote this rehiring programme
Recommendation 4: Instituting rights-based laws that would better protect migrant workers from being exploited
The current laws pertaining to migrant worker protections, mainly the Employment of Foreign Manpower Act, are framed largely in the language of regulations, rather than rights, the report said

Singapore can better legitimise protection for workers from exploitation by explicitly recognising fundamental rights migrant workers have, which can also provide useful chassis for future reforms, it added
MINISTRY WELCOMES SUGGESTIONS
MOM said that it welcomes suggestions on such issues from migrant workers, employers, industry associations and non-government organisations, adding that it will work with these stakeholders to address them "at an appropriate time".
"Right now, MOM remains focused on battling the public health crisis and preventing a resurgence of new infections as workers resume working and living activities safely." 
Expressing its commitment to protecting migrant workers' rights and wellbeing, the ministry said that it has implemented "comprehensive laws and regulations, complemented by rigorous surveillance and enforcement".
Ms Jayaprema from the Association of Employment Agencies noted that several of TWC2's proposals "seem to want to remove employment agencies from the equation".
"The services of employment agencies here are valued by employers and satisfied job candidates. Thousands of job matches are done monthly by employment agencies as we have more than a million foreign workers working various passes at any one time in Singapore," she said.