Rising affluence and cultural beliefs driving illegal wildlife trade in Southeast Asia: NGO
SINGAPORE — Southeast Asia is becoming a more prominent destination for illegal wildlife products due to the rising affluence and long-standing cultural beliefs of consumers in the region.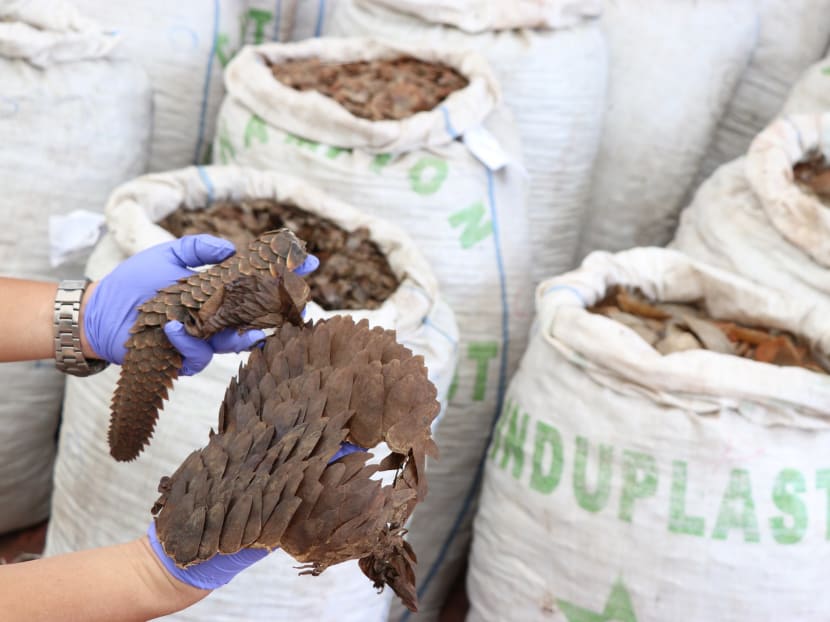 SINGAPORE — Southeast Asia is becoming a more prominent destination for illegal wildlife products due to the rising affluence and long-standing cultural beliefs of consumers in the region.
Ms Kanitha Krishnasamy, a speaker at a conference organised by the Singapore chapter of the Jane Goodall Institute on Tuesday (Nov 26), said that that there has been a growing trend of illegal wildlife being shipped from Africa to Asia in the past few years.
This is especially so for particular types of illegal wildlife commodities.
For instance, while rhinoceros horns were trafficked from Africa to the Middle East or Europe in the past, increasing demand for the product in Asia meant that these shipments of the horns now come to the region.
Ms Kanitha, who is director for Traffic (Southeast Asia), a non-governmental organisation (NGO) that monitors the wildlife trade network, said it was not just the increased purchasing power of Asian consumers that is driving the demand of these products but also the importance of these products to the culture of communities here.
"For rhino horns and pangolin scales, for example, it is largely about traditional uses because they are believed (to have) medicinal properties in (ways where Asians) feel that modern medicine can't really do a good job," she said.
GOODS FOUND IN SINGAPORE
In her presentation, Ms Kanitha highlighted that of the 70 tonnes of pangolin scales seized by the authorities this year, 80 per cent of these seizures took place in Singapore and Vietnam.
There were three high-profile seizures of pangolin scales in Singapore this year.
On April 3, 12.9 tonnes of pangolin scales worth S$52.3 million were seized by the Singapore Customs, the largest seizure of pangolin scales globally in five years.
Several days later, the authorities took hold of another 12.7 tonnes worth S$51.6 million.
In July, a further 11.9 tonnes worth S$48.6 million were seized.
When asked why the majority of these products were bagged in these two countries, Ms Kanitha said that Traffic was not in a position to say why smugglers were targeting certain countries.
"All we know for sure is that almost all Southeast Asian countries are involved in illegal wildlife trafficking in some way or another — either as a destination country or a transit country," she said, adding that demand was likely driven by consumers in Southeast Asia or East Asia.
ENFORCEMENT IS NOT EASY
Ms Kanitha said that while most countries were parties to the Convention on International Trade in Endangered Species (Cites), it is hard to stem the trade of illegal wildlife.
For instance, Laos, a party to the treaty, which regulates commercial trade in wild plants and animals, still sells illegal wildlife openly in its markets.
She told TODAY that even if a country was party to the treaty, it would require political will and an investment in resources to enforce the agreement.
Ms Kanitha said that Traffic makes continuous calls to government agencies to invest in intelligence-led investigations to conduct more effective enforcement, as well as risk-profiling. This includes risk-profiling of containers, traffickers and trade routes from or to high-risk destinations, and using sniffer dogs to track ivory shipments, for instance.
"The containment of shipments moving through these ports are in the millions of tonnage. So (enforcement) is not going to be a very easy thing to do. It is like picking a needle in a haystack and you cannot do that unless you have some information to stand on." 
She added that collaboration across countries is also required to enforce the treaty.
"Because you are looking at an illegal trade that is transcending continents, we have to make collaborative efforts. You have to work with the countries at the point of export, transit and destination."
ONLINE SELLERS
Speaking on a related topic at the conference, Mr Muhammad Zaki Zainol, a PhD candidate in zoology at the Universiti Sains Malaysia, said that the online illegal wildlife trade in Malaysia is difficult to arrest.
Mr Zaki, who is also the co-founder of the Malaysian Primatological Society, which conducts studies on primate populations in the country, said that the internet provided a cloak of anonymity for sellers, unlike those who engage in physical trade.
For instance, a person selling a primate online is just a broker used by a main culprit to conduct the transaction. The main culprit also relies on indigenous people to catch the primate in the wild and hires another person to deliver it to the customer.
"This way, (the main culprit) never gets caught," Mr Zaki said.