The road less driven on
SINGAPORE — Fewer private cars. Shared vehicles that have no human drivers and that communicate with each other on their speed and number of passengers. A cycling network catering to the needs of commuters, linking homes, workplaces and schools. Footpaths that make walking a pleasure.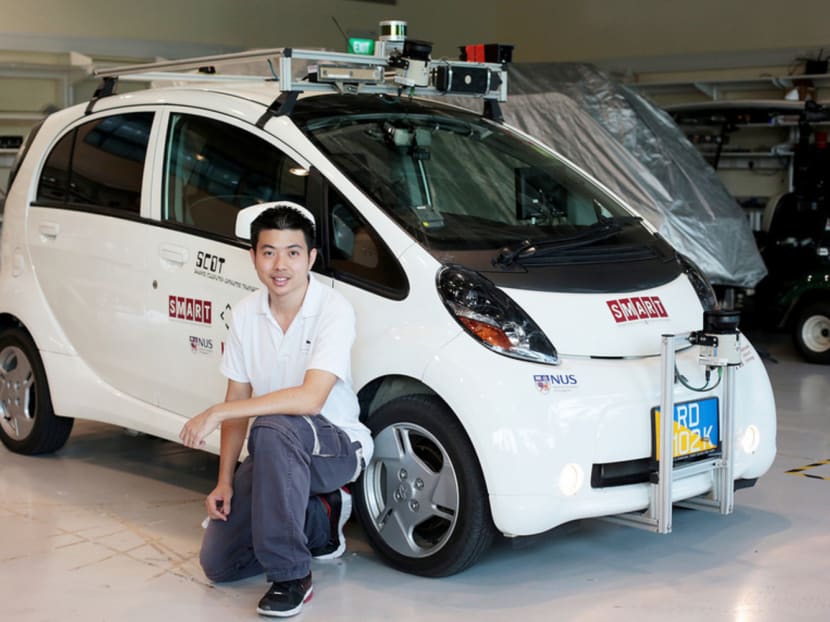 SINGAPORE — Fewer private cars. Shared vehicles that have no human drivers and that communicate with each other on their speed and number of passengers. A cycling network catering to the needs of commuters, linking homes, workplaces and schools. Footpaths that make walking a pleasure.
While Singapore's roads are being widened and lengthened to make space for more cars, and frustration with the adequacy of public transport grows, some here dream of an entirely different kind of transport future — one that is flexible and customisable, and less driven by private cars.
With Singapore's limited land area, transport capacity is limited, said Dr Alexander Erath, senior researcher at the Future Cities Laboratory (FCL), who is helping to build a simulation model to better predict travel demand.
"If you want to build new roads or new metro lines, it will be very costly because you need to tunnel it," he said. "The challenge is using existing infrastructure more effectively, for example through travel-demand management."
Other researchers are hedging their bets by turning to autonomous vehicles (AVs). "If every vehicle is automated, driving patterns become more predictable," said Dr James Fu, who leads the research on AVs under the Singapore-Massachusetts Institute of Technology (MIT) Alliance for Research and Technology, an institution set up in partnership with the National Research Foundation of Singapore (NRF).
"Vehicles can drive closer to each other, possibly bumper-to-bumper, at higher speeds." A driverless vehicle could be better utilised, moving around to serve a number of people during the day instead of being parked during office hours, for example.
Commuters could use AVs as a pre-arranged shuttle service for a group of commuters or as an on-demand service similar to a taxi.
"We hope to see AVs complementing and encouraging the use of public transportation," said Dr Fu, who envisions AVs connecting commuters from their homes to the train network.
With widespread use of shared AVs, Dr Fu expects car ownership to drop. "There will be this large proportion of people who may not mind not owning a car; all they care about is just getting to where they want quickly and efficiently. Maintenance would be by a company or fleet operator."
It could take another 10 to 15 years before an AV roams Singapore's roads. Researchers will need to map all roads using laser sensors, and are still working on algorithms to allow cars to make decisions intelligently.
But deploying AVs on a smaller scale, such as in a satellite town or on segregated lanes, could come within three to five years if there is demand, said Dr Fu. As more people share AVs, the number of vehicles in Singapore could also drop.
For now, the Land Transport Authority (LTA) and the Infocomm Development Authority are experimenting with aggregating demand and providing commuters with a more customised option.
The newly-launched Beeline app is premised on commuters indicating where they would like to be picked up and where they want to go. And when enough people ask for a similar route, a private bus service can be activated. The app also allows users to book seats on the shuttle.
Transition to next stage
Even if AVs are introduced, such vehicles can still share the roads with traditional cars, thanks to technology such as the vehicle-to-everything (V2X), which allows cars to communicate their intentions and drive safely. The technology is being tested by researchers at Nanyang Technological University (NTU).
With V2X, vehicles with on-board units (OBUs) can communicate with each other and with units in traffic lights, car parks and a central control and monitoring centre, among others.
The information shared could include a vehicle's position, speed and intended route. With this, taxis can more efficiently be allocated to passengers based on location — to improve availability, for example. Or a bus driver on a crowded bus can be informed of another bus close behind with many empty seats and decide not to take on passengers, reducing bus-bunching, said Associate Professor Peter Chong, who is part of the NTU team working on the project. He estimates that mass adoption of this technology could take 10 years.
V2X can also improve road safety. A car that brakes suddenly could, without the driver's intervention, send an alert to the cars behind, even to those 1km away, to moderate the impact of an accident, even if a pile-up cannot be avoided entirely. The traffic police could monitor speeding more comprehensively through OBUs instead of speed cameras. And emergency cars could, through their OBUs, request vehicles in front to give way.
Being a generic technology that works in any type of vehicle, V2X could help ease the introduction of new technology such as AVs and electric vehicles, said Assoc Prof Chong.
Meanwhile, FCL's Multi-Agent Transport Simulation (MATSim) model for Singapore would allow transport planners to predict demand for new transport options, such as car sharing, AVs or a new MRT line. "You can also test different pricing structures and see how the usage and occupancy rate change," Dr Erath said.
The simulation model is based on data about socio-demographic trends and travel patterns. For example, planners can model cutting a bus route in half to increase its reliability, and compare the effects of greater reliability against the need for some commuters to transfer services.
Initially, access to data on social demographics and travel patterns to build the model was a challenge. "I think the main concern is data privacy, which I fully support, but there are ways to release data publicly after anonymising them," he said. The situation has since improved, and now the team is collaborating with the LTA and the Urban Redevelopment Authority to produce the MATSim model for transport and urban planning purposes.
Cycling and walking: the 'Low-hanging fruits'
In the midst of testing new technology, the "low-hanging fruit" of active mobility — mainly walking and cycling — has been neglected, noted Dr Erath.
Making these active alternatives more attractive than vehicular transport could also allow for flexible transport routes and less congestion. To encourage this, bicycle lanes or even a bicycle highway could make cycling safer, said Dr Erath. Tracks for inter-town cycling can also be built to provide a seamless route from one's home to one's destination. Greater use of electric bicycles, which would provide speed with less physical effort and is more sustainable than motorcycles, would also help. "What's needed for this is a paradigm shift in how our streets are designed and who they prioritise," said Dr Erath. REGINA MARIE LEE