Robots: What is holding Singapore back?
Singapore has been abuzz with debates on how to propel our economy forward.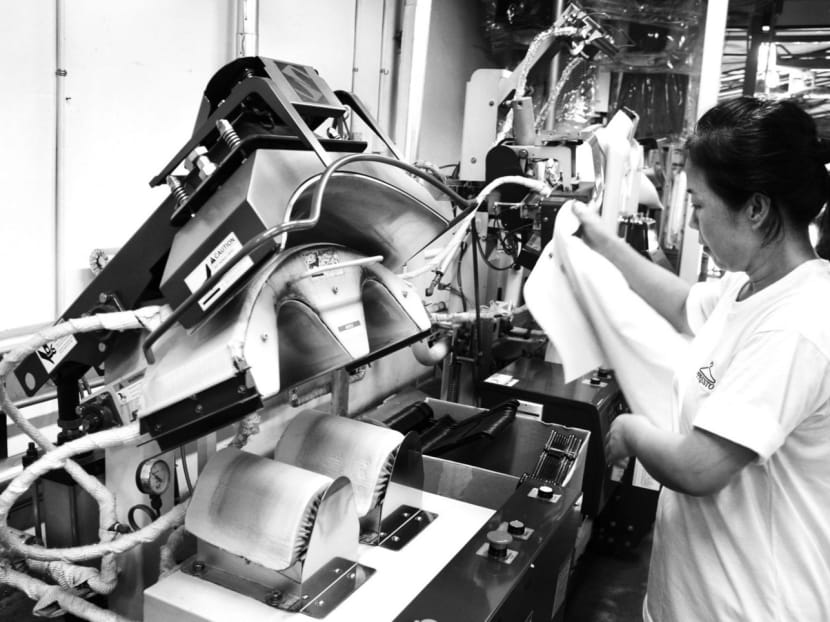 Singapore has been abuzz with debates on how to propel our economy forward.
The Government is trying to help businesses — particularly in manufacturing and services — to make better use of technology and automation.
Budget 2017 included myriad initiatives for small and medium enterprises (SMEs), and bolstering the National Robotics Programme and Industry Transformation Programme introduced in Budget 2016.
Advancements in robotic technology have now made it affordable for SMEs to scale up and automate simple production processes. As the backbone of Singapore's economy, SMEs must take the first step towards sustainable progress in an increasingly competitive and unpredictable economy.
Indeed, there is great potential for industrial automation in Singapore. The Economic Development Board (EDB) has targeted that local production and imports of industrial automation will reach US$2 billion (S$2.8 billion) in 2017, up from US$1.6 billion in 2016.
Precision sensors/instrumentation, micro-electrical machining systems (MEMS) and 3D printing, which all make use of industrial automation technologies, are expected to be critical components of Singapore's long-term economic growth.
So what is holding SMEs back?
Despite the vast potential for automation across a gamut of sectors, from manufacturing to services, many SMEs in Singapore remain apprehensive due to two main reasons — concerns over return on investment (ROI) and uncertainty over how to automate.
Investing in robots can seem financially daunting, but the long-term financial benefits outweigh the initial investment. Companies use matrices such as payback period and ROI to evaluate whether to make a business investment.
The payback period looks at the amount of time (in years) it takes for the amount invested in the automation process to be repaid by the net cash outflow generated. Using this metric, however, does not consider future gains beyond the break-even period.
ROI, on the other hand, looks at the percentage of net profit of the investment in relation to the costs involved. Typically, firms calculate ROI based on direct labour cost savings and short-term benefits.
Using such matrices to evaluate the feasibility of use of robotic technology disregard more comprehensive financial benefits of automation.
How about decrease in material wastage or reducing production efficiency? Or reducing employment-related expenses as well as time for recruitment and training? Such factors should also be considered in calculating payback period or ROI. This will help companies to fully understand the wider, long-term financial benefits of automating processes using robotics.
Another problem is that SMEs are not sure how, or where, to start. Fortunately, it is very simple to embark on this journey.
Firstly, SMEs must identify and decide on which processes to automate as well as the degree of automation required. Unlike traditional industrial robots deployed to automate complex and large-scale tasks, the robots available today allow simple tasks to be automated at a low cost.
Ideal applications of robotics include processes which are repetitive or have an element of potential danger towards employees, and which do not require human dexterity, critical thinking or on-the-spot decision making.
Take the example of Multi-Wing CZ, a Czech manufacturer of tailor-made ventilation systems for radiators and other markets.
It deployed cobots — robots designed to work side-by-side with employees — in its production line to take over strenuous and repetitive tasks, and free up human workers to perform more rewarding duties.
The flexibility of the cobots meant they were easy to deploy in different areas of the factory quickly.
As a result of installing a cobot, Multi-Wing CZ has achieved a 70 per cent machine-feed acceleration and a 10-second acceleration in the replacement of machine parts.
Another factor SMEs must consider is how automation can overcome limits placed on production.
Like other SMEs, Multi-Wing CZ does not have the luxury of large work areas. It addressed its space constraints by deploying cobots without the need for safety barriers, reducing the amount of space required.
Automation helps SMEs create process efficiencies while increasing overall operational productivity, without incurring high costs.
The companies enjoy even greater cost savings as automation can also reduce production costs and raw material waste.
In the case of Multi-Wing CZ, production capacity increased by an additional 336 hours per year while production costs were reduced by 10 to 20 per cent.
The use of cobots even benefits employees, as cobots can relieve the amount of arduous physical effort required to carry out certain tasks and reduce mistakes to ensure consistent and dependable output.
In such instances, automation enhances performance as well as raises productivity by delivering guaranteed high-quality results.
Automation offers SMEs plenty of benefits, but an incomplete understanding of the financial investment can hold them back, in spite of the ease of embarking on automation.
SMEs are also fearful of the perceived steep learning curve, anticipating learning complicated programming skills to use the robots.
Fortunately, in Singapore, adopting cobots could not be easier, more straightforward and cost effective. With access to advanced technologies and a wide array of incentives available, SMEs must be willing to take the first step to automate.
As SMEs work towards steady growth and strive to remain competitive, automation has proven to be a viable long-term strategy and investment.
ABOUT THE AUTHOR:
Shermine Gotfredsen is General Manager at Universal Robots, SEA & Oceania. Universal Robots is a manufacturer of collaborative robots (cobots) headquartered in Odense, Denmark.