In rowdy court session, 85-year-old man who killed partner with chopper argues for less than 5 years' jail
SINGAPORE — An 85-year-old man who hacked his longtime romantic partner to death with a chopper was set to plead guilty to culpable homicide on Friday (Sept 23), but disputed several facts of the case in an unusually heated court hearing.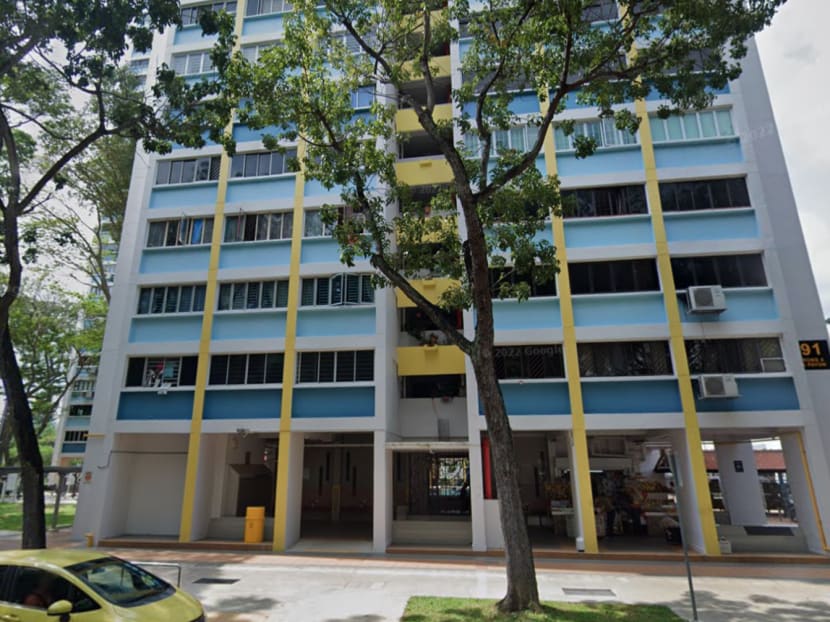 Pak Kian Huat, now 85, challenged several details about killing Lim Soi Moy, then aged 79, in 2019
The couple had four children together but never married after meeting in their teens
He was initially charged with murder, but the prosecution agreed to reduce the offence to culpable homicide
The prosecution said that it will have to review its decision after Pak's U-turn in court
A High Court judge had to warn Pak to respect court decorum
SINGAPORE — An 85-year-old man who hacked his longtime romantic partner to death with a chopper was set to plead guilty to culpable homicide on Friday (Sept 23), but disputed several facts of the case in an unusually heated court hearing.
Because of this, the prosecution said that it will have to decide if it is reinstating his original murder charge — which carries the death penalty — or continue with the current plea offer.
Pak Kian Huat, also known as Pek Kiah Huat, earlier told the court that a jail sentence longer than five years would be too onerous for him and he might as well be given the death penalty.
At one point, when he ranted through a Mandarin-speaking interpreter, High Court judge Aedit Abdullah told Pak that he was "not in a coffee shop" and warned him to "behave with proper decorum" in the courtroom.
The judge then adjourned the case to have a pre-trial conference three weeks later, for the prosecution to relay the next course of action.
Pak was arrested on Sept 2, 2019 shortly after killing 79-year-old Lim Soi Moy in their Housing and Development Board flat at Block 191, Lorong 4 Toa Payoh. They never got married but had four children together.
'I CANNOT ACCEPT SEVEN YEARS'
On Friday, Pak's defence counsels from Tembusu Law, led by Mr Jonathan Wong, successfully applied to discharge themselves from representing him.
Mr Wong said that after coming to an agreement with the prosecution for Pak to plead guilty to a lesser charge, Pak then said that he wanted them to "submit for death to be imposed".
Those convicted of culpable homicide can be jailed for life, or up to 20 years with a fine or caning. Those aged 50 or above cannot be caned under Singapore's laws.
Pak, who spoke to the court through an interpreter, said his lawyers had told him that he would serve at least seven years behind bars.
"I can do three to five years, this is the maximum. I cannot accept seven years because I don't feel that it warrants such a lengthy sentence," he added.
Justice Abdullah eventually noted that Pak did not seem to be asking for the death penalty but was saying that he might as well be sentenced to death if he is jailed longer than five years.
The prosecution was originally seeking 15 to 18 years' jail if Pak pleaded guilty to culpable homicide.
'ABUSIVE AND BAD-TEMPERED'
Deputy Public Prosecutor (DPP) Yang Ziliang then took the court through the statement of facts, which laid out Pak's relationship with Lim as well as what happened that fateful day.
The pair met in the 1950s when they were teenagers, but only began dating after a decade because Lim's mother initially did not approve of him. The older woman warmed up to him only after the couple had their first child in 1963.
They never tied the knot, but they had two daughters and two sons and lived together in a Whampoa flat, DPP Yang told the court.
The prosecutor said that Pak and Lim's relationship grew strained over the years partly because he was "bad-tempered and abusive" towards her, and occasionally towards their children.
With their children's encouragement, Lim moved out of the flat with their older daughter in 1980.
Their other children continued living with Pak. He cared for them till they moved out and had their own families.
More than two decades passed when Pak and Lim reconnected with their children's help in 2004. Pak asked her to move in with him once more because he did not want to be alone.
From 2004 to 2019, the couple lived in a four-room flat in Toa Payoh. They slept in separate bedrooms, reserving the last one for their children if they returned to Singapore from their work abroad.
DPP Yang told the court that Pak then wanted to sleep in the bedroom reserved for their children, because he felt that the dust in his own bedroom made him unwell.
Lim allegedly rejected his request and told him to go to bed on the evening of Sept 1, 2019.
Growing angrier as the night wore on, Pak took a chopper from the kitchen and attacked Lim in her bedroom. He later called one of his children, saying that he had killed Lim and wanted the police to come.
He told police officers that he suspected some of their children were not fathered by him and that Lim wanted him dead.
CHALLENGED NUMBER OF WOUNDS
On Friday, Pak disputed several details surrounding the fatal incident.
This included the exact number of wounds that an expert from the Health Sciences Authority found on Lim's body, whether he put on a pair of socks and slippers after attacking Lim, and whether the floor was slippery from her blood.
This prompted Justice Abdullah to ask: "This number — 54 — is from the medical officer counting the wounds. Are you saying you counted the wounds after you attacked the deceased?"
Pak responded: "I didn't count but my estimation is not so many… I didn't hack her so many times. It's been such a long time. Anyway, how can someone hack someone 54 times?"
"They're saying you did it," a bemused Justice Abdullah replied.
The judge then told Pak that the prescribed punishment for murder is death, if he continues disputing the facts and a trial has to be held. He replied: "Fine."
When Pak continued challenging some facts and ranting through the interpreter, Justice Abdullah told him in a raised voice: "You listen to me. I have been very patient with you. You must behave in court."
He told Pak to stand up in the dock and added: "You are not in a coffee shop — you are not in any other place but a courtroom. You will behave with proper decorum… Listen to the interpreter and tell her what you disagree with. Do you understand? You are in a courtroom and you will respect the court."
Pak then said he was hard of hearing but the judge rubbished this.
The hearing proceeded for several minutes more with Pak denying other details such as telling police officers, "I'm glad I'm able to kill her. I almost failed to kill her".
Eventually, Justice Abdullah told DPP Yang to decide what to do. The judge also confirmed that Pak's family members did not wish to speak to him.
Pak will return to prison where he has been remanded since the killing.