Running with reusable cups to reduce waste
SINGAPORE — Last year, more than 2,000 runners gave up their right to claim a finisher tee or medal at the end of the Eco Run.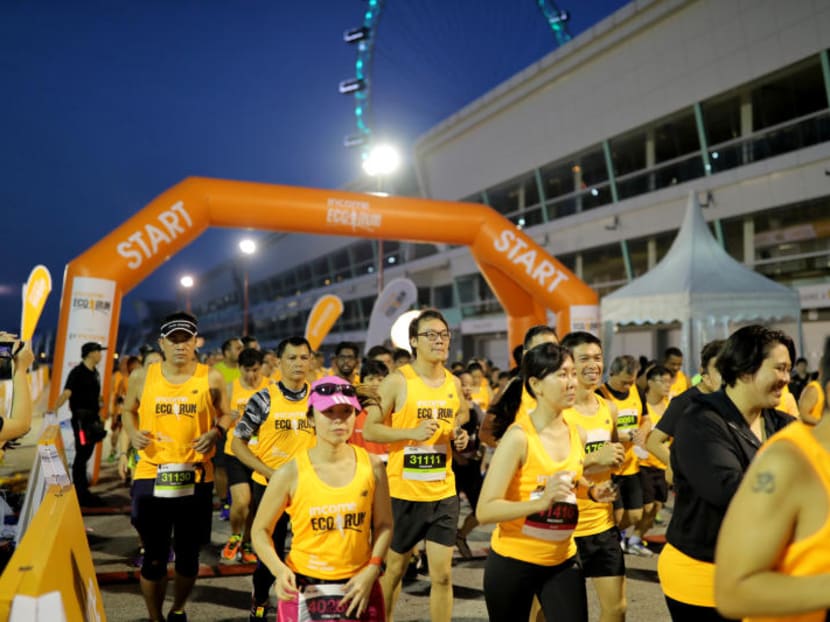 SINGAPORE — Last year, more than 2,000 runners gave up their right to claim a finisher tee or medal at the end of the Eco Run.
This year, participants who signed up as "Zero Waste runners" in the annual event will be asked to go one step further for the environment: They will have to use reusable cups.
Income, the insurance company that organises the Eco Run, recognises that it will be a challenge for the runners.
"They will need to stop to fill up the cup, then run again. It is difficult to make the sacrifice (to their run times)," Ms Stella Tan, 45, Income's head of brand activation and events, said.
The running event used up to 45,000 plastic cups for its hydration stations last year.
For the upcoming race in April, organisers aim to halve this number, which they said would result in a reduction of about 60kg of plastic waste.
The reusable cups, made from recyclable TPU plastic, can be easily clipped to a running belt.
As the cups are flexible and foldable, runners can also stash them in their pockets.
But these cups are only given to Zero Waste runners; other participants will still be provided with disposable cups.
Around 5,300 people have registered for this year's race, with 1,600 of them signing up as Zero Waste runners.
'OTHER COUNTRIES ARE ALREADY DOING THIS'
The race organiser will also "sterilise and reuse" these reusable cups if they are disposed at the event venue itself.
Mr Louis Cheong, 49, signed up as a Zero Waste runner in the 10km category of Eco Run this year to support its eco-friendly cause.
"Races in other countries are already doing this (having runners bring their own cups). Singaporeans are not used to the idea yet, not for the major road running events," said the running enthusiast, who has completed races in at least three other countries in Asia.
Recreational runner Ms Alicia Teng, 21, said: "It's not too much of a hassle (to run with a reusable cup) if we can do our part for the environment."
Last year, the Zero Waste runner initiative helped to save more than 200kg of metal and approximately 130kg of fabric from not giving participants finisher tees and medals.
The Eco Run's eventual goal is to eliminate the use of plastics such as in disposable cups, which will be done "in stages", said Ms Tan.
This is in line with Singapore's Year towards Zero Waste, a year-long campaign that was announced by Environment and Water Resources Minister Masagos Zulkifli last month.
In 2017, 7.7 million tonnes of waste were produced in Singapore. This was a seven-fold increase from 40 years ago, said the Ministry of Environment and Water Resources.