S$150m kitty to use AI to tackle variety of issues
SINGAPORE — A S$150 million kitty has been set aside for 100 projects that use artificial intelligence to solve "real-world" problems, particularly in the areas of finance, healthcare and city management solutions, the Government announced on Wednesday (May 3).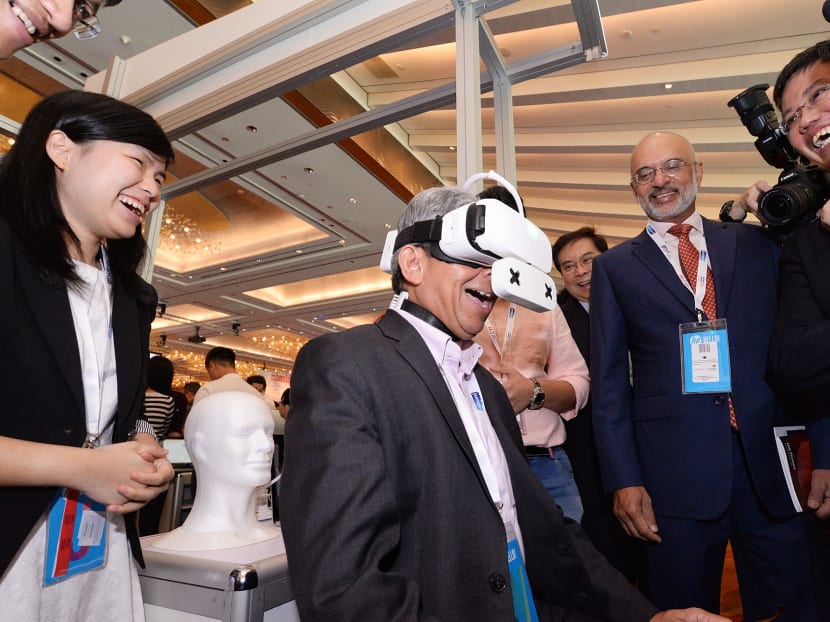 SINGAPORE — A S$150 million kitty has been set aside for 100 projects that use artificial intelligence to solve "real-world" problems, particularly in the areas of finance, healthcare and city management solutions, the Government announced on Wednesday (May 3). 
The five-year programme, dubbed AI.SG, will address major challenges affecting society, such as healthcare issues with an ageing population, or how to improve traffic management during peak hour.
Speaking at an annual technology conference, Minister for Communications and Information Yaacob Ibrahim announced the kitty as well as the setting up of the Singapore Data Science Consortium, which will deepen research in data science, and encourage industry adoption in this area. It aims to be the key platform in Singapore for companies to access the latest technologies in data science, and will link companies with research institutions so they can tap their expertise to create solutions using data science.
AI.SG will be funded by the National Research Foundation, and helmed by several Government agencies including the Smart Nation and Digital Government Office, Infocomm Media Development Authority and the Integrated Health Information Systems (IHiS). Professor Ho Teck Hua, deputy president of research and technology at National University of Singapore (NUS), has been appointed executive chairman of AI.SG. 
He said the 100 projects will be driven by "problem statements", and industry, academia and government agencies will be consulted widely to come up with solutions that can be commercialised. Apart from these projects, he hopes to successfully tackle "three to five" national challenges. "Using this consultation, we're going to develop very well-defined problem statements that will drive the entire grant-calling process, as well as how to get people to work together as a team to solve these grand challenges," he said.
The programme will also invest in deep technology, such as next generation AI systems with human-like learning abilities. For instance, in three years' time, doctors and nurses could be able to undergo training in realistic scenarios enabled by AI.
Dr Yaacob said: "Doctors and nurses could find themselves immersed in simulated emergency situations, and interact with virtual patients in realistic augmented reality-based environments to enhance their training for better patient care."
In healthcare, IHiS hopes to use AI to supplement manpower, especially when demand for healthcare increases. With the ageing population, AI could also be deployed through assistive devices or smart applications to meet physical and mental health needs. For example, clinical trials are currently taking place for a robotic exoskeleton that can help stroke patients rehabilitate, developed by NUS. It is able to detect human intent and gait patterns via wearable sensors and machine learning algorithms, said the IHiS.
Eventually, advanced AI will be used in more scenarios. For example, enhanced robots can interact with and monitor patients remotely via voice recognition and language translation functions. Smart-home care services could also be developed, where seniors can be monitored remotely, and the data collected could be used to predict if they require early intervention.
In the finance sector, digital personal financial advisers could be created, for instance. Companies that are currently deploying AI reiterated the huge potential in the technology. 
Mr Shamir Rahim, founder of automated transport management systems provider VersaFleet, said: "The logistics industry faces the last-mile fulfilment problem. You have 10,000 orders to fulfil, with 100 drivers. Which job do you assign to whom in what sequence?" 
He added: "Most traditional logistics companies have an operator doing this planning. Our operator used to take two hours just to do the planning for 40 jobs. But an AI-enabled computer can do this job optimally." 
VersaFleet is piloting an AI-enabled algorithm that can carry out this function in 10 seconds. It also learns on the job to produce better results, Mr Shamir said. "If our human operators make any tweaks to the routes, for instance, it will learn from these, and become better at suggesting routes for the future."
Chief technology officer Shonali Krishnaswamy, of AI solutions provider AIDA Technologies, said the financial services industry could do with AI to handle the huge daily volume of claims and applications. 
AIDA serves customers from the financial, consumer and transportation industries. "There are a lot of mundane tasks associated with such work ... This is where AI can help to support humans in doing the repetitive, straightforward work, and free them up to handle the more important tasks," she said. AI technology, while not 100 per cent foolproof at first, can eventually increase its level of accuracy as it learns from feedback from humans, she noted.