S$7m trade-in grant set up to help food-delivery e-scooter riders switch to other devices: LTA
SINGAPORE — Amid a huge outcry among retailers and food-delivery riders, the Government has announced measures to help some 7,000 affected individuals defray the cost of switching to other types of mobility devices such as bicycles and electric bikes, following the ban of e-scooters from footpaths.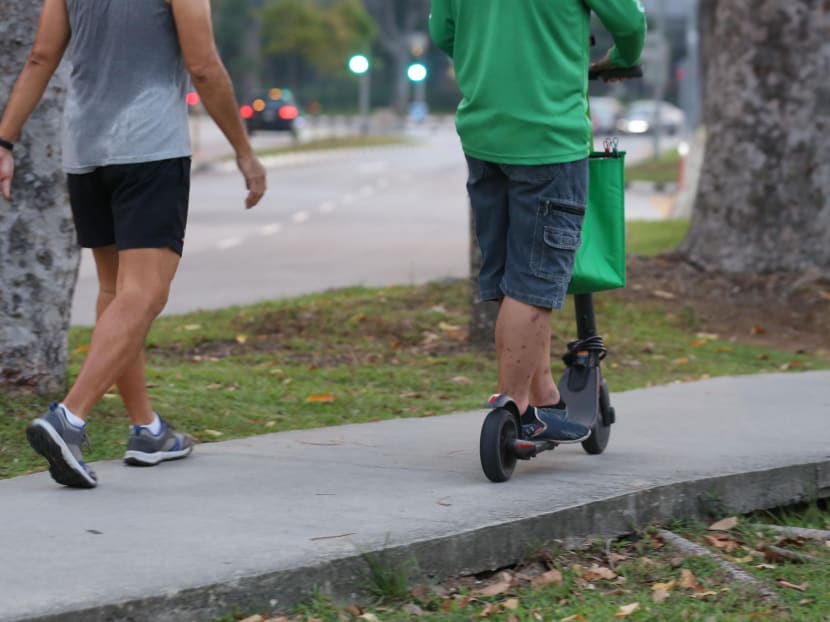 SINGAPORE — Amid a huge outcry among retailers and food-delivery riders, the Government has announced measures to help some 7,000 affected individuals defray the cost of switching to other types of mobility devices such as bicycles and electric bikes, following the ban of e-scooters from footpaths.
On Friday (Nov 8), the Government said that together with the food-delivery companies —  Foodpanda, GrabFood and Deliveroo — a S$7 million e-scooter trade-in grant had been set up. 
Under this scheme, riders who intend to stay on the job will receive a grant of up to S$1,000 each to switch to an electric bicycle or a personal mobility aid, and a grant of up to S$600 each to switch to a bicycle. 
To qualify, they must be an existing delivery rider with one of the three companies and they must surrender their e-scooters at disposal points located at Grab, Deliveroo or Foodpanda's premises, the Ministry of Transport (MOT) said.
The Land Transport Authority (LTA) will match dollar-for-dollar the food-delivery companies' funding support for their riders who trade in their existing e-scooters for alternatives. 
The food-delivery companies, which are also working with retailers to buy these devices in bulk to bring down costs, will administer the scheme from Nov 15 until the end of the year.
In a press statement on Friday, the Government said that while Singaporeans have overwhelmingly welcomed the decision to prohibit e-scooters on footpaths, it was aware that the ban was affecting food-delivery riders. 
Many were caught off-guard on Monday when it announced that the use of e-scooters on footpaths would be banned the next day and riders may use them only on bicycle paths and park-connector networks while the devices remain banned on roads.
The ban does not apply to bicycles, kick scooters and personal mobility aids, such as motorised wheelchairs and mobility scooters.
The change in ruling sparked at least three online petitions calling for a reversal of the ban. One, titled "Petition on behalf of all PMD users in Singapore: Allow PMD on Footpaths Or Roads", amassed 24,000 signatures as of 5pm on Friday. It continued to gain steam after drawing some 8,000 signatures in less than 12 hours after the ban was announced.
MOT added that for food-delivery riders who do not wish to continue in the trade, the National Trades Union Congress' (NTUC's) Employment and Employability Institute and Workforce Singapore are working with the food-delivery companies to provide career services and job-search support under the Adapt and Grow employment-support initiative.
Affected drivers will receive customised information on upcoming career events from next week. 
At the same time, food-delivery riders with immediate financial difficulties are being referred to Ministry of Social and Family Development and ComCare schemes, which provide temporary financial help. 
Riders may also approach their nearest Social Service Office or community club for help, MOT said.
GRABFOOD TO DOLE OUT SUBSIDIES
To cushion the impact on affected riders, GrabFood will roll out a series of measures, including partnerships with firms to offer the sale and rental of bicycles, e-bikes and motorcycles at "preferred rates".
A Grab spokesperson told TODAY that the firm is teaming up with five partners to allow its e-scooter riders to rent or buy bicycles. These are SG Bike, Singapore's largest bicycle-sharing operator, as well as retailers WarehouseSG, My Bike Shop, Hello Bicycle, and Cannasia.
As for motorcycle rentals, it is working with Pyro Leasing and GP Motoring.
Riders, for instance, may buy a bicycle for S$300 from WarehouseSG. It will come with a bicycle rack and same-day delivery of the bike.
SG Bike will provide a certain number of bicycles rent-free until Dec 31 in "limited quantities".
In addition, riders could receive subsidies to buy bicycles (up to S$300) and e-bikes (up to S$500), subject to conditions, Grab's spokesperson said, adding that these efforts are aimed at enabling riders to continue earning an income.  
More than one in three GrabFood delivery riders used e-scooters to fulfil orders before the ban took effect.
Grab's spokesperson said that its riders' top concerns included whether they would be physically able to do food deliveries on other modes of transport as well as these alternatives being sturdy enough to withstand wear-and-tear resulting from heavy use. They were also concerned about the cost of switching to other modes.
Deliveroo said on Thursday that it was talking to bike-sharing operators but its spokesperson did not have an update when approached on Friday. 
Foodpanda, which said before that it could tie up with e-bike firms, did not respond to queries. 
RIDERS CONTINUE TO VOICE GRIEVANCES
Up till Friday, affected food-delivery riders had taken their grievances to various Members of Parliament (MPs), including Social and Family Development Minister Desmond Lee and Law and Home Affairs Minister K Shanmugam, during their meet-the-people sessions. 
They arrived in droves, many still clad in their food-delivery attire.
Mr Lee had told the riders present at his session on Thursday evening that he would put their concerns to MOT, and also offered to put them in touch with officers from the NTUC to address their "urgent concerns".
Such engagements are expected to continue on Friday, as TODAY understands that dozens of PMD users are planning to meet Senior Minister Teo Chee Hean at his meet-the-people session at Block 738, Pasir Ris Drive 10.
Another group was planning to meet at Bedok Jetty in East Coast Park at 9pm to "show (their) unhappiness about the ban". 
Separately, Ms Lee Bee Wah, MP for Nee Soon Group Representation Constituency, told TODAY on Friday morning that she would be meeting individually with a few e-scooter riders who live in her constituency, to tailor help to each of them. 
She added that she would look into getting them financial help, job referrals or refer them to government schemes that help workers pick up new skills. 
Ms Lee also said that she was open to feedback on how Yishun's network of cycling paths can be upgraded and expanded to help affected PMD users go where they need to.