SAF lowers bar for evacuation, makes 2 heat injury measures mandatory after CFC Dave Lee's death
SINGAPORE — Any trainee who cannot respond to simple questions on time, place and identity will be evacuated immediately for heat injury, as part of new Training Safety Regulations made effective immediately.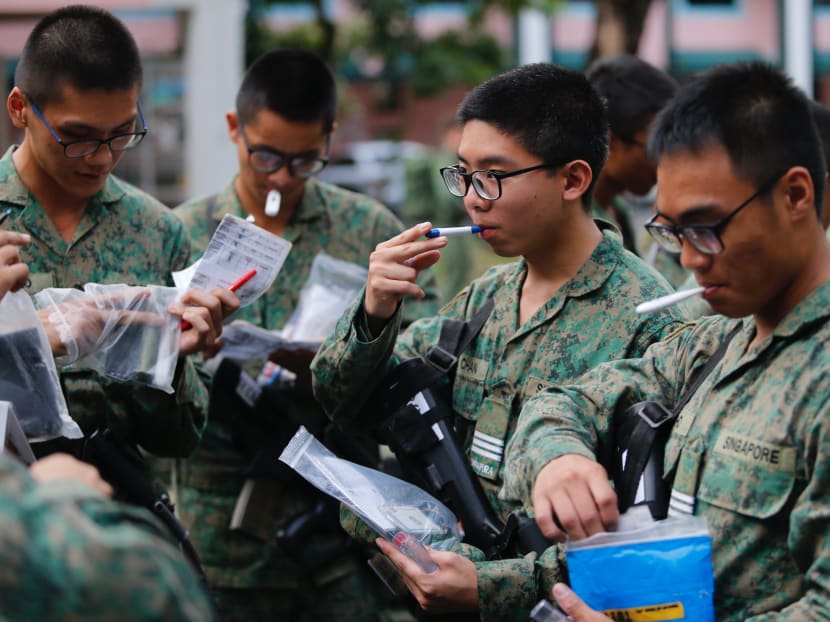 SINGAPORE — Any trainee who cannot respond to simple questions on time, place and identity will be evacuated immediately for heat injury, as part of new Training Safety Regulations made effective immediately.
Announcing this in his ministerial statement on findings and follow-up actions on National Service training death on Monday (Aug 6), Defence Minister Ng Eng Hen said the new protocol "takes the guesswork out of the assessment and imposes early evacuation as a default".
The measure comes as the Committee of Inquiry set up to look into the death of Corporal First Class (CFC) Dave Lee found that the significant delay between the onset of his symptoms and his evacuation to the Bedok Camp Medical Centre and Changi General Hospital (CGH), coupled with the inadequate on-site measures administered to him, could have exacerbated his heat injury to a heat stroke.
Earlier, the Ministry of Defence had said CFC Lee showed signs of heat injury after an 8km fast march in Bedok Camp at 8.35am on April 18. After a Singapore Armed Forces (SAF) medic tried to bring down his core temperature, he was sent to Bedok Camp's medical centre where a SAF medical team continued "body cooling measures and treatment". He was sent to the Changi General Hospital's Intensive Care Unit (ICU) at about 9.50am that day.
Apart from the new protocol which "lowers the bar" for evacuation, Dr Ng also announced additional measures to cool servicemen during training.
Purpose-built cooling pads, which cool up to 15 times faster than ice, and getting soldiers to dip their forearms into iced water in between route marches are two heat injury prevention and management measures which will be made mandatory in all Singapore Armed Forces (SAF) units and training schools from this month.
To be introduced in phases, these measures are in line with recommendations made by an external safety panel to plug the shortcomings it found in the SAF's existing system for managing heat injuries.
The panel, comprising medical experts, had been convened in the wake of the 19-year-old full-time national serviceman's death from heat-related injuries on April 30. 
In its report to Dr Ng on July 23, the panel noted that though it has found shortcomings, other aspects were in line with industry practices and those of other foreign militaries.
The panel's review also comes five years after the last major review by the SAF in 2013 on its heat injury measures, and against the backdrop of falling number of heat exhaustion cases in the last five years.
Cases of soldiers suffering heat strokes — which is more serious — have fluctuated, though the number has gone up from zero to five in the last three years.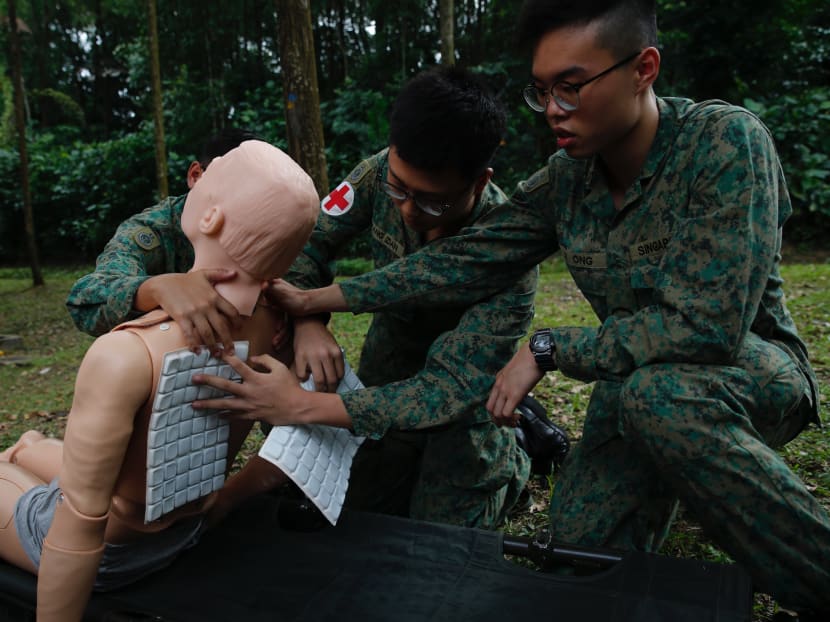 Brigadier-General Kenneth Liow, who is commander of the Army Training Doctrine Command (Tradoc) said at a media briefing last week that the SAF conducts internal safety reviews every three years, and there will also be ad-hoc reviews such as the one conducted by the panel.
While the SAF's internal reviews are also guided by external medical experts, external reviews are usually convened to validate and benchmark SAF's safety systems against prevalent industry standards, and is also an opportunity for the external review panel to recommend enhancements according to industry best practices.
The idea of the latest external review is "to take an independent look into our system in managing heat injuries", BG Liow added.
Asked why the improvements proposed by the panel were not picked up in the SAF's internal reviews, BG Liow said that its current system is "generally sound", while Chief Army Medical Officer Edward Lo, pointed out that its current treatment protocol "has been shown to work".
But to shore up its efforts to prevent and manage heat injuries, the SAF is making two measures compulsory.
EXPAND HEAT INJURY MEASURES
The use of the Arm Immersion Cooling System (AICS) will be made mandatory for fast and route marches spanning 12km and above, as well as endurance runs.
First introduced in 2015 as a best practice in the SAF's three training schools — Basic Military Training Centre, Officer Cadet School and the Specialist Cadet School — the AICS involves getting soldiers to dip their forearms into a bucket of iced water for about 15 to 20 seconds.
It works because the forearm has high vascularity, and has a large surface area relative to body mass. And as the body temperature rises, blood flow increases to the whole body. So dipping the forearms into cold water will help cool the blood, and in turn, reduce body temperature, said the SAF.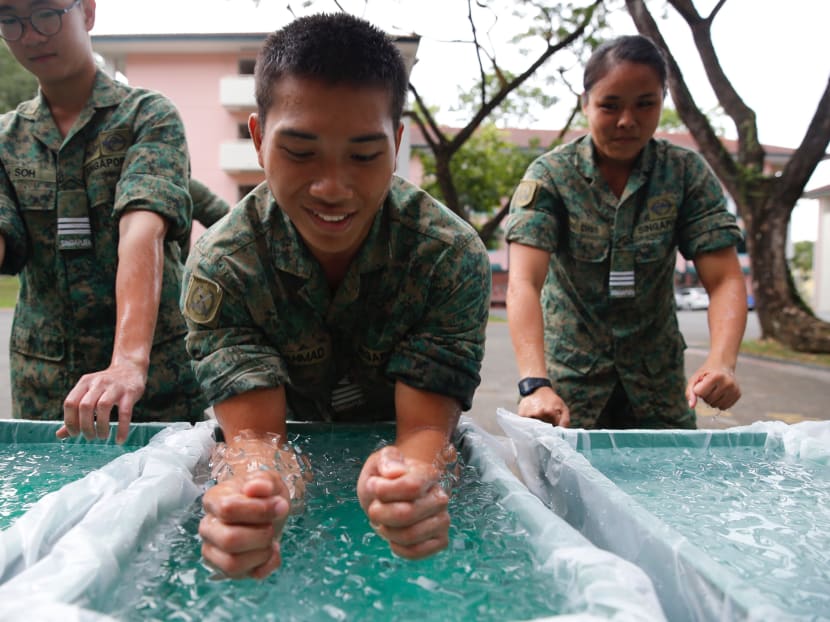 Soldiers will have to do this when they rest in between and after completion of marches. Typically, they will take a break for about 15 minutes after marching every 4km, which takes about an hour. The AICS is currently used by the United States' and Australian militaries.
Similarly, the current use of six ice packs as an immediate on-site cooling measure will be replaced with the use of Purpose Built Cooling Pads.
The SAF noted that the pads cool up to 15 times faster than ice and 58 times faster than water. Its cooling effect also lasts longer than ice, which melts easily.
Unlike ice packs, which are placed at the neck, armpits and groin, the pads are simply pasted on a soldier's back, chest and groin. They are also more portable, making it easier to apply when the soldiers are out on field.
RECOMMENDATIONS BY PANEL
Headed by Associate Professor Mark Leong, a senior consultant at Singapore General Hospital's department of emergency medicine, the panel also comprises four other medical experts.
The review, which started on May 18, involved discussions with the Ministry of Defence and visits to the SAF Medical Corps and Bedok Camp to understand heat injury policies and how casualties are typically treated. CFC Lee, who was a guardsman from the 1st Battalion Singapore Guards, was based in Bedok Camp.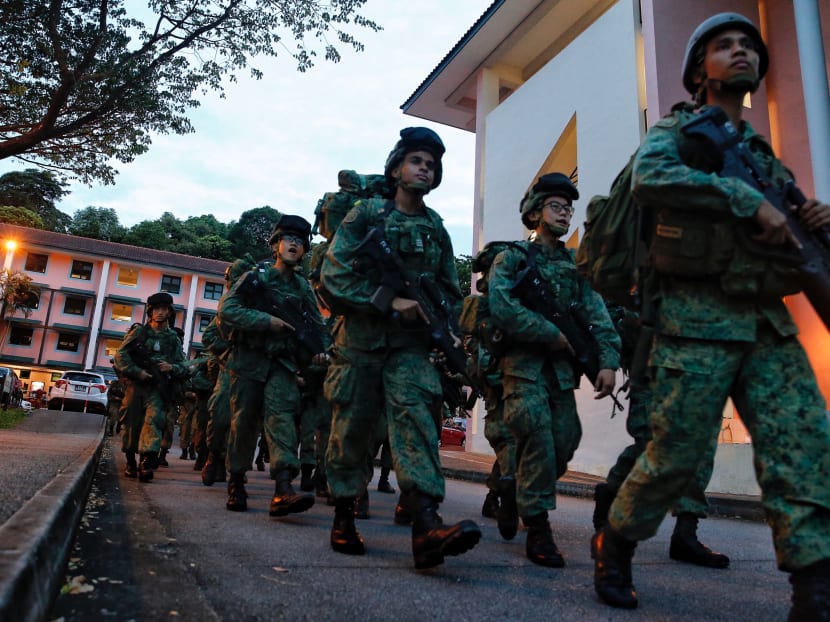 The panel's recommendations cover three broad areas to include fine-tuning heat injury prevention measures, ensuring early recognition and evacuation of heat injury cases, and providing effective cooling to heat injury casualties.
Among its proposals are:
Including heat injury management as a compulsory test scenario in the annual proficiency test for medics; there are currently eight test scenarios that medics have to go through, such as when a soldier suffers from cardiac arrest;
Expanding its current list of 16 risk factors that predispose an individual to heat injuries to include — inexperienced soldiers, alcohol intake, use of supplements and salt depletion;
Recognising heat cramps — involuntary muscle spasms — and heat syncope, which is fainting or dizziness, as heat injuries and not just as symptoms;
Reducing barriers to self-reporting — which include peer pressure or fear of failing a course — that might discourage soldiers from speaking up when they feel unwell;
Getting the SAF Medical Corps to set up a channel — similar to those used in the emergency departments in public hospitals — to allow medical officers to seek guidance and advice from senior SAF physicians in cases of medical emergencies;
Deploying cooling suits which can achieve rapid cooling faster than body cooling units — where cool water is sprayed on a soldier's body — which are currently deployed in 30 SAF medical centres.
Some of the recommendations mooted by the panel have already been adopted in foreign military guidelines or regulations. For instance, the US Marine Corps prescribes that soldiers affected by heat cramps to stop training and slowly rehydrate.
Asked how significant adding these extra risk factors would be, Colonel Edward Lo said including them is to ensure that no stones "are left unturned".
Saying that SAF is committed to having zero training fatalities, BG Liow noted that even as the safety regime is improved, training must continue to be "tough and realistic for an effective SAF" and that none of the panel's recommendations will lead to a "lowering of standards".
"What we have done is to strengthen the safety systems and to make sure there's always another day to train for our soldiers," he added. "The outcome must be clear, the SAF must be able to fulfil its mission defending Singapore. At the same time, the SAF would like to ensure that we return every Singaporean son back to their parents."
Sign up for TODAY's WhatsApp service. Click here: