Safety a concern, but trials in high-traffic areas will benefit driverless systems: Experts
SINGAPORE — Autonomous vehicles need to get out of their comfort zones, too. That is why the latest decision to allow driverless vehicles to be tested in areas that have more traffic or people will be good, insiders and transport analysts said of the Government's latest announcement on Thursday (Oct 24).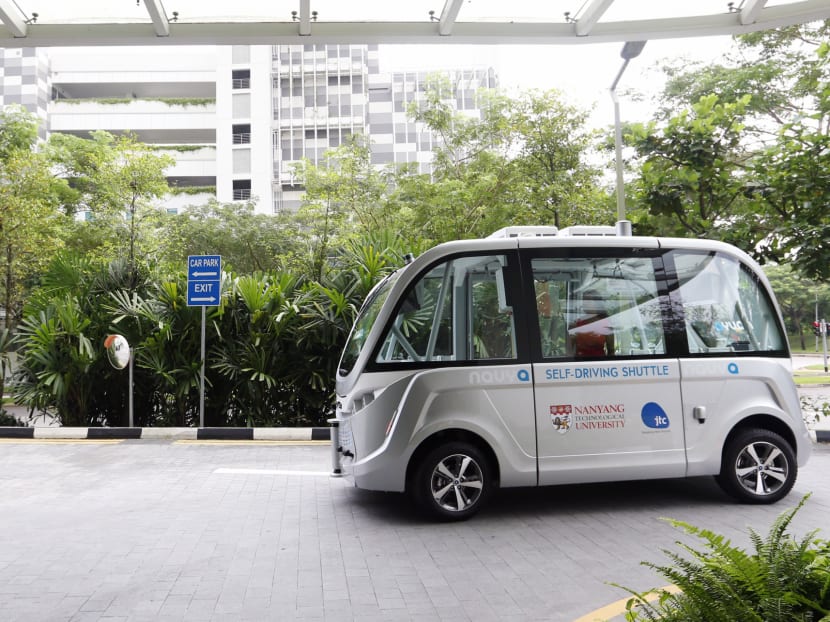 SINGAPORE — Autonomous vehicles need to get out of their comfort zones, too. That is why the latest decision to allow driverless vehicles to be tested in areas that have more traffic or people will be good, insiders and transport analysts said of the Government's latest announcement on Thursday (Oct 24).
While analysts said that it is a step towards keeping Singapore's autonomous vehicle sector in the game, they pointed out that safety is still a concern because driverless systems are not foolproof — and more so in trial zones that are in residential and high-traffic areas.
Transport economist Walter Theseira from the Singapore University of Social Sciences (SUSS) said: "A well-publicised fatality that occurred during self-driving trials in the United States was because the safety driver did not pay sufficient attention and take over when the vehicle failed to recognise a pedestrian on the road."
The standard safety protocol in driverless trials is to have a safety driver or engineer always present in the vehicle, to ensure someone is engaged and able to take over in case of unexpected difficulties.
The Government is expanding the zone for autonomous vehicle trials to encompass all of western Singapore such as Bukit Timah, Chua Chu Kang and parts of Queenstown and Bukit Merah — instead of just in Buona Vista, Jurong Island, Sentosa, the Nanyang Technological University (NTU) and its neighbouring CleanTech Park right now.
Dr Janil Puthucheary, Senior Minister of State for Transport, said on Thursday that this was in response to feedback by the industry that a more varied testing environment will help accelerate the development of technology for such vehicles.
The expansion, which will be staggered over the next few years and subject to the Land Transport Authority's (LTA) approval, will mean that developers will be able to trial their vehicles on 1,000km of public roads across western Singapore, up from 200km now.
Dr Puthucheary stressed that safety drivers will be onboard at all times during a trial so as not to compromise on public safety.
DIFFERENT TERRAINS, TRAFFIC CONDITIONS
Dr Terence Fan, transport analyst from the Singapore Management University, said that the expansion of the trial zones will give companies the opportunity to test out their vehicles on different terrains, roads and traffic conditions.
ST Engineering, for example, has been developing autonomous shuttle buses.
Dr Lee Shiang Long, president of land systems at the company, said: "As we adopt a scenario-based testing for our autonomous vehicle development, the expansion of the test site to the whole western region of Singapore means more opportunities for us to encounter different environments, including residential areas which are densely populated."
The company is planning to conduct public trials around June next year for its driverless buses.
Dr Lee added: "The learnings will be very valuable in the development of better algorithms and the response of artificial intelligence to the various traffic situations, ensuring a more robust and reliable autonomous vehicle system."
Associate Professor Theseira said that driverless systems need to accumulate a "massive amount of data under real-world driving conditions" to be safe and efficient, and that data has to be "context-specific to the behaviour of drivers and pedestrians, and features of road design" in Singapore.
"Without extensive field trials in Singapore, I don't think we will be able to deploy driverless vehicles on the same timescale as other major urban areas will," he added.
Mr Koen Cardon, chief executive officer of Belgian logistics company Katoen Natie, said that once there is approval from LTA for the trials, it will help to "better shape" and give "more clarity" on the legislation required for autonomous vehicles on public roads.
He added that his company will not be expanding its trials of autonomous vehicles to other areas because it is still monitoring a pilot trial on Jurong Island.
TODAY has contacted ComfortDelGro about tests for autonomous vehicles that it is operating at the National University of Singapore's Kent Ridge campus.
Associate Professor Michael Li Zhi-Feng from NTU, who researches on network congestion pricing and car-lite solutions, called the move a "major milestone". He said it indicates that the autonomous vehicle sector in Singapore is "ready for a realistic deployment".
"It shows Singapore's determination to be at the frontier of this development, which surely enhances its reputation as an innovation hub."
NEED INFRASTRUCTURE TO SUPPORT TRIALS
Some residents living in the western region of Singapore are curious about the progress of such technology in transport, but similarly voiced concern about safety.
Clementi resident Sia Bao Huei said that automated transport could be advantageous to students such as himself who go home late and those who work odd hours of the day.
However, the 23-year old university student has his reservations, saying that such trials might not happen in his neighbourhood due to the high traffic there. He also said that there should be infrastructure in place first, such as exclusive bus routes, to support these trials.
Agreeing, fellow Clementi resident and university student Tan Hui Lin, 23, said that while she is excited to see driverless vehicles on the road, she is wary about accidents happening, especially in Clementi Avenue 6, for instance, which is linked to two major highways, the Pan-Island Expressway and the Ayer Rajah Expressway.
Although she is aware that the test zones have to be approved by LTA, Ms Tan said that more information could be given to residents as well before they happen.
"It would be better to have more demonstrations on what these vehicles are like, and their safety features, rather than just hearing from LTA that they have done their checks."
On the other hand, Ms Shu Kit, 23, a recent graduate who lives along Bukit Batok Road, said that LTA and developers of autonomous vehicles should "know best" what safety measures to take and she is not too bothered. ADDITIONAL REPORTING BY NAVENE ELANGOVAN