SBS, SMRT get record S$1.84m for better bus services
SINGAPORE — Bus operators SBS Transit and SMRT have been awarded S$1.34 million and S$504,000 respectively under the Bus Service Reliability Framework (BSRF) trial for improving wait times and reducing crowding between June and November last year, the Land Transport Authority (LTA) said in a statement on Monday (May 9).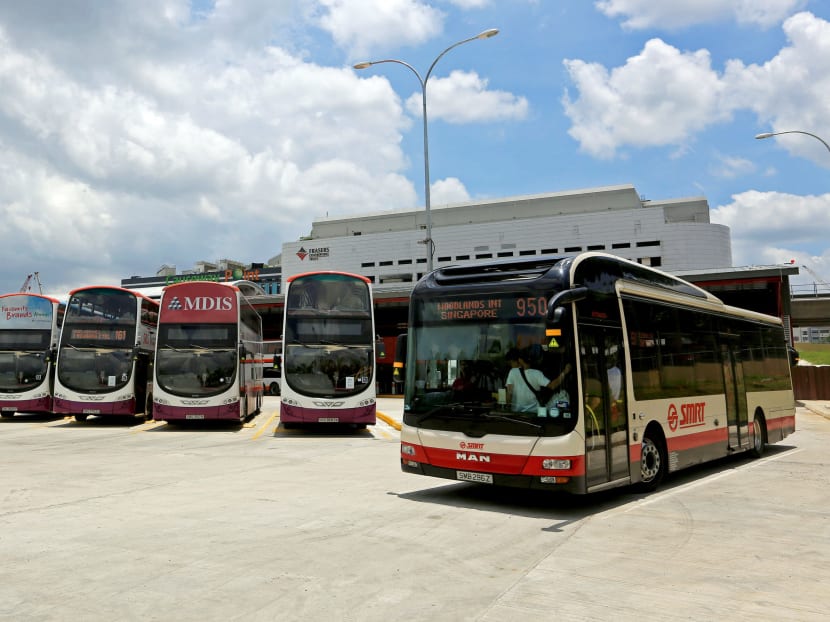 SINGAPORE — Bus operators SBS Transit (SBST) and SMRT have been given record amounts of incentives under a framework to enhance the reliability of bus services, following improvements in waiting times and less crowding between June and November last year. 
The Land Transport Authority (LTA) said on Monday (May 9) that in the third round of assessment under the Bus Service Reliability Framework (BSRF) trial, SBS Transit received S$1.34 million — or S$12,440 per service per month for reliability improvements for 18 services. SMRT got S$504,000 in total — or S$12,000 per service per month for improvements to seven services.
Separately, the LTA also announced that as of March 31, 800 Government-funded buses — out of 1,000 that will be added to the public bus network by next year — have been rolled out under the Bus Service Enhancement Programme (BSEP). The LTA said: "Together with the BSRF ... commuters have experienced better connectivity, less crowded buses, more frequent and more regular bus arrivals." 
Responding to TODAY's queries, the LTA reiterated that it would continue to review the effectiveness of the BSRF trial and "fine-tune the framework, including tightening the baseline standards, over time". With the ongoing restructuring of the bus industry, the LTA said similar incentive-penalty frameworks have been incorporated in bus contracts from this year.
The LTA had previously said the incentives help offset costs, such as the hiring of more service controllers, incurred by the public transport operators to support the BSRF. Transport analysts TODAY spoke to felt the incentives were necessary to keep bid prices competitive under the new bus contracting model which is being implemented in phases.
Bus operators which are confident of meeting performance standards will include the payouts in their expectation of how much they can earn from the contract, said SIM University senior lecturer Walter Theseira. "So that would mean they will actually ...  bid a bit lower up front in order to win the contract because they'll expect to make it back from the performance standards," he said. 
Agreeing, SIM University adjunct associate professor Park Byung Joon said the monetary incentives were "absolutely necessary" as he doubted the ability of bus operators to make a "decent profit" under the new industry model without the payouts. 
For the year ended Dec 31, 2015, SBST's operating profit from buses grew 78.2 per cent year-on-year to S$22 million due mainly to higher revenue and lower fuel costs. Meanwhile, SMRT saw its bus operations post an operating profit of S$5.9 million in the financial year ending March 31, reversing from a loss of S$6.5 million. 
The BSRF trial started in February 2014 and is modelled after service-quality standards applied in cities such as London. It gauges the regularity of a bus service using the concept of excess wait time, the average additional waiting time experienced by commuters. Operators earn payouts if they improve on the excess wait time or pay a penalty if the excess wait time worsens.
Both operators had the highest number of services included in the latest round of assessment. The LTA said 27 of the 34 services that were assessed had achieved excess wait times that were better than the baseline, indicating that bus arrivals were more regularly spread out. "Overall both operators have sustained improvements in reliability since the implementation of the BSRF trial, through enhanced management of the bus fleet and the hiring of more service controllers ... Commuters benefitted as wait times were more regular and bus loads were spread more evenly," the LTA said. 
For the second round of assessment, which took place between December 2014 and May last year, SBST was awarded  S$816,000 for improved reliability for 12 services while SMRT received S$384,000 for improved reliability for five services. The first round of assessment was conducted from June to November 2014, with SBST earning S$710,285.71 and SMRT getting S$345,714.29 for reliability improvements to 11 and seven services, respectively.
Bus commuters that TODAY spoke to have generally felt improvements in bus frequencies over the years, especially during peak hours. 
"The peak hour waiting times have generally improved by a few minutes over the years," said Mr Damien Tan, 33, who works in sales and takes the bus home every day. 
However, the commuters were divided on whether the Government should provide incentives for bus operators to meet performance standards. Mr Tan suggested extending the contracts, instead of giving payouts. "Rewarding bus companies for their good performance by extending their contracts is much better use of the taxpayers' money. It forces operators to keep to their promised standards too," he said. 
However, Mr Raymond Tan, 28, who works in the finance sector, disagreed. "Money talks, it's best way to motivate bus companies," he said. 
Mdm Tan Bee Hong, who is in her 60s, said she has observed some bus drivers skipping bus stops despite being flagged down, in an apparent attempt to keep to schedule. 
A 23-year-old undergraduate, who only gave his name as Mr Oh, felt that the authorities should look at other performance indicators, apart from excess waiting time. "There are other areas to look into as well such as ... the time needed (for commuters) to go from one place to another," he said.