Search to begin for CEO of SPH Media Trust; former SPH deputy CEO Patrick Daniel to be interim chief
SINGAPORE — Tackling the challenges faced by the newsrooms of Singapore Press Holdings (SPH) will require "a transformational change in mindset", Mr Khaw Boon Wan said as he picked SPH's retired deputy chief executive Patrick Daniel, 66, to be its new interim chief executive officer. Mr Khaw is the incoming chairman of SPH's media spinoff.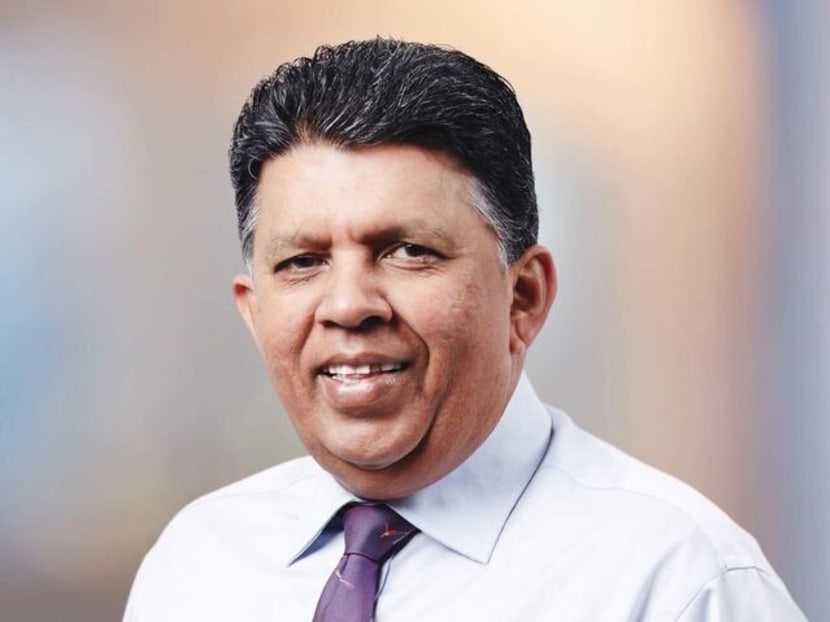 Mr Khaw Boon Wan, designated chairman of a new SPH media entity, held a meeting with SPH employees 
The new entity is to be called SPH Media Trust
Former SPH deputy CEO Patrick Daniel will be appointed as interim CEO of the new non-profit firm
Mr Khaw mapped out the challenges faced by the media business and the significant changes needed
SPH Media must decisively become "a digital media company with print products", he said
SINGAPORE — Tackling the challenges faced by the newsrooms of Singapore Press Holdings (SPH) will require "a transformational change in mindset", Mr Khaw Boon Wan said as he picked SPH's retired deputy chief executive Patrick Daniel, 66, to be its new interim chief executive officer. Mr Khaw is the incoming chairman of SPH's media spinoff.
"The problem is not difficult to define," Mr Khaw, 68, said on Wednesday (May 12) at a town hall meeting with the newsrooms at the SPH News Centre in Toa Payoh, his first since Monday's announcement that he would chair the company limited by guarantee.
"My generation enjoys our morning coffee with an SPH newspaper. The young prefer a different lifestyle. They access the news at any time of the day and through a variety of platforms — the phone, the tablet, the computer. They don't even start reading from the front page," Mr Khaw said.
SPH Media Trust, the proposed entity that will operate SPH's media titles, will need to adapt to these habits and expectations by accelerating its digitalisation efforts, he added. The proposal is subject to SPH shareholders' approval.
The former Cabinet minister said that the strategic objective remains the same as before: "To preserve quality newspapers in all four languages trusted by readers and to sustain them over the long term.
"Likewise, the values and principles underpinning our brand of journalism remain unchanged: integrity and professionalism of our journalists; and independence of our newsrooms."
What has changed is that it is no longer adequate for newspapers to inform, educate and entertain, he added.
"With news proliferating and breaking news happening round-the-clock, traditional media's ability to inform is no longer a differentiating factor. Competition is now in the depth of analysis and original insights, and also in their presentation.
"We need to urgently update our mission for the digital era. I discussed this with Prime Minister Lee Hsien Loong and he agreed with this analysis." Mr Khaw said.
He described several priorities that lie ahead of SPH Media Trust, his most immediate being a smooth transition without disruption to the media business.
Practically all 2,500 media and media-related employees will move from SPH to the new company limited by guarantee so as not to cause disruption, he said. The cut-over date for the restructure is Sept 1, at the earliest.
Mr Khaw also expects that the appointment of Mr Daniel, who was the former editor-in-chief of SPH's English/Malay/Tamil Media Group and had retired in 2017 as deputy CEO of SPH, will mean that the transition will be uneventful.
Mr Daniel, a veteran journalist, was previously a director in the Ministry of Trade and Industry and had been serving as a part-time consultant to SPH CEO Ng Yat Chung following his retirement.
"I am grateful to Patrick for agreeing to help us out. Like me, he is enjoying his retirement. But he has a strong personal interest to see SPH Media succeed.
"I will begin a search for a CEO who can take SPH Media into the future as a multilingual digital media organisation, one who understands both East and West and is Singaporean at heart — and be among the world's best."
At a press conference following his prepared speech, Mr Khaw, who retired from politics last year, said that the search will hopefully turn up someone who is digitally savvy.
The new CEO will likely be a Singaporean as it is difficult for a foreigner to "instinctively understand what the Singapore interest is about", he added.
"Maybe next year, we would have completed the search. Patrick Daniel has been chasing me because he's in retirement, and I know — we know — what retirement is all about. And I will not overtax him," Mr Khaw said.
Mr Daniel, when asked how long will be his interim term, said: "I'll stay for as long as I am needed."
DECISIVE DIGITAL TRANSFORMATION NEEDED
However, while good quality news content is critical, that alone is not enough, Mr Khaw said in his speech earlier.
"Current newsrooms were built for the print era; they need to be transformed further for the mobile phone and tablet era.
"As a British media company puts it: We have been 'a print media company with digital products', we must now decisively become 'a digital media company with print products'."
To succeed, the new company must be able to connect with its subscribers and non-subscribers, understand their digital habits, and customise its content to suit their lifestyle and convenience.
"This requires a quantum leap in capabilities, skill sets and attitude."
To this end, SPH Media will also set up a new media academy to train recruits systematically as well as existing staff members, and the award of SPH scholarships will be stepped up.
There will also be internships for undergraduates in Singapore as well as fellowships and attachments for journalists now employed.
"We are determined to keep journalism as an attractive profession that offers rewarding careers to talented and ambitious young men and women."
When asked about attracting, grooming and retaining talent at the press conference, Mr Khaw stressed that the news business is a creative industry, which means that it hinges on having talent.
Doing so will require competitive wages and working conditions, he said, noting that cost pressures in the past several years have "diminished" SPH's ability to retain good workers.
Mr Khaw said that he has begun meeting SPH employees in small groups to listen to feedback and their aspirations, adding that they are mindful of the national role that the media play and that failure is not an option.
He has pledged to support them by boosting their digital media capacity, building a first-class digital technology team, and empowering the newsrooms with skills and tools in graphics, video, technology, design and data "to make the everyday experience of reading the news more accessible, compelling and engaging".
"We will also size the newsrooms adequately so that they have the capacity to engage meaningfully with the audience. We are working out the additional investments that will be needed for this effort," he said.
"But remember: Transformation is a journey. It is not merely a technical exercise. It is also a cultural transformation. It takes time and effort for cultural change to take effect."
Mr Khaw reiterated at the press conference that the digital transformation SPH has to undertake "is not rocket science" — a term he has used previously to describe the effort to improve MRT rail reliability when he was the transport minister.
"What is difficult is because of our market size, which is a real constraint to having outreach... Converting that into serious digital revenue in order to (offset) the decline of print media, that is a severe challenge, because this is also a generation who is used to consuming things… (for) free.
The Government has said that it is willing to support the SPH spin-off with public funding in capability building, given the important role that the media plays in society.
On this, Mr Khaw said that the move to a company limited by guarantee allows SPH the recourse to funding from the Government and other sources for costly investments in digital transformation, since listed company shareholders have no appetite for them.
"Public funding will have to be accounted for and will be directed at capacity building. Such funding is already available to other companies, including Mediacorp," he said, referring to the national broadcaster.