The 'secrets' of Thomson Nature Park: Rare primates and remnants of old Hainanese kampung
SINGAPORE — The National Parks Board (NParks) has opened a new nature park along Thomson Road where visitors can expect to see the ruins of an old Hainanese village that was there from the 1930s and, maybe, spot a little-known species of monkey.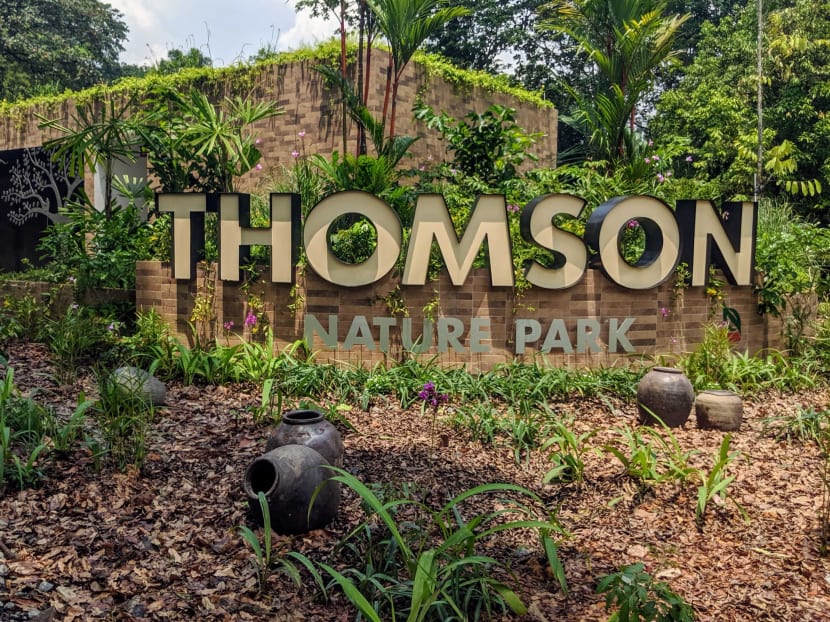 SINGAPORE — The National Parks Board (NParks) has opened a new nature park along Thomson Road where visitors can expect to see the ruins of an old Hainanese village that was there from the 1930s and, maybe, spot a little-known species of monkey.
The Thomson Nature Park was officially opened to the public on Friday (Oct 11), with nature lovers, former villagers and Mr Desmond Lee, Second Minister for National Development, attending the event.
Mr Lee, who is also the Minister for Social and Family Development, said that this marks the fifth "buffer" park that was created to form a ring around the Central Catchment Nature Reserve. The others are Springleaf Nature Park, Zhenghua Nature Park, Chestnut Nature Park and Windsor Nature Park.
Speaking during a media preview on Thursday, Ms Sharon Chan, NPark's director of conservation, said that Thomson Nature Park is "very unique" due to the many rare and endangered species of animals that can be found there.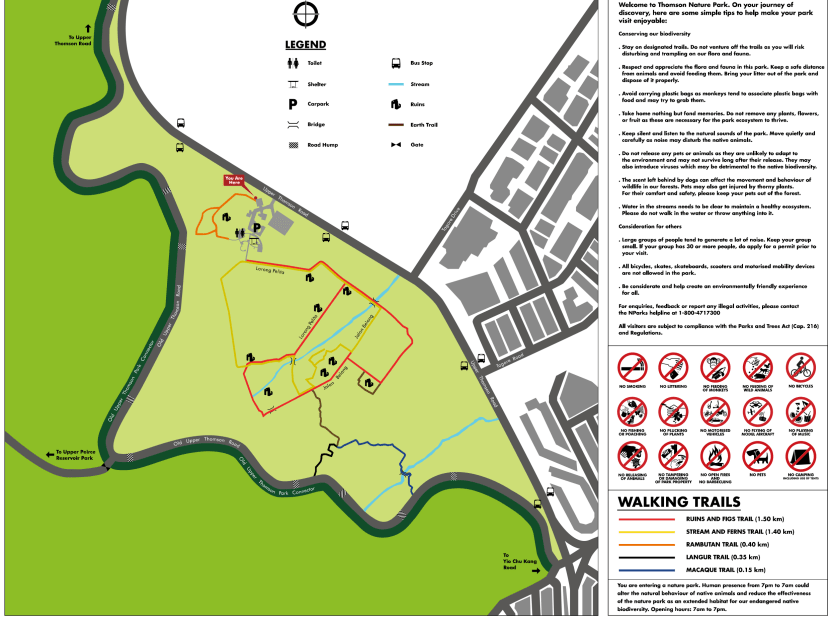 Bounded by Old Upper Thomson Road and Upper Thomson Road, the 50-hectare site, which was developed for around S$6.5 million, serves as a key conservation site for the critically endangered Raffles' banded langur. 
Formerly known as the banded leaf monkey, these animals native to Singapore have white rings around their eyes and a body of black fur.
Shy and elusive, there are only about 60 of these primates here and they were discovered by Sir Stamford Raffles almost 200 years ago.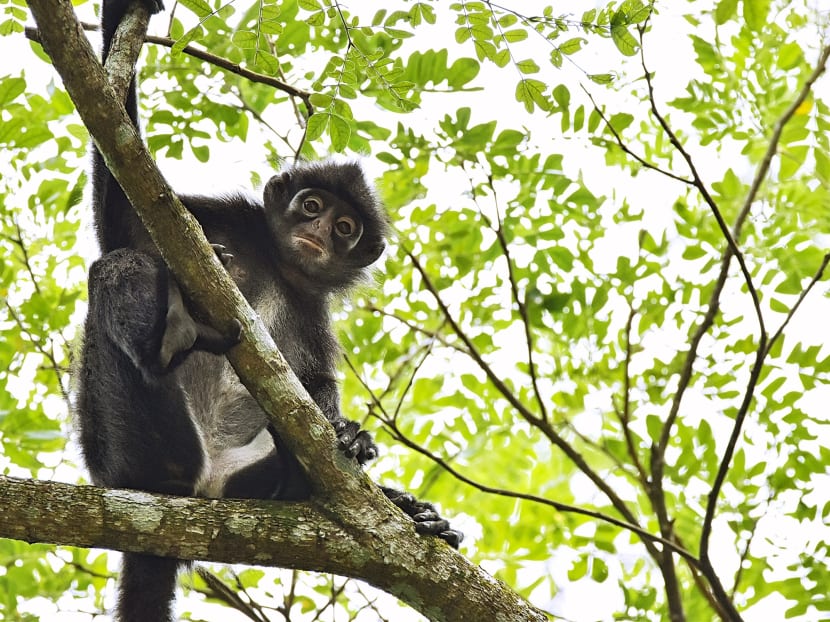 The park is also home to a wide variety of animals such as the sambar deer, the lesser mousedeer and the straw-headed bulbul.
A freshwater stream within the park forms a habitat for a range of native aquatic species that include the near-threatened spotted tree frog and the Malayan box terrapin.
PROTECTING THE WILDLIFE
During the course of the park's development, which started in 2017, Ms Chan said that NParks took extra care to note the flora and fauna that were already present before construction began.
"Once we knew what we wanted to protect, measures (were) carried out to (develop the park) sensitively," she said.
The protection of critically endangered species was top on the list.
For instance, NParks enhanced habitats and ecological connectivity across Old Upper Thomson Road for the langurs with the use of aerial rope bridges, and planted more known food plants for primates.
Small mammals such as the Malayan porcupine and the Sunda pangolin are able to move safely across old Upper Thomson Road and into the Central Catchment Nature Reserve through culverts, which are tunnel-like structures for water to flow through.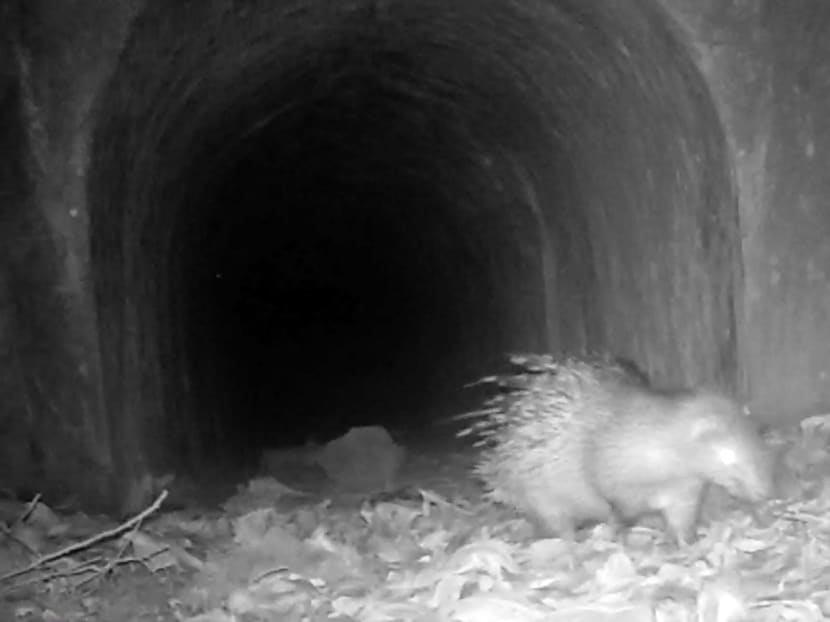 Apart from these measures, the 3km stretch of Old Upper Thomson Road — which was once part of the Thomson Road circuit for the Singapore Grand Prix — also features a new technological system that aims to minimise roadkill.
Jointly developed by NParks and the Land Transport Authority, the Roadway Animal Detection System (Rads) uses video analytics to detect large animals when they are near the road, and alerts oncoming motorists to their presence through flashing road signs.
The system will be in use from November for a 12-month pilot trial.
Mr Jerome Chew, senior manager for development management at NParks, said that if the trial is successful, similar camera systems may potentially be installed along highways and other roads to prevent collisions between vehicles and wildlife.
Primatologist Andie Ang, who chairs the Raffles' Banded Langur Working Group that was set up under the auspices of the Wildlife Reserves Singapore Conservation Fund, told TODAY that the opening of the park will benefit wildlife as long as people are able to observe them in a sensitive and respectful manner.
"Allowing some access to people is a good way to raise awareness about our wildlife and their habitats."
With awareness, the public may be moved to do something for conservation, she added.
However, she said that there will still be a need for active enforcement to ensure that there is no feeding or poaching of animals "now that there's easier access" to them.
The researcher's wish is that a military forest patch located across from Thomson Nature Park, next to Upper Thomson Road, will also be protected. She said that langurs forage for food within that forest as well.
While the primates use the rain trees over Upper Thomson Road to cross over, she noted that the trees are sometimes over-trimmed, which forces the monkeys to cross on the six-lane road. This has led to at least one roadkill incident.
"It would be good to protect that piece of military forest and ensure that there's sufficient canopy connectivity," Dr Ang said.
THE FORMER HAINAN VILLAGE
For visitors exploring the park, it is recommended that they take one of the four trails within, each between 0.15km and 1.5km long. The trails serve to take them past abandoned wells, pottery jars, building foundations and even old road networks.
These are all remnants of a Hainanese kampung (village) that were left behind to give a glimpse of what life was like there in the past.
Madam Ho Gui Mei, 65, was one of the former kampung residents who helped NParks to piece together the scenes of where she and many others spent their formative years. The history of how they lived and who they are can be found along certain sections of the trails.
Hainanese immigrants, who were the last of the Chinese communities to settle in Singapore, established the kampung in the 1930s.
By the 1960s, it was housing close to 100 residents who came from various dialect groups and ethnicities.
After the last resident left in the 1980s due to housing development plans, the land was eventually covered by secondary forest.
The vignettes of the villagers' past, about how they made a living for themselves, are told through boards along the trails and elsewhere in the park.
One of them is the family of Mr Han Choon Fook, who now helms the Han's Cafe and Cake House chain selling western food and Chinese dishes such as Hainanese pork chop. In 1978, the Han family saved enough to set up a small bakery along Upper Thomson Road and eventually expanded it islandwide to become the Han's cafe chain.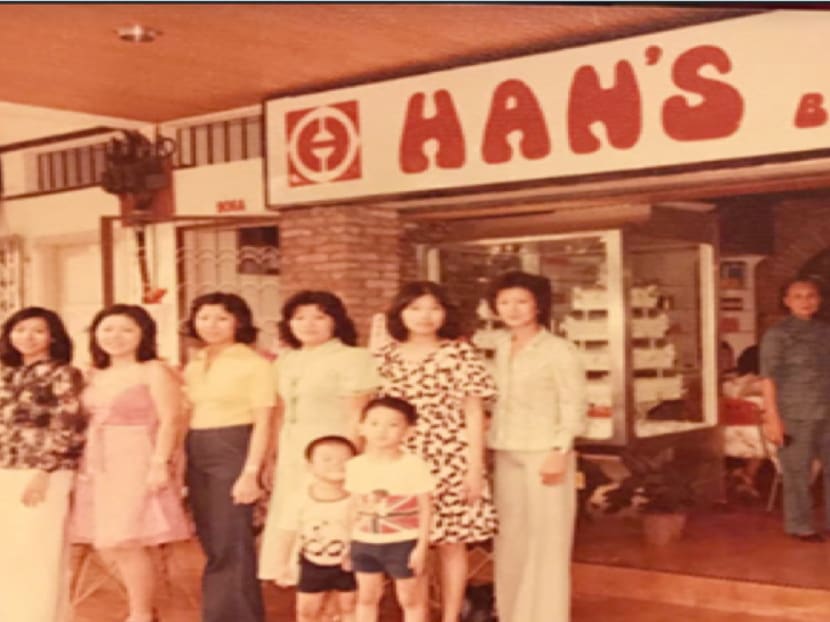 As for Mdm Ho, she remembers spending time in the village as a youth, rearing chickens, catching spiders and climbing rambutan trees — which can still be found in the park — to feast on its fruits. She also spoke about the hardships she and her family had to endure.
The retiree said that she and her old neighbours have so many stories to tell. "One common theme that runs through though, is that our forefathers came filled with hope and optimism.
"But when they came, there were so many challenges — lack of money, lack of resources, lack of education; everything was lacking."
Despite that, the former marketing director of an American multinational company said that they never lost hope.
"This is a story about a Chinese community. This is a story of a struggle. This is the story of Singapore," Mdm Ho said.