'Sunlight of scrutiny': Murali Pillai calls for review of legal clauses that shield govt decisions from being quashed by courts
SINGAPORE — Mr Murali Pillai, a Member of Parliament (MP) from the ruling People's Action Party, on Thursday (March 4) called for a review of certain legal provisions that prevent the courts from reversing government decisions. He said this would address the people's desire for more checks and balances.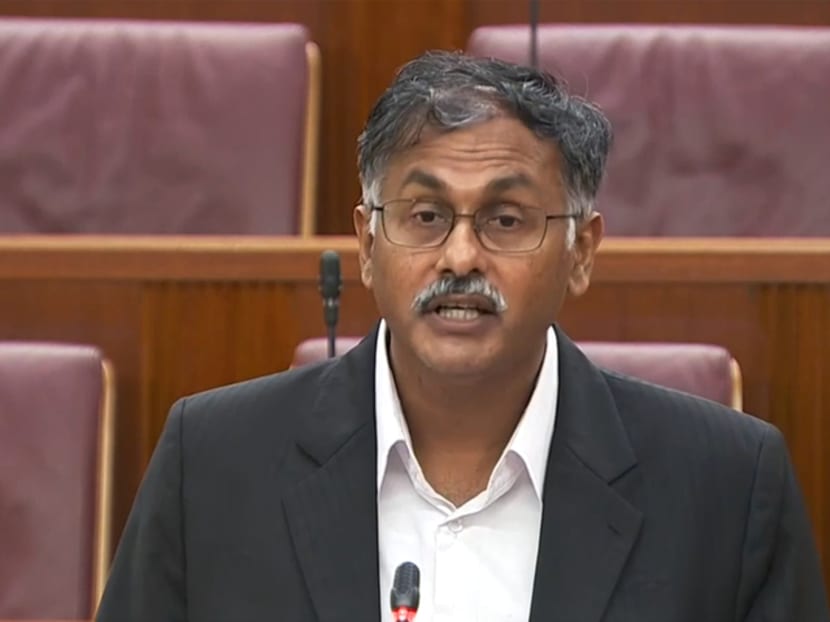 Bukit Batok MP Murali Pillai spoke about Singaporeans' desire for checks and balances
He urged the Government to reconsider the "ouster clauses" in several laws
Ouster clauses are provisions that prevent the courts from reversing a decision made by a minister, for example
In response, Mr Edwin Tong set out why a constructive balance between the judiciary, executive Government and Parliament is needed
SINGAPORE — Mr Murali Pillai, a Member of Parliament (MP) from the ruling People's Action Party, on Thursday (March 4) called for a review of certain legal provisions that prevent the courts from reversing government decisions. He said this would address the people's desire for more checks and balances.
Mr Murali, MP for Bukit Batok Single Member Constituency, argued that a relook of these provisions — known as ouster clauses — could introduce the "sunlight of scrutiny" on executive action and strengthen Singapore's legal legitimacy.
Speaking in an adjournment motion at the end of Thursday's sitting, Mr Murali said that ouster clauses should be retained for national security laws such as the Internal Security Act (ISA), as allowing a court to scrutinise how the ISA is exercised "will be tantamount to giving the court the final say" on matters of national security.
But Mr Murali, who is a lawyer and senior counsel, said he wondered if there is scope to review the ouster clauses in other laws, such as those found within the Immigration Act, the Charities Act, and the Employment of Foreign Manpower Act.
Decisions made by ministers or commissioners under these laws cannot be reviewed by the judiciary, with some exceptions, in order to allow the Government to move quickly and make final decisions to serve the national interest.
For example, the courts cannot reverse the decisions of a minister or commissioner who prohibits a person from conducting fund-raising activities, expels a foreigner from Singapore, or suspends work passes.
Mr Murali, who chairs the PAP's Government Parliamentary Committee for Home Affairs and Law, said that while it is important for the executive branch to act quickly and efficiently, it is equally critical to ensure that the powers of the executive will not be abused.
Said the senior counsel: "I am fully aware of the advantage that comes with ensuring that our executive moves speedily, flexibly, and effectively to decide matters in the national interest.
"I am not advocating a Western style of rule of law that may not suit our circumstances. My basic concern is to address the desire of Singaporeans for greater checks and balances."
Citing measures taken by the Government during the Covid-19 pandemic as an example, he said that executive powers exempted from judicial review are being used to act against employers who failed to ensure their employees comply with quarantine measures.
"I have absolutely no quarrel with the invocation of the powers against such errant employers," he added. 
"However, given the variety of circumstances in which these powers are currently used, it would be apposite for Parliament to consider whether the original rationale behind the ouster clause should be extended to cover these new circumstances."
Mr Murali was also unconvinced of the argument that ouster clauses prevent people from abusing court processes in order to frustrate legitimate government action. The courts are well-equipped to deal with these abuses of court processes, said the former police officer.
He then pointed to a recent dismissed appeal in a drug trafficking case, in which the appellant had sought to call for judicial review of the public prosecutor's decision not to issue a certificate of co-operation to him. Such a certificate could determine whether a term of life imprisonment or death sentence is given.
Prosecutors in that case had argued that a provision in the Misuse of Drugs Act gave them the discretion to issue such certificates and, thus, is a form of ouster clause.
The appeal judges later observed in passing that if the prosecutors' interpretation of the provision as an ouster clause was correct, it could be hypothetically suspected of violating the Constitution and the principle of the separation of powers. In the eyes of the court, the provision was not a form of ouster clause.
On the other hand, Mr Murali noted that the Minister for Home Affairs' decision to detain suspected criminals without trial under the Criminal Law (Temporary Provisions) Act is subject to judicial review.
No ouster clause was introduced when this law, which protects public order, was last debated in Parliament in 2018, despite a 2015 court decision that quashed an order to detain a match-fixing kingpin Dan Tan.
Reiterating his call for a review of ouster clauses, Mr Murali said: "Ultimately, I believe that ensuring the sunlight of scrutiny on executive action, be it by the court or another high office, will strengthen the legitimacy of our laws."
RESPONSE FROM THE LAW MINISTRY
In response to Mr Murali's motion, Second Minister for Law Edwin Tong said that the Government has been regularly reviewing ouster clauses in existing laws, repealing them when they were no longer necessary.
He also stressed that Singapore must keep a "constructive balance" between the three branches of the state — the judiciary, the legislature and the executive.
Mr Tong, also a senior counsel, then pointed out the dangers of judicial overreach seen in other countries, whose courts were antagonistic to the government and have become embroiled in the realm of politics and policy-making, even though they are not elected by the people.
"It is the executive which is vested with executive authority by the Constitution, and has an elected mandate, and which is accountable to Parliament and at the polls, for the exercise of executive authority," he said.
Singapore's courts, too, have taken this position, said Mr Tong.
He quoted Chief Justice Sundaresh Menon as saying that courts should see themselves as equal partners, not antagonists, with the other branches in "the common project to promote efficient administration and good and proper governance".
The courts are also not well-placed to answer social, economic and political questions, which are for Parliament to address, he said.
Referring to the Immigration Act and the Employment of Foreign Manpower Act, Mr Tong said these cover "sensitive and polycentric considerations" such as foreign relations and transborder crime.
Although these may be outside the realm of national security where speed and efficiency are critical, immigration and foreign manpower also have serious implications for society, he said.
He added that while the focus of other jurisdictions is to tightly circumscribe and police the executive, Singapore's takes a different approach that avoids gridlock and inaction.
Said Mr Tong: "For the governance system to work, there must be mutual trust and respect for each branch's institutional expertise and competence. Power and responsibilities must be divided to empower each branch within its sphere."