Selected hawker stalls to accept ez-link card payments from April
SINGAPORE — From April, ez-link and concession cardholders will be able to pay for their food and drinks at some 1,000 stalls in more than 30 hawker centres here.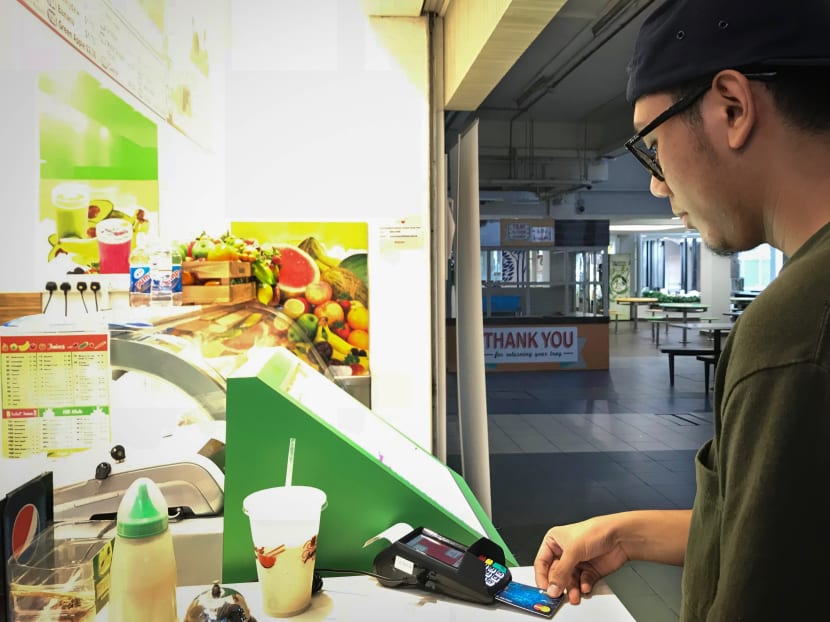 SINGAPORE — From April, ez-link and concession cardholders will be able to pay for their food and drinks at some 1,000 stalls in more than 30 hawker centres here.
These include hawker centres at Beo Crescent near Tiong Bahru, Tanjong Pagar, Yishun Park and most polytechnics.
Since September last year, stalls in hawker centres such as Tanjong Pagar Plaza Market and Food Centre already have terminals installed by electronic payments company Nets, following an initiative by the company to roll out digital payments islandwide.
In a joint statement on Wednesday (Jan 24), both EZ-Link and Nets said that the move would cater to senior citizens and students who may not have bank accounts — they can now use their concession cards for payments.
At the moment, only one hawker centre in Jurong West accepts ez-link card payments.
Mr Jeffrey Goh, chief executive officer of Nets, said that the company wants to work with "like-minded partners" to convert cash transactions into cashless payments.
This is the first time Nets is working with EZ-Link to provide a joint payments system — only one terminal is needed for both Nets and ez-link card payments.
This is why hawker stalls that already have Nets terminals installed will not need to set up new terminals. A software upgrade will be made closer to the date of the roll-out, enabling the terminals to accept payments by ez-link cards, a spokesperson for the Nets Group said.
In the past, Nets has undertaken marketing campaigns to promote the use of cashless payments among customers and for hawkers to adopt such a payment mode.
During his National Day Rally speech last year, Prime Minister Lee Hsien Loong had called for a simplified, integrated cashless payment system in Singapore, especially in hawker centres.
EASIER THAN SCANNING QR CODES
Customers and stallholders who spoke to TODAY generally welcomed the news of the concession and ez-link card payments, saying it is less cumbersome than using their smartphones to scan QR codes.
Mr Zheng Jin, who runs Hai Chew Fish Soup stall at Beo Crescent Market and Food Centre, said: "Nets and QR code payments are too complicated for the elderly, but they are familiar with using ez-link cards, since they use them to tap in and out of MRT stations. I think it will be much easier for them to use."
Insurance agent Irene Chee, 59, who was buying food at Tanjong Pagar Plaza Market and Food Centre, agreed that ez-link cards are more accessible: "Scanning a QR code requires a phone and a mobile app. Many of the elderly have trouble understanding how to use that."
She added: "Sometimes we might forget to take our wallet out with us, but we seldom forget our ez-link cards."
While cashless payments are encouraged, hawkers approached by TODAY noted that only about one in 10 customers are choosing to pay by Nets or QR code.
MORE EFFICIENT, BETTER FOR BUSINESS
The owner of Wei Kee Boneless Braised Duck stall at Tanjong Pagar, who gave his name as just Mr Tan, hopes that "all customers" will begin using cashless payments because it speeds up "the whole process".
The 42-year-old said: "By the time the customers scan and pay, especially by QR code, their food is ready and they can collect and go. The more efficient we are, the more customers we serve and the more we make."
As for getting their takings on time, Mr Tan said that QR code and Nets payments can be retrieved as quickly as the day after the payments are made. "There shouldn't be any cashflow problems."
However, the sellers are aware that the switch to digital payments take time, with some noting that there might still be drawbacks should all payments be digitised.
A worker at a fried noodle stall in Tanjong Pagar, who identified himself as just Ben, said: "If everybody pays by card, where will we get loose change to pay suppliers, who charge S$10 to S$20 for eggs and beansprouts?"
Singapore Polytechnic student Amirul Asyraf, 22, said that whether cashless payments will pick up steam depends on the individual, and whether they are given a choice. Although he has used Nets multiple times, he still prefers paying by cash to rein in his expenses.
"I will use Nets or ez-link only if I don't have cash on hand. I find that I tend to spend more and I do not keep track of my bank balance if I use cards," he said.