2026: Target roll-out date for Singapore-KL high-speed rail
PUTRAJAYA — Three years after it was mooted, the Singapore-Kuala Lumpur high-speed rail (HSR) project was set in motion on Tuesday (July 19), with the signing of a seven-point agreement which, among other things, targets a roll-out date of 2026 for the service.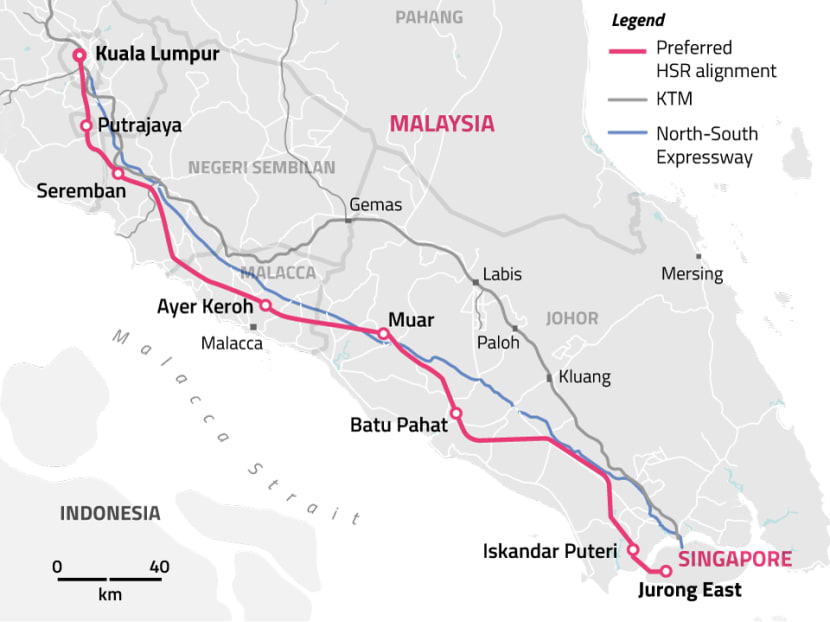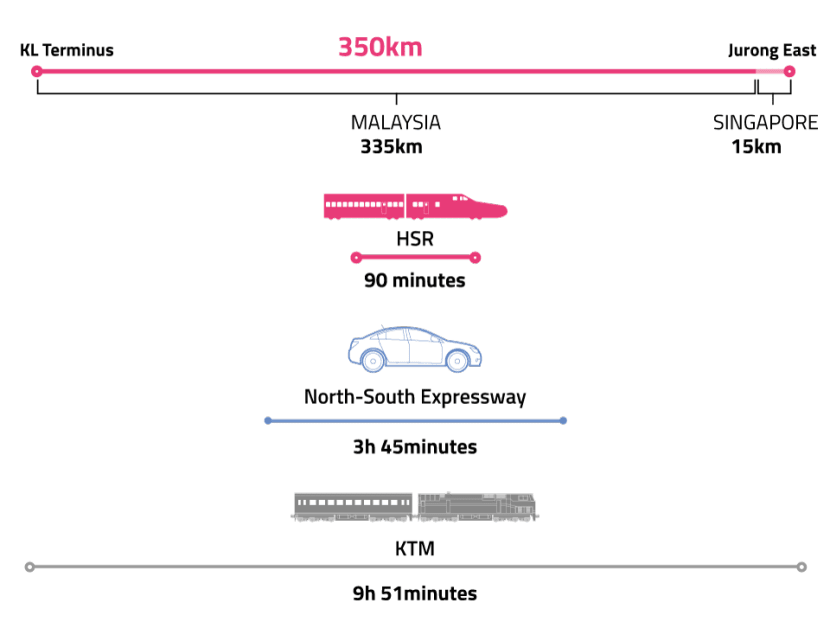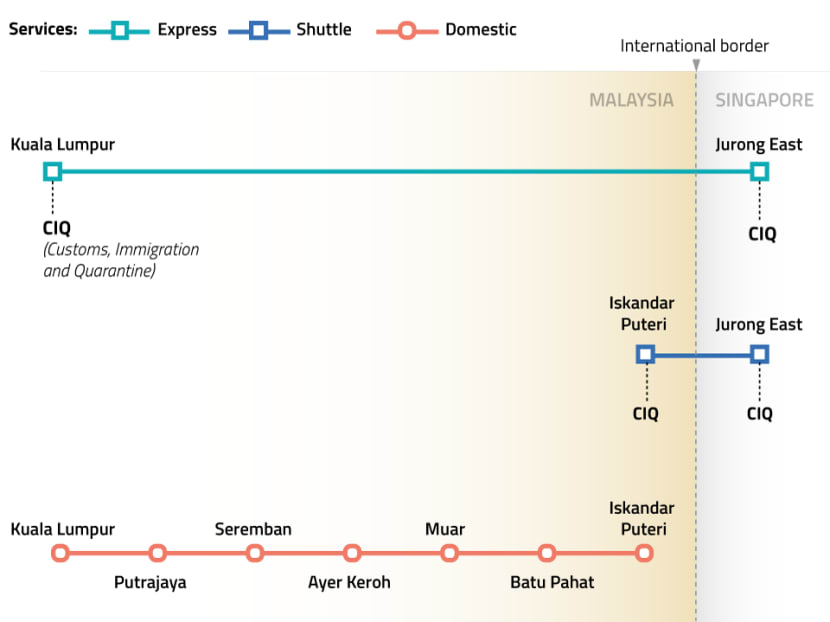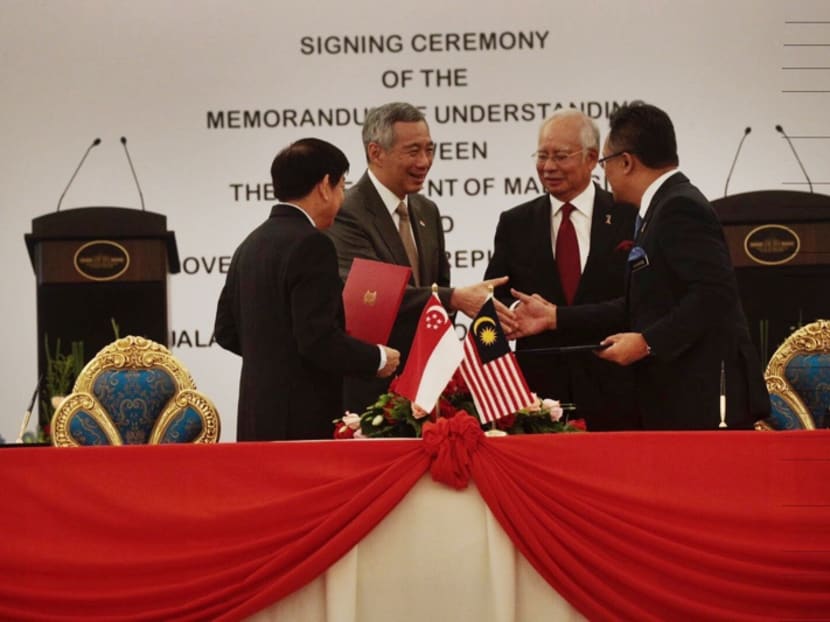 PUTRAJAYA — Three years after it was mooted, the Singapore-Kuala Lumpur high-speed rail (HSR) project was set in motion on Tuesday (July 19), with the signing of a seven-point agreement which, among other things, targets a roll-out date of 2026 for the service. 
Cutting land travel time between the two cities to 90 minutes, the service, when introduced, also promises to draw both countries and their peoples closer, providing a new channel for economic opportunities.
The memorandum of understanding (MOU) is set to pave the way for the two countries to sign off on a legally-binding bilateral agreement at the end of this year.
Points of agreement on the proposed 350km double-track line include the locations of the six transit stations between the two terminus stations at Bandar Malaysia in Kuala Lumpur and Jurong East in Singapore, which will be part of a domestic rail service, on top of the express service. A shuttle service will also run between Singapore and Iskandar Puteri. Co-located customs, immigration & quarantine (CIQ) facilities will mean passengers only need to clear customs once. 
Within the next decade — a time frame Prime Minister Lee Hsien Loong called "ambitious" as the MOU was inked — both countries will have to appoint a company to provide and maintain the rail assets such as tracks and trains, and two train operators to run three types of rail services. 
Both governments will also have to take responsibility for developing, constructing and maintaining the civil infrastructure, such as stations and tunnels, within their own countries.
Speaking at the MOU signing ceremony in Putrajaya, both Mr Lee and Malaysia Prime Minister Najib Razak acknowledged the project's high stakes, which will require "massive investment" from both sides. 
Mr Lee said the execution will be critical, with many joint decisions and implementation issues to be worked on closely together. The 10-year time frame, he noted, was an ambitious one — even MRT lines in Singapore typically take 12 to 15 years to complete. 
"But we must get this right, because the HSR will bring our two countries together and change the way we think about Singapore and Malaysia. The HSR will physically link our two capitals — just a short train ride away, draw our peoples and economies together. We will think of Singapore-KL the same way as they think of London-Paris, Taipei-Kaohsiung, or Tokyo-Osaka," he said.
A person can zip from Singapore to Kuala Lumpur comfortably, "watch a show, do some business, come back, do some work on the laptop on the train, and be home in time for dinner with the family", he said, adding: "It will not seem like going overseas at all."
Mr Najib, noting Singapore and Malaysia's strong ties, said: "The signing of the MOU signifies Malaysia and Singapore's firmest commitment to this iconic project. It is very clear that both sides are deeply committed to stay the course for a more comprehensive partnership." 
Both leaders also affirmed the importance of a fair and transparent tender process, such that the best bidder wins. Noting that the image and integrity of both countries are at stake, Mr Najib said: "Because this project has attracted so much international interest, it is incumbent upon us to make sure the process will be a very fair, transparent and objective process."
The MOU was signed by Coordinating Minister for Infrastructure and Minister for Transport Khaw Boon Wan and Malaysian Minister in the Prime Minister's Department Abdul Rahman Dahlan.
Under the terms of the MOU, a privately-financed AssetsCo will be appointed to provide and maintain the HSR trains and its associated systems, while a Bilateral Committee will oversee matters that may affect the cross-border services. All depots and maintenance facilities will be located in Malaysia.
Next month, a joint tender will be called for a Joint Development Partner, which will provide technical support to both countries on the project. Construction could begin in 2018. 
The expected cost of the project was not revealed, but reported estimates were more than RM60 billion (S$20.2 billion). 
The 345km High-Speed Rail in Taiwan had cost US$18 billion (S$24 billion) to build.
Singapore's Land Transport Authority will be calling a tender next month for an Advanced Engineering Study for the Singapore stretch of the HSR, looking at areas like the architectural and engineering design of the Singapore terminus. The studies are expected to start by the first quarter of next year, and will take between 18 months and two years to complete. 
Commenting on the project's progress, political analysts said it reflected the strong ties between the two countries over the years, and would bring about significant economic impact. 
Associate Professor Eugene Tan of the Singapore Management University said: "I think this project continues to demonstrate how both countries are intimately connected ... it is testimony to countries recognising that being open to people, ideas, investments, is likely to result in 'prosper thy neighbour' rather than 'beggar thy neighbour'".
But the political situation and the economic uncertainty could cause delays, with Assoc Prof Tan noting that the politics in Malaysia could "add a certain degree of uncertainty as to whether the 10-year timeline can be kept".
The Bilateral Agreement will "add to the certainty and stability" of the undertaking, but it will not "foolproof" the project against delays, he added.
Nanyang Technological University assistant professor Woo Jun Jie concurred, but noted: "When it comes to such projects that are of a strategic economic value to both countries, you'll find that regardless of the political volatility, governments on both sides are usually quite keen to move forward on it." ADDITIONAL REPORTING BY VALERIE KOH