Shared umbrellas? Student initiative is full of 'dried-and-tested' ideas
SINGAPORE — It is an occurrence that has left many Singaporeans feeling washed out ... you are around the corner from the MRT station when it starts pouring, and you get drenched.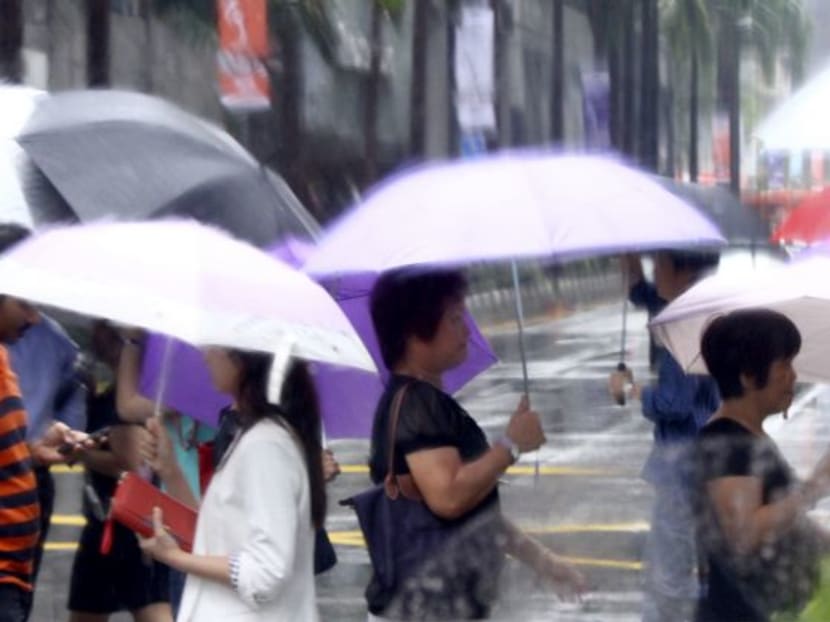 SINGAPORE — It is an occurrence that has left many Singaporeans feeling washed out ... you are around the corner from the MRT station when it starts pouring, and you get drenched.
Now, a group of students has come up with a dried-and-tested way of avoiding a soaking.
Several Sembawang grassroots organisations will introduce a shared-umbrella initiative from next week, allowing pedestrians making their way to transport nodes to borrow umbrellas from a rack at one side of the road and return them at a rack on the other side when they have crossed.
Education Minister (Higher Education and Skills) Ong Ye Kung on Sunday (July 16) cited this as an example of Singaporeans taking ownership of problems and finding their own solutions.
Seventy initiatives involving more than 65,000 youths will be rolled out across Singapore over the next two months under the People's Association Youth Movement's Loves Red campaign in an effort to spur a sense of national pride and belonging among youths.
The umbrella scheme — called Sharella — was the graduation project of four Republic Polytechnic students on a Design for User Experience course. It was developed with the Land Transport Authority's Community Partnership division to aid Singapore's transition to a car-lite society.
"When we see problems, we no longer ask, 'What's the Government doing about it?'" Mr Ong said. "Gradually, progressively, I'm seeing more and more people doing something about problems they face every day."
Sharella may not be a foolproof initiative, said Mr Ong, noting that some may make off with the umbrellas, as has been the case with some dockless bicycles here.
"But I give it to RP students for attempting to solve such a problem, that we haven't been able to find a solution to," he said. "I don't know whether it'll succeed, but let's give it a try. We urge residents to cooperate and let it work."
He quipped: "We've made the umbrellas quite ugly, so it's not something you want to take away."
Mr Joshua Hong, assistant director of RP's School of Technology for the Arts, said his students did not encounter any stolen umbrellas during trials at Woodlands Square and Woodlands Avenue 6 near the school. "We were pleasantly surprised, too, that all the umbrellas were returned," he said.
Speaking on Sunday at Canberra Community Club, at the launch of a campaign to celebrate National Day, Mr Ong added: "Even National Day now is no longer (only) a centrally organised National Day Parade. There are celebrations coming from the ground up."
Kicking off the campaign was a race organised by Sembawang Group Representation Constituency's youth executive committees, in which 250 youths took part in a series of games such as chapteh and goli, a throwback to the Singapore of yesteryear.
Beyond the youth campaign, other examples of ground-up initiatives highlighted by Mr Ong included residents in various HDB blocks using Facebook as a platform to share problems faced on the ground.
"And they're not just giving feedback. Sometimes giving feedback is easy, but we're seeing residents doing something about it," he said.
Mr Ong, who oversees the Gambas division in Sembawang GRC, also shared how a resident had approached him to request a barbeque pit, so as to organise gatherings with neighbours.
"This is a very good example (of) people coming together to create a better environment and community," he said.
When people next encounter a problem, a key question to ask is what Singaporeans are doing about it, said Mr Ong: "When we start asking that question, and when we start doing something like that, we're truly a smart nation."