'Shocking, heinous': 14 years' jail for woman who joined daughter in fatal abuse of Myanmar maid Piang Ngaih Don
SINGAPORE — The mother of a woman who was jailed in 2021 for the fatal abuse of a domestic worker was sentenced on Monday (Jan 9) to 14 years' jail.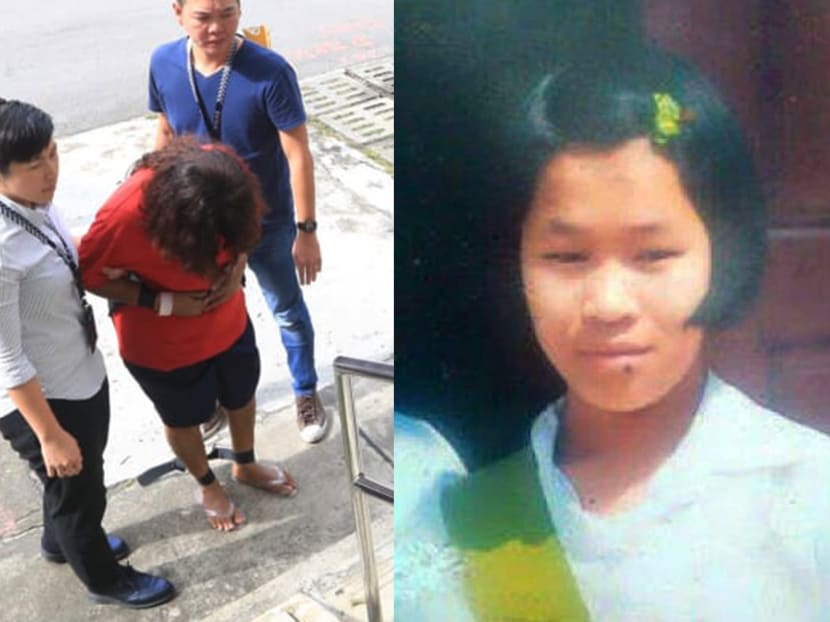 Prema S Naraynasamy, 64, was sentenced to 14 years' jail for her involvement in the fatal abuse of a domestic worker
Prema and her daughter had physically abused the worker, including hitting her, tying her to a window grille and limiting her food intake
Her daughter was earlier sentenced to 30 years' jail 
SINGAPORE — The mother of a woman who was jailed in 2021 for the fatal abuse of a domestic worker was sentenced on Monday (Jan 9) to 14 years' jail. 
The court heard how in 2016, Prema S Naraynasamy, 64, joined her daughter Gaiyathiri Murugayan to abuse their 24-year-old maid Piang Ngaih Don, ultimately leading to the death of the Myanmar national. 
The pair had assaulted Piang while she lived with them in their three-bedroom flat along Bishan Street 11. They limited her sleep to just five hours each night and deprived her of food.
In the hours before her death on July 26, 2016, Prema choked her by the neck and poured a basin of water on her, before her daughter tied the worker to the window grille of a bedroom and continued assaulting her.
She died while tied to the window, with Prema sleeping in the same room. Prema and Gaiyathiri attempted to revive her when they discovered her body the next day, but were unsuccessful, court documents stated.
Her daughter, Gaiyathiri, had pleaded guilty to 28 charges including culpable homicide not amounting to murder in the High Court and was sentenced in June 2021 to 30 years' jail. 
In a previous hearing on Nov 21 last year, Prema pleaded guilty to 48 charges of voluntarily causing hurt.
DENIED BASIC HUMAN DIGNITY
Deputy Public Prosecutors Senthilkumaran Sabapathy, Stephanie Koh and Sean Teh sought a sentence of 14 to 16 years' jail due to the "shocking and heinous nature" of the offences. 
DPP Sabapathy added that Piang was assaulted on an almost daily basis in a variety of ways, including getting choked and strangled. 
He also expressed surprise at the defence's submission that Prema's contribution to psychological harm was minimal. 
"The (closed circuit television) footages showed that many of the incidents involved not just psychological abuse but shocking humiliation and degradation where she was denied her basic human dignity," said DPP Sabapathy. 
She was assaulted and berated by Prema over extended periods of time while she was trying to have her meals, as well as dragged and thrown around like a rag doll. 
"Her life was nothing short of a living nightmare and that was in no small part due to Prema's actions," he said. 
Court documents showed that Piang had lost 15kg over the course of the abuse and weighed just 24kg when she died.
In Prema's mitigation plea, her defence counsel, Mr Rai Satish from Kalidass Law Corporation, sought a lower sentence of 10 years' jail for his client. 
He said that there were indeed moments of anger and frustration which manifested itself in Prema's physical abuse against the domestic worker, but there were also instances of kindness. 
Mr Satish noted how his client had brought Piang food and also helped her to apply lotion to treat Piang's rashes.  
He added that Prema had a tumultuous life. She had lost her father at an early age, and her son in 1998 to suicide. She was also the sole caregiver to her present husband who is ill. 
A crushing sentence at her age could mean that her demise may happen while she is incarcerated or shortly after she is released, said Mr Satish. 
District Judge Toh Han Li agreed with the prosecution's proposed sentence, saying that there was a need to deter like-minded persons from committing the same acts. 
On the defence's point that Prema had shown the domestic worker kindness, District Judge Toh said that the CCTV footage of her bringing food to Piang was "completely unexceptional". 
He sentenced her to 14 years' jail, adding that this was not a crushing sentence for the 64-year-old. 
For voluntarily causing hurt, Prema could have been jailed up to five years, or fined up to S$10,000, or both.