Silver linings, even as childhood cancer rates rise
SINGAPORE — At an age when most children enjoy worry-free days, 10-year-old Huo Xi Cheng's childhood memories include hair loss, nausea and pounding headaches from undergoing chemotherapy.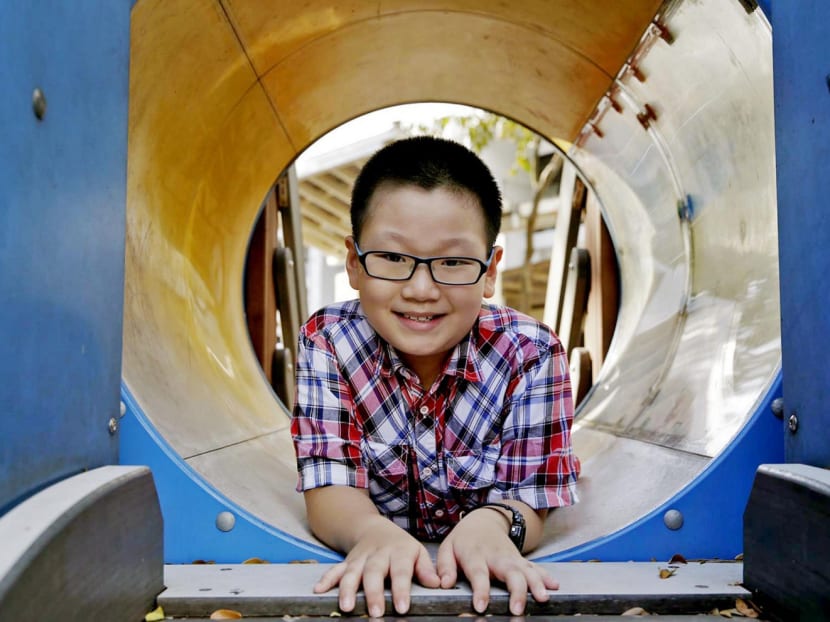 SINGAPORE — At an age when most children enjoy worry-free days, 10-year-old Huo Xi Cheng's childhood memories include hair loss, nausea and pounding headaches from undergoing chemotherapy.
Diagnosed with a high-risk type of leukaemia after suffering a prolonged bout of high fever in 2015, Xi Cheng still remembers a time when having his arm prodded and poked by needles was a regular affair, as well as the fear and anxiety of learning about his serious illness.
"At first, I thought I was just having a normal flu which could be easily cured. I didn't know what cancer was and when I Googled (to learn more about it) I felt scared," said Xi Cheng.
"But learning more about the cancer treatments and what I have to go through also made me more psychologically prepared. I felt confident that I would beat the disease."
Xi Cheng is one of about 100 children in Singapore diagnosed with cancer each year, a figure that has steadily increased over the last few decades despite new developments in cancer treatments. A similar trend has been reported in other developed nations such as the United Kingdom and the United States.
From approximately 93 per million per year from 1968 to 1977, childhood cancer incidence in Singapore rose to 101.5 per million per year from 2003 to 2007, according to Singapore Childhood Cancer Registry figures.
The incidence of leukaemia, which is the most common cancer among children, has doubled in boys, from 3.5 to 7.1 per 100,000 each year from the period of 1978 to 1982 to the period of 2008 to 2012. In girls, the incidence increase over the 30-year period is about 80 per cent.
Leukaemia accounts for about 40 per cent of all newly diagnosed childhood cancer cases here, according to Associate Professor Allen Yeoh, senior consultant at the Division of Paediatric Haematology-Oncology at National University Cancer Institute, Singapore and National University Hospital (NUH). Brain tumours and lymphoma, a type of cancer that affects the immune system, are the next most common cancers among children.
In adults, it is known that cancer rates have been driven, in part, by the increasing number of lifestyle factors and diseases including smoking, excessive drinking, obesity and diabetes. But these are not likely to be factors in children's cancer risk, said experts from NUH and KK Women's and Children's Hospital (KKH), which see the majority of childhood cancer cases in Singapore.
THE HYGIENE HYPOTHESIS
There are currently no firm conclusions on why childhood cancer occurs. A theory is the "delayed infection" hypothesis: Delayed exposure to infections due to an increasingly hygienic environment may affect how children's immune systems mature. Some studies suggest that cancer may arise when the individual's immune system fails to protect it from a developing cancer.
"Personally, I feel it is due to a combination of factors — delayed exposure to bacteria and viruses due to our hygienic environment delays our children's immune system maturation, subtle genetic differences that are overcome by sub-fertility treatment and advanced age of the time of conception," said Assoc Prof Yeoh.
According to him, children conceived via in vitro fertilisation have a 30 per cent increased risk of developing cancers.
Exposure to excessive amounts of ionising radiation, which can be found in X-rays and medical devices, is also known to increase cancer risk.
"In general, pregnant women should avoid exposure to X-rays. Similarly, unnecessary exposure of young children to excessive ionising radiation should be avoided," said Dr Soh Shui Yen, senior consultant of Haematology/Oncology Service, Department of Paediatric Subspecialties at KKH.
While cancer treatment can be especially tough on the young, they tend to fare better than adult patients. About seven in 10 children with cancer are long-term survivors. This is because childhood cancers develop from cells which tend to respond more favourably to treatment than adult cancers, which tend to arise from epithelial cells, said Associate Professor Quah Thuan Chong, head of NUH's Division of Paediatric Haematology-Oncology. Epithelial cells are those that line cavities in the body such as the stomach, colon and lungs.
Childhood cancer is also genetically "less complex" than adult cancers. For example, childhood leukaemia harbours one to 10 mutations, compared to hundreds in adult cancer, said Assoc Prof Yeoh.
In addition, children tolerate and are more compliant to chemotherapy. "Like a new car, a child's body is pristine — they don't have diabetes, high blood pressure or heart disease which complicate adults," said Assoc Prof Yeoh.
Even so, one of the pressing challenges of managing childhood cancer is how to best achieve a balance between the side effects of treatment and chances of survival. This is important because young survivors of childhood cancers have at least 60 years to live, said Assoc Prof Yeoh.
Treatments like intensive chemotherapy can cause damage to organs like the heart, skin and brain, which may lead to long-term complications that include another cancer later in life.
"The aim of therapy is to give the optimal chemotherapy for every child to maximise cure but reduce late effects. Yet if undertreated, a child relapses and salvage therapy is worse," said Assoc Prof Yeoh.
IMPROVED TREATMENTS, BETTER SURVIVAL
Fortunately, strides made in cancer treatments have made it possible for young patients to receive a more personalised treatment regimen with less side effects but an improved survival rate, said Assoc Prof Quah.
For example, Singapore children with Acute Lymphoblastic Leukaemia (ALL), which make up 80 per cent of all childhood leukaemia, are now treated using a personalised treatment protocol developed by doctors from Singapore and Malaysia. It is based on findings from a large-scale study, which were published in the Journal of Clinical Oncology in July 2012.
"This has allowed the majority of patients to avoid the most toxic therapy, which is reserved only for those who respond poorly and have the highest risk of having their cancer return," said Assoc Prof Yeoh.
Recently, NUH researchers discovered the genetic basis to why one in 80 children here with ALL are sensitive to one type of chemotherapy, thereby allowing doctors to identify these children before they receive their first dose of that chemotherapy, he added.
Advances in stem cell transplant methods, such as the haploidentical transplant, have also saved lives.
In December 2015, Xi Cheng underwent a haploidentical stem cell transplant using his father's donated stem cells at NUH, which performs an average of 15 stem cell transplants for childhood cancers each year.
The novel transplant method, which has been used to treat childhood cancer in NUH and KKH, requires only a 50 per cent donor match instead of a perfect match. This offers hope to patients who previously would not have been able to go through the procedure because of a lack of sibling donor or a fully-matched unrelated donor.
According to Associate Professor Tan Poh Lin, senior consultant at NUH's Division of Paediatric Haematology-Oncology, stem cell transplants are usually carried out for certain high-risk childhood cancers that are poorly controlled by chemotherapy.
A healthy donor provides patients with a new healthy immune system, which has the potential to renew itself and keep checks on cancer for long-term control, she said.
"A successful transplant is generally considered the best chance of a cure. For example, if a patient with leukaemia remains free of cancer (as determined by monitoring tests) for at least one to two years after the transplant procedure, the chance of cancer recurrence is extremely low," said Assoc Prof Tan.
Now well enough to return to school after a one-year break, Xi Cheng said his brush with cancer has made him and his parents more cautious about their health. For instance, they now prepare food and dine at home more frequently. He aspires to be a medical equipment inventor. "When I grow up, I want to design a new type of needle that can be poked into veins easily and correctly," said Xi Cheng.
Although he knows that there is a small chance of a relapse over the next 12 months, the positive and bubbly boy intends to tackle life's challenges bravely, much like the character he had invented to cope with stress and anxiety during his cancer fight.
"When I was very sick, I wrote stories about a man who is stuck alone on an island and meets many difficulties. He has to figure out how to solve his problems. My advice to all children battling cancer: You should never give up even when the conditions feel impossible to solve," he said.
CHILDHOOD CANCER SIGNS
Possible symptoms of leukaemia in children:
Pallor
Persistent or recurrent fever
Bleeding or bruising
Swollen lymph nodes
Bone pain
Possible symptoms of brain tumours in children:
Persistent or worsening headaches, headaches and/or vomiting especially if they are worse in the mornings
Unsteadiness when walking
Enlarging head in a young infant
Blurring of vision
Source: Dr Soh Shui Yen, senior consultant of Haematology/ oncology Service, Department of Paediatric Subspecialties at KKH.