Singapore can take lead in salvaging of maritime artefacts
The recent archaeological excavation near Empress Place has proven to be highly significant, as have past excavations. They tell us virtually all that is known of Singapore, or Temasek, before the arrival of Raffles.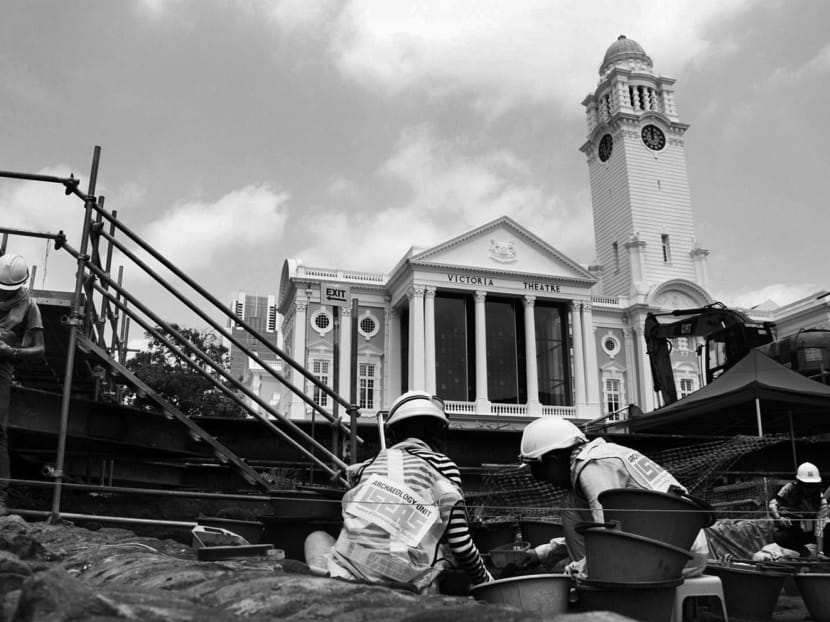 The recent archaeological excavation near Empress Place has proven to be highly significant, as have past excavations. They tell us virtually all that is known of Singapore, or Temasek, before the arrival of Raffles.
Tonnes of ceramic shards and a wide assortment of artefacts shed light on a thriving 14th-century entrepot. The port seems to have declined during the 15th century when Malacca came to the fore, but staged a resurgence during the 16th and 17th centuries.
This is fascinating stuff. Our past and sense of place largely determine who we are. There is also the treasure factor: Archaeological digs involve hard labour and endless hours of tedium, but every scrape of the trowel may uncover a dazzling new find.
A gold coin, a Buddhist figurine, Yuan blue-and-white porcelain and an imperial celadon dish dominate the news reports on the latest Empress Place excavation. Interestingly, so do a few innocuous planks of wood. They form two unidentified square structures, roughly 70cm across. Some of the planks have wooden dowels embedded along the edges, but are not joined to other planks above or below.
While the structures have nothing to do with ships, the timbers may originally have been part of a small boat. As tenuous and trifling as this may be, it is possibly the first hard evidence of Singapore's maritime past.
The Republic owes its early existence, and indeed its colonial rebirth, to its location between the Indian Ocean and the South China Sea. Virtually all shipping traversed these sheltered shores, an ideal scenario for maritime trade. Yet, there has never been an ancient shipwreck discovery in Singapore waters.
There is a reasonable chance that derelict ships and boats lie beneath the Padang, which now conceals the old shoreline. There is also a chance that ships sunk during the 1603 battle between the Dutch and the Portuguese may lie beneath Changi Airport. For sure, there are junks, barques and perhaps dhows covered in sediment at the bottom of the Singapore Strait, but the world's second-busiest sea lane is not an ideal place to conduct an archaeological investigation.
Fortunately, Singapore is home to some important shipwreck collections from neighbouring waters. Thanks to a donation from the Khoo Foundation, we have the complete cargo of the ninth-century Belitung Wreck and, thanks to a gift from the Omani government, a superbly constructed working replica of the Belitung ship to go with it.
The ship is an Arab dhow. The cargo is mostly Chinese, and the wreck was found in Indonesian waters. Nonetheless, this ship almost certainly sailed along Singapore's southern coast on the outward voyage from the Middle East to China. She might have taken on a local pilot in the vicinity to guide her into the South China Sea. Artefacts reveal that South-east Asians were on board, as crew, passengers or traders.
We also have the Bakau Wreck cargo. Visitors to the Resorts World Sentosa Aquarium must first pass through the Maritime Experiential Museum. But in the mad rush, most fail to notice the dimly lit display case full of shipwreck treasures. The ceramics and artefacts are from a flat-bottom Chinese junk, again found in Indonesian waters.
The wreck is contemporary with the voyages of Zheng He (1405 to 1433), so it is a little late for Temasek's heyday. But very similar ships would have traded here only a few decades earlier, carrying very similar cargo. In fact, many artefacts in the Bakau cargo mirror finds in Empress Place.
cooperation is key
While it is unlikely there will be any great archaeological discoveries in Singapore waters, the Republic may be able to contribute to, and benefit from, maritime archaeology elsewhere in South-east Asia.
The cost of underwater excavation is high. Most regional governments choose not to allocate the necessary funds. Instead, they license commercial salvors to survey and excavate on their behalf, with a portion of the recovered artefacts being made available for sale to cover the salvors' costs and risks. But this may change soon.
Cambodia has become the only ASEAN country to sign the UNESCO Convention on the Protection of the Underwater Cultural Heritage, which bans the use of commercial companies and excavation. Other countries, through their Culture Ministries, are beginning to adopt UNESCO's policy of banning commercial firms.
Paradoxically, this has accelerated the loss of underwater cultural heritage. Licensed salvors have often carried out archaeological work under government supervision. Without well-funded institutional archaeologists to take their place, looting by opportunistic fishermen has increased markedly. So too has the decimation of wrecks by large trawlers, a relatively recent trend.
UNESCO also advocates leaving shipwrecks sites in-situ for future study. Unfortunately, throughout much of South-east Asia, the threat of looting and a lack of resources for policing wreck sites make this ideal policy less than practical. The best protection for a shipwreck is immediate archaeological intervention.
One solution is to establish a centralised South-east Asian Institute of Maritime Archaeology. Such an institute could work closely with existing regional institutions that lack funding, equipment or expertise. It could provide a well-trained fast-response team to commence archaeological excavation of shipwrecks that are discovered as a result of arresting looters or as a consequence of trawl-net hang-ups.
When not excavating, the team could conduct remote-sensing surveys in wreck-prone areas to find and excavate sites before the destruction begins. The institution could be staffed by all participating countries, but should ideally recruit locally for each project.
Artefacts should remain the property of the country in which there are found. Having been conserved, catalogued and researched, a representative collection could be made available as a travelling exhibit or go on semi-permanent loan.
Something must be done, and quickly, as the non-renewable resource of underwater cultural heritage is fast disappearing from the exploited South-east Asian seabed. Singapore is well placed geographically, economically, academically and historically to lead the way. Existing institutions or universities could facilitate the establishment of an institute.
The powerful marine sector could provide some funding. Through a recent heritage exhibition, the Maritime and Port Authority of Singapore demonstrated a keen interest in the history of its business. A world-class maritime archaeology institute would be a magnificent manifestation of Singapore's seafaring roots indeed.
ABOUT THE AUTHOR:
Michael Flecker is a visiting fellow at the Nalanda-Sriwijaya Centre at the Institute of Southeast Asian Studies.