Singapore Expo's Covid-19 care facility: How Surbana Jurong set up 2 halls in 3 days
SINGAPORE — One week of talks. Two halls to transform and fit in 950 beds. Three days of set-up. Fifty workers. The challenge: Procure materials and equipment given disruptions to supply chains and the suspension of activities in the workplace.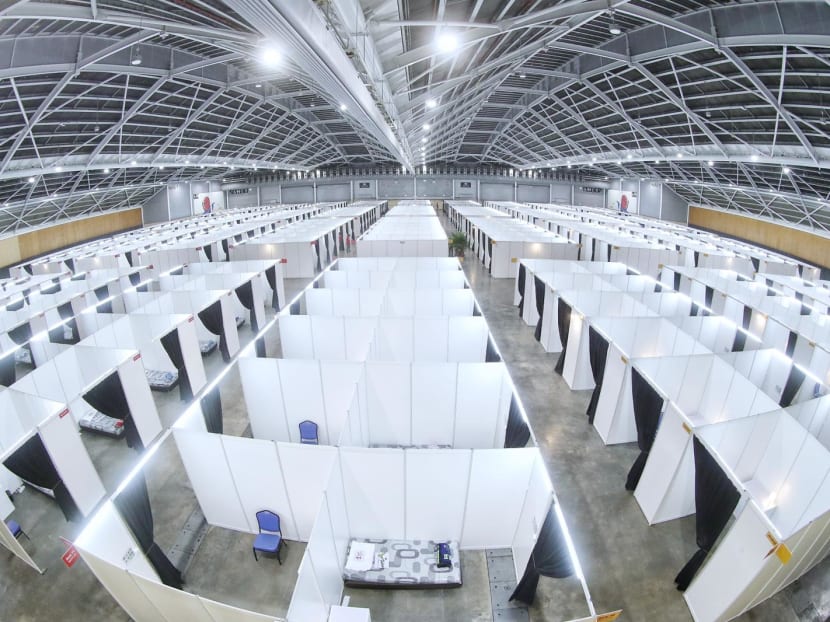 SINGAPORE — One week of talks. Two halls to transform and fit in 950 beds. Three days of set-up. Fifty workers.
The challenge: Procure materials and equipment given disruptions to supply chains and the suspension of activities in the workplace.
These were what infrastructure consultancy Surbana Jurong and their working partners had to tackle in the first phase of turning the exhibition halls of the Singapore Expo Convention Hall and Exhibition Centre at Changi into a temporary isolation facility to house Covid-19 patients.
Over the weekend of April 4 and 5, some 50 workers began to lay out cables, specialised flooring and partitions — labouring long hours into the night to get the first two air-conditioned halls ready. 
There were 950 cubicles across the two halls and in each cubicle is a bed sourced from either Singapore or Indonesia, a cabinet, a desk lamp, a chair and charging points for electrical devices. There is also Wi-Fi coverage for the patients.
Outside the cubicles are sofas meant to be used as a recreational space for patients to interact with each other.
All parties involved from the authorities to contractors had to pitch in to push through the set-up within a short span of time.
Typically, the company would have a lot more time to work on a project, the firm's group chief executive officer Wong Heang Fine told TODAY in an exclusive interview on Tuesday (April 21).
But given the urgency of the ongoing health crisis and the growing number of infections especially among foreign workers who have been vigorously tested, Mr Wong said that his team had only a week of "discussion time" before they sprung into action for their client, the Ministry of Health (MOH), which had plans to admit the first cohort of patients on April 10. 
When asked if the deadline was tight for this massive project, the 62-year-old said matter-of-factly: "Our task is to deliver to our clients what they want and solve all the issues that are related to delivering it.
"We don't look at difficulties. We look at how we can propose solutions that will be able to match our objective."
Mr Wong said that MOH's requirement was to establish a care facility for patients who had mild symptoms of the respiratory disease caused by the Sars-CoV-2 coronavirus.
Several locations, such as hostels, recreational facilities and even unused school compounds were considered. 
"Everything that we looked at were existing facilities, because there was no time to build a new one," he said.
Ultimately, the decision was to use the Singapore Expo due to its expansive space.
Surbana Jurong cannot reveal how many beds or halls will be used in total when it is fully operational, but Mr Wong said that it will be the "biggest community isolation facility in Singapore".
Besides this facility, a similar one is being prepared at the Changi Exhibition Centre. The Ministry of Defence (Mindef) said in Facebook post on April 16 that the temporary facility at Changi Exhibition Centre, which has hosted events such as the recent Singapore Airshow, will be able to accommodate 2,800 patients.
On Wednesday, Mindef said that at the Singapore Expo, about 100 medical personnel from the Singapore Armed Forces Medical Corps will be taking care of up to about 1,800 Covid-19 patients.
MOH said that these patients are clinically well but still test positive for the coronavirus or they are newly confirmed cases with mild symptoms who do not need extensive medical treatment.
PLACES TO SHOWER, FIRE SAFETY
Recounting the preparations, Mr Wong said that given the scale and urgency of the Singapore Expo project, he was deeply involved in meeting various in-house experts, including healthcare architects, and working through the night to hammer out the required plans.
"Designing things from scratch is easy, but when you have to fit within an existing framework, it gets tougher," Mr Wong said.
There were many considerations in making sure that things work smoothly. For one, it has to be a safe operating environment for medical workers and other staff members, given that the complex is housing patients with a contagious disease.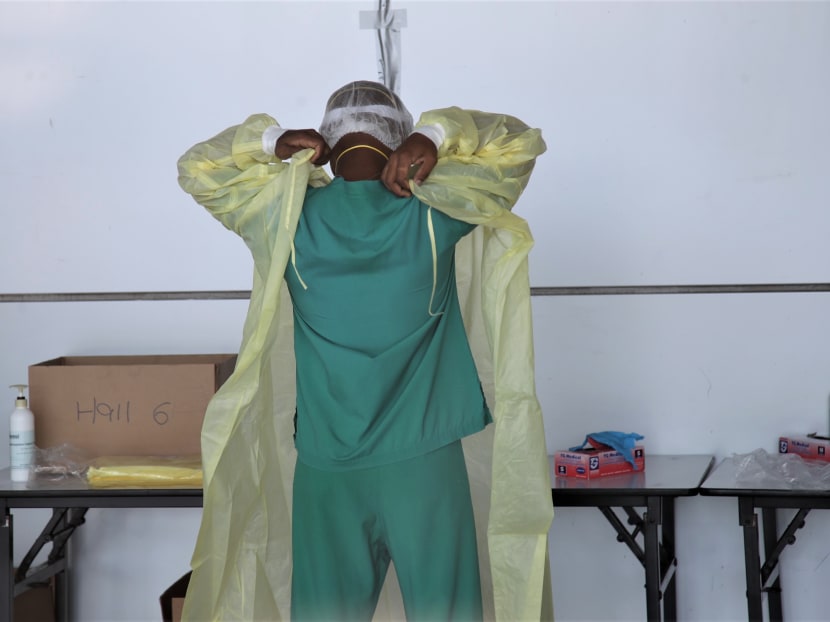 Mr Wong said that the biggest hurdle by far was the "tremendous lack" of shower facilities, considering the extended period of time patients will be staying on-site. 
"So we had to think of a solution to either convert some of the existing toilets or build shower facilities," he said. "The other thing was, now that you have people staying there, your fire safety considerations are quite different from being just an exhibition centre." 
Then, there were the logistical concerns as the firm raced against time to get supplies to set up the facility, which includes furniture, personal items such as towels and water bottles, and partition boards. These had to be settled before the April 7 circuit breaker kicked in that limited movement of people and shut down non-essential businesses. 
"The quantity of things that we required to be delivered within that short timeframe was really a very big constraint," said Mr Wong. "We had to go to many suppliers or think of alternative sources."  
There was an urgency to finish the retrofitting before April 7 because such activities would have to stop the night before to comply with the circuit breaker regulations, and special approval was needed to get people to continue working.  
Mr Wong said that thankfully, the company had a "tremendous amount of support" from the authorities, and the contractors and suppliers were "moving in tandem" to help get the facility up and running. 
Mr Wong commended everyone for their cooperation because it would not have been possible without everyone pulling together their resources and efforts, he said.
"By coming together and tackling issues on the ground, we were able to successfully convert a convention centre into a community isolation facility over a weekend," he said.
"Surbana Jurong is honoured to be entrusted with this project. In times of crisis, we find solutions in unity. That is what I love about this profession. It's in our DNA to solve problems."