Singapore extends port limits off Tuas amid maritime boundary standoff with M'sia
SINGAPORE — In view of recent "provocative developments" by Malaysia, Transport Minister Khaw Boon Wan said on Thursday (Dec 6) that Singapore will extend its port limits off Tuas with immediate effect.
SINGAPORE — In view of recent "provocative developments" by Malaysia, Transport Minister Khaw Boon Wan said on Thursday (Dec 6) that Singapore will extend its port limits off Tuas with immediate effect.
The gazetted expansion of Singapore's port limits — which overlaps Malaysia's unilateral extension of the Johor Baru port limits on Oct 25 — is "well within" Singapore's territorial waters, Mr Khaw said at a press conference held at the Parliament House.
On Tuesday, the Singapore Government disclosed that ships and vessels from Malaysia have been repeatedly intruding into Singapore's territorial waters off Tuas for two weeks, including vessels from the Malaysian Maritime Enforcement Agency and Marine Department Malaysia. At least two vessels were seen by TODAY intruding into Singapore's territorial waters on Thursday afternoon.
Fourteen intrusions have occurred so far with three Malaysian government vessels currently in Singapore's waters as of Thursday, said Mr Khaw, who called Malaysia's claim to the city-state's waters a "blatant provocation and a serious violation of our sovereignty and international law".
Adding that he was "greatly saddened" by what was happening, Mr Khaw reiterated that countries amend their port limits from time to time, but must do so in a way that "does not contravene international law or infringe on the sovereignty of another country".
Singapore last amended its port limits in 1997.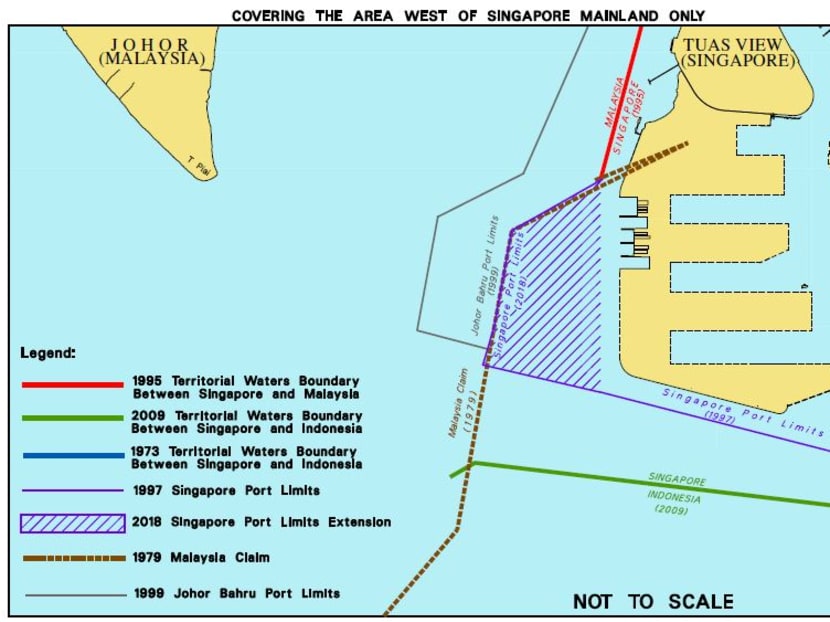 On Wednesday, Malaysia proposed a meeting between the two countries' Foreign ministries to discuss the outstanding maritime boundary issues. Mr Khaw said Singapore "naturally agrees to this and will follow up".
He added: "It has always been our view, ever since Malaysia published its first map in 1979, that the boundary line in this area can only be settled in accordance with international law and practice, through consultations between the governments involved."
He reiterated Singapore's call for Malaysian government vessels to cease their intrusions and return to "status quo before Oct 25". 
Singapore's security agencies will continue patrols in the area and respond to unauthorised activities. So far, they have responded "with restraint" against the aggressive actions of Malaysian government vessels, Mr Khaw said.
He stressed, however, that Singapore cannot allow its sovereignty to be violated or "new facts on the ground to be created".
"Therefore, if it becomes necessary, we will not hesitate to take firm actions against intrusions and unauthorised activities in our waters to protect our territory and sovereignty," he said.
While the violation of the city-state's sovereignty is a "serious new issue" in bilateral ties, Mr Khaw stressed that Singapore seeks friendly relations and close tie-ups with Malaysia.
Malaysian Prime Minister Mahathir Mohamad, who took power after a historic electoral victory in May, had "fruitful discussions" with his Singapore counterpart Lee Hsien Loong in the Republic last month, Mr Khaw noted. Mr Lee had flagged the maritime boundary issue as one that could affect bilateral ties, but further developments have since made the situation more serious, Mr Khaw added.
On Singapore's position with Malaysia, Mr Khaw said the Republic will continue to uphold international law and respect bilateral agreements.
But he added: "Having been in Government for 40 years, I cannot help feeling a sense of déjà vu."
He recounted how, during discussions on the Kuala Lumpur-Singapore high-speed rail project with Malaysian Economic Affairs Minister Azmin Ali, he had a "distinct feeling" that the young Malaysian ministers "want a fresh relationship with Singapore, without past baggage".
Mr Khaw said there is much both sides can gain by working together, and he believes citizens on both sides of the Causeway also expect younger leaders to "work together for a brighter win-win future".
Despite the diplomatic tensions, Mr Khaw said he remained optimistic.
"We still seek good bilateral relations and hope we can work together to find an amicable solution to these issues," he said.
"While we seek co-operation and friendship with other countries, we must never let other countries take advantage of us."