Singapore falling behind in productivity growth: Lim Hng Kiang
SINGAPORE — The Republic is falling behind in productivity, even as the economy grew moderately well at a "new normal" last year, said Minister for Trade and Industry Lim Hng Kiang in an exclusive interview with 938LIVE.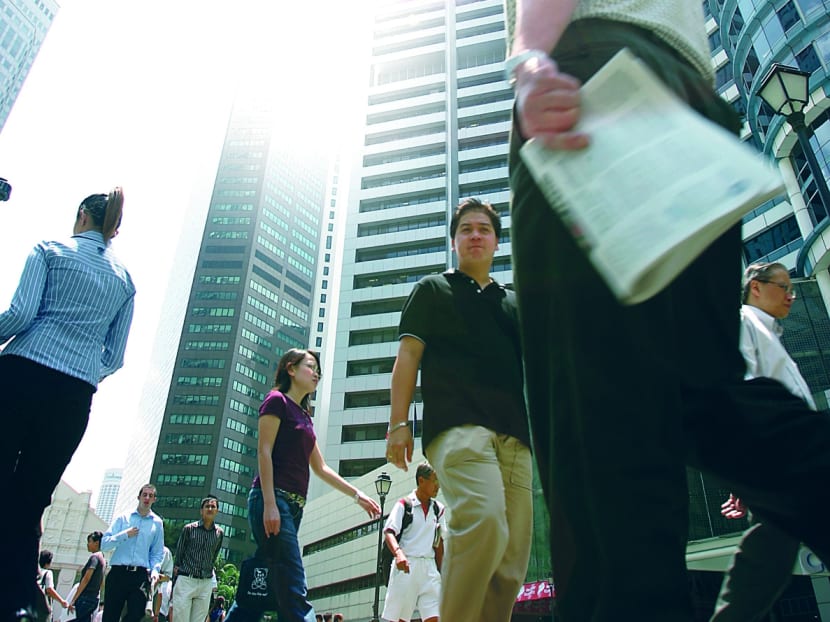 SINGAPORE — The Republic is falling behind in productivity, even as the economy grew moderately well at a "new normal" last year, said Minister for Trade and Industry Lim Hng Kiang in an exclusive interview with 938LIVE.
Mr Lim admitted that the republic was "not achieving the two to three percent (labour productivity) growth rate that we're aiming for."
Data released today (Feb 17) by the Ministry of Trade and Industry (MTI) showed that Singapore's labour productivity fell by 0.8 per cent last year — marking the third consecutive year of decline for productivity. Mr Lim said it reflects a mixed picture, with the externally-oriented sectors doing well, and the domestic sectors faring poorly.
"In some some sectors, the performance is very decent; for example in the financial services and insurance sector, productivity growth is above two per cent per year — because they are facing international competition, they have to restructure quickly."
However, he pointed out that the domestic sector is still not showing "very good results". This was particularly in the manpower-dependent areas of construction, retail, as well as food and beverage.
Minister Lim also voiced concern about the transport engineering sector. He said: "This is a very cyclical business and now with oil prices coming down, their order book is still good for the next three years. But there will be a down cycle soon, and that will affect their productivity if they don't restructure fast enough."
To help businesses, Mr Lim said the government has rolled out programmes on a broad scale, such as the Productivity and Innovation Credit scheme, as well as more targeted approaches like SPRING Singapore's Capability Development Programme where individual companies can get advice on their business growth.
When asked if the official forecast of two to four per cent economic growth this year is realistic, Mr Lim said: "This is our typical range going forward, around two to four per cent... so this is the kind of new normal that we are aiming at and this year we expect growth at about the same rate as last year, because the global environment is still challenging."
He noted that the US was the main driver of growth for last year, and is likely to remain so this year. "Essentially it's only the US economy that's doing well. Europe and Japan are having a big challenge and China is managing to have a soft landing at best. So the external environment is at best slightly better than last year, but not that much better."
Looking ahead to the Economic Strategies Committee's target of three to five per cent annual growth for Singapore between 2010 and 2020, Minister Lim said that "if you look at our performance in the 10 years between 2000 and 2010, the economy grow around six per cent per year. But if you look at the last four years we are averaging around three per cent."
He added that the government had worked towards slower, but higher quality growth. This included reducing the flow of foreign workers, and growing at half the rate that the country did 10 years ago.
One bright spot for the economy this year could be in oil prices. Mr Lim said the recent monetary easing by the Monetary Authority of Singapore was in response to the drop in commodity prices, and a low inflation environment. As a result, exports should benefit from a lower Singapore dollar.
"Lower oil prices, we think its net plus for the economy, because we are an oil importing country, it's a net plus for the businesses because electricity prices will come down, transport prices will come down. So businesses will do much better their input costs will come down."
But Mr Lim also cautioned that the low interest rate environment could end soon: "It's likely that in the US the interest rate will be raised sometime this year...at some point in time, we must adjust to a more normal situation where interest rates have to reflect the cost of people lending you money."
He added that this is the reason why MAS has taken steps in the last few years to ensure personal debt remains healthy.
Amid the uncertainties in the global economy, Mr Lim said the focus for Singapore's economy as she celebrates her golden jubilee is to perhaps emulate the US economy.
"We are having a more developed economy structure, our demographics are very similar to Japan and Europe — we are ageing very rapidly. So how do we try to have an economy that is more innovative, more dynamic, more like the US economy and less like the European and Japanese economy? That's our big challenge." 938LIVE