Singapore firms eyeing opportunities in North Korea; partnerships may be the way to go
SINGAPORE — With the historic meeting on June 12 between North Korean leader Kim Jong-un and United States President Donald Trump done and dusted, intrepid Singapore businesses are anticipating trade and investment opportunities in North Asia's last untapped market – although when such doors may open remains anybody's guess.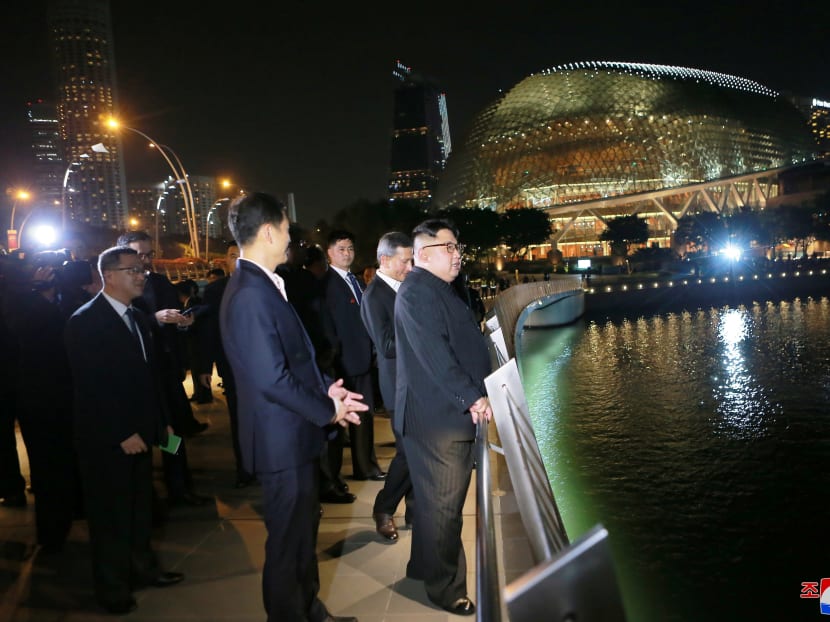 SINGAPORE — Back in 2013, North Koreans could get a taste of Singapore at Benata Business Centre in Pyongyang, where delicacies like chicken rice and laksa were served.
Those who wanted to whip up these meals at home could buy ready-made pastes at the supermarket in the same building.
Set up by Singaporean J Cheang, 46, the four-storey building also houses a restaurant, a gymnasium and a spa.
Mr Cheang's endeavour to promote Singapore culture and businesses in one of the world's most isolated countries met a roadblock in November last year, when Singapore cut economic ties with North Korea in line with toughened sanctions imposed by the United Nations Security Council.
"We had to stop trading directly with North Korea. Our local operators there (now) source their wares from other Chinese firms," Mr Cheang, 46, told TODAY.
With the historic meeting on June 12 between North Korean leader Kim Jong-un and United States President Donald Trump done and dusted, intrepid Singapore businesses are anticipating trade and investment opportunities in North Asia's last untapped market – although when such doors may open remains anybody's guess.
This was especially after Mr Kim was reported by his country's state media to have been impressed by "clean and beautiful" Singapore after taking a city tour the night before the summit.
The Singapore Business Federation (SBF) said the Trump-Kim summit could help bring lasting peace to North-east Asia. "This will provide crucial conditions for further trade and investments in the economic development of Democratic Republic of North Korea," said its chief executive Ho Meng Kit.
Singapore had trade links with North Korea for many years until last November, said Mr Ho. In 2015, Singapore was North Korea's sixth largest trading partner, with bilateral trade reaching US$29 million (S$39 million). But last year, the total amount of trade between the two countries amounted to just S$700,000.
The SBF has led missions to North Korea in the last decade and Mr Ho said its third and last visit was in 2012, which also included a visit to the Chinese city of Dandong, along the North Korean border.
In the wake of the joint statement by both leaders – with Mr Trump committing to provide security guarantees while Mr Kim committed to work towards the complete denuclearisation of the Korean Peninsula – the SBF does not foresee any immediate impact for Singapore businesses until international sanctions are lifted. It will continue to monitor developments.
"Over the longer term, as North Korea pursues a new path of economic advancement and engagement, it will be a new emerging market which will likely present some opportunities for our companies," said Mr Ho.
'CLEAN AND ORGANISED', BUT LACKING INTERNET ACCESS
Singaporean entrepreneurs who have ventured into, or near, North Korea say there is great potential in areas such as commodities and infrastructure. But gaining entry into the market may not be easy.
And should the North open up its economy, they said Chinese and South Korean entities would lead the charge, given their physical proximity and cultural understanding of the region. Partnerships with these firms could be the way to go.
Mr Cheang said he is confident that his business centre will be a "successful project" if and when sanctions are lifted.
"I invested in this business club four years ago to promote Singapore and our food. Singaporean businessmen who wish to invest in North Korea can also visit our club to get accurate information. It also has space for business people from both sides to have meetings," said Mr Cheang, who added that the investment came up to a seven-figure sum in US dollars.
He owns a second supermarket in another part of Pyongyang that is known as a technology and research area.
Mr Geoffrey See, who runs a non-profit group called Choson Exchange that trains North Koreans to be entrepreneurs, foresees the country "experimenting" with collaborations with Singapore.
"A day after Kim Jong-un was brought to the Marina Bay area, the country's state media published photo spreads of Singapore and Mr Kim saying good things about our development, as though promising that (North Korea) could also achieve this development… This could be a boost for Singapore and businesses here," said Mr See, who is in his 30s.
The group has led about 100 volunteers in various sectors to North Korea, and trained up to 1,200 of its people.
"The North Koreans I have met are enterprising and very interested in technology. Many of them have strong business aspirations which surprised me initially," said Mr See.
It took about two years for Choson Exchange to gain the trust of government officials and establish itself in North Korea. It now collaborates primarily with the Korea-Singapore Friendship Society and the State Academy of Sciences in North Korea.
Mr Cheang's journey was slightly smoother — his first supermarket took about six months to set up — but he also stressed the importance of partnering with the local government.
"I was initially sceptical… But I found North Korea to be very clean and organised, quite unlike other developing countries that my firm had ventured into. North Koreans are normal people like you and me, they are not as scary as some make (them) out to be," said Mr Cheang, who has an interest in what he calls "frontier" countries.
The "gleaming image" in Pyongyang may not be representative of other North Korean cities, cautioned Mr Koh Tiak Chye, managing director of developer Brothers Holdings, which owns a property in Dandong.
The UN's World Food Programme says the country "suffers high levels of food insecurity". According to a 2017 report on the State of Food Security and Nutrition in the World, 10.3 million people (41 per cent) are undernourished.
The lack of Internet access in North Korea and the need to travel around the country with a local "agent" or "sponsor" may also pose challenges to businesses.
Mr Cheang quipped: "You can call home (to Singapore) from North Korea, but it's very expensive, US$5 for a minute of talk time. I have to talk very quickly."
Even after sanctions are lifted – which SBF's Mr Ho suggested could take up to three years – venturing into North Korea will not be smooth sailing. "I think it could still take some time as businesses will be concerned about risks and insurance in a market nobody knows very much about," he said.
Small business owners could explore opportunities within government-to-government projects, said Mr Ho. He cited, for instance, the Kaesong Industrial Complex, an industrial park jointly run by North and South Korea, but which was suspended in 2016 over the North's nuclear test and rocket launch.
South Korea's Hyundai has future plans for the complex that include a golf course and a technology zone that could accommodate 2,000 companies and 600,000 employees, according to its website.
In the meantime, potential investors could visit the country to understand its environment and the challenges involved, said Mr See.
"There is a risk of just rushing in, so perhaps this is a good time for businesses here to do their due diligence and figure out what's the best way to find good partners there," he said.