Singapore tests alternative energy investments costing over S$30m
SINGAPORE — The next time you pass through the Tuas Checkpoint, look out for an unusual body of water to its right. Atop a hectare of waters at Tengeh Reservoir now lies the world's largest floating solar testbed, and it will be feeding energy from the sun to the national power grid from as soon as December.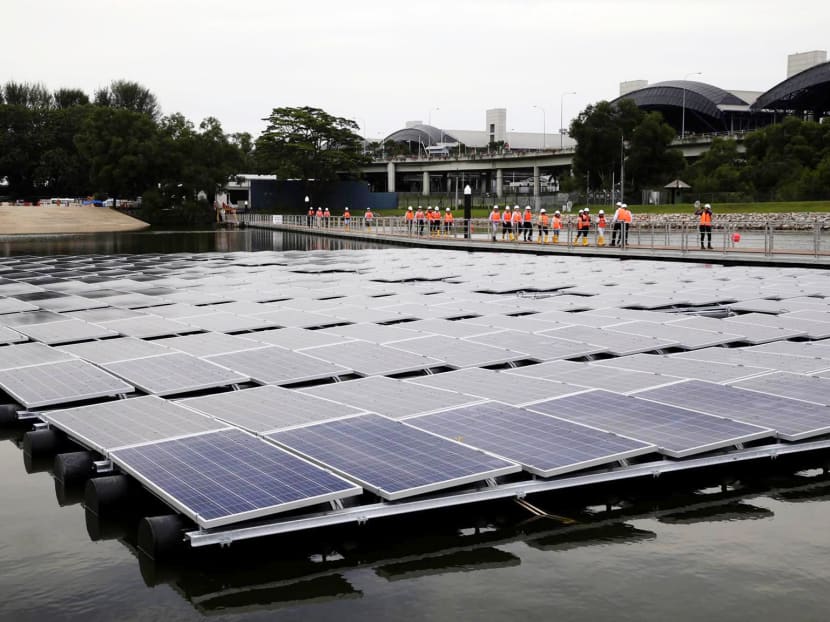 SINGAPORE — Frequent users of the Tuas Checkpoint may have noticed something unusual going on at Tengeh Reservoir recently – rows and rows of floating solar panels. Singapore now hosts the world's largest floating solar test-bed atop a hectare of waters at Tengeh Reservoir, and it will be feeding energy from the sun to the national power grid from as soon as December.
Over at Semakau Island, an area the size of eight soccer fields had been cleared to make way for a microgrid system that can consolidate power generated from multiple renewable energy sources – solar, wind, tidal, diesel, and power-to-gas technologies – to power the island's operations.
When the S$11-million floating solar photovoltaic testbed and S$20-million microgrid system projects ripen by next year, they will collectively produce four megawatts of electricity – enough to power up to 1,000 four-room flats at any one time.
These two multi-million projects were announced by Environment and Water Resources Minister Masagos Zulkifli at the opening of the Asia Clean Energy Summit on Tuesday (Oct 25), as he outlines Singapore's ambition to play its part in addressing climate change and to contribute to the Association of South-east Asian Nations' (ASEAN) renewable energy goals.
With the Paris Agreement to reduce greenhouse gas emissions set to come into force on Nov 4, he said: "Clean energy solutions will play a crucial role as countries work towards a carbon-constrained future. There is vast potential for growth and innovation in this space, and countries and cities must ready themselves to ride this wave of opportunity."
He added that such clean energy test-beds "allow Singapore to develop a leadership role in renewable energy development in the region".
POWERING OPERATIONS IN SEMAKAU
In the region, with 20 per cent of South-east Asia's population lacking access to electricity, microgrids are looked upon as a viable alternative power infrastructure, and Singapore aspires to achieve regional leadership in this area – hence the deployment of a microgrid test-bed at Semakau Island to develop and demonstrate microgrid technologies.
The initiative by the Nanyang Technological University's (NTU) Renewable Energy Integration Demonstrator-Singapore (REIDS) is testing how well different energy sources can operate well together. The first of four microgrid facilities have just been deployed at Semakau Landfill, which will power the National Environment Agency's infrastructure on the island as well as fish hatcheries and nurseries there.
This involves the installation of over 3,000sqm of photovoltaic panels – to generate 400kW peak of power – as well as a large-scale energy storage system. "A large challenge will be how (we can) accommodate more intermittent sources like wind and solar energy in energy storage, as we want to consume the energy as it suits us," said Prof Hans Bjorn Puttgen, senior director of the NTU's Energy Research Institute.
Work to build the other three microgrids will start at the end of this year, and they are projected to be operational by the third quarter of next year. The wind turbines and tidal machines to harness the energy from the waves will be introduced later in 2018.
Being only a one-megawatt system, Prof Puttgen emphasised that the "key application" for the microgrid system is not in local use, but that the hybrid microgrid can possibly become a model for "isolated villages and islands" and "remote areas that are not connected to a regular major power station" in neighbouring countries.
For example, REIDS is looking into developing its offshore microgrid projects at two islands in the Philippines that only gets eight to 10 hours of electricity a day, so that it can extend the hours of available electricity to 16 hours a day and more, Prof Puttgen said. "A good range of power is 500kW to a megawatt (to make that happen)."
CLEAN ENERGY FOR LOCAL USE
The floating solar system at Tengeh Reservoir, although three years late in becoming operational, is part of Sustainable Singapore Blueprint 2015 to plan for the Republic's next phase of sustainable development until 2030.
Over the past five months, nine different systems from seven companies – including three local start-ups: Sunseap, SolarGy, and BBR Greentech – were installed at Tengeh Reservoir. The last one by Italy's Enel Green Power is projected to be installed by December.
Once the 10 systems are hooked up to the national grid, they will be pitted against one other to see which system would be most economically viable under the same amount of sunlight. Besides energy yield and cost, they will also be judged by their temperature (cooler solar panels are more energy efficient), movements on water (to see if they are drifting too far or sinking), and environmental impact (evaporation rate, water quality and interference with wildlife).
The Solar Energy Institute of Singapore (SERIS) at National University of Singapore is managing the scientific evaluation of the test-bed led by the EDB and the PUB.
After about six months, two most efficient systems will be selected for deployment 10 times their current size at one-megawatts each for further tests.
Floating panels have been identified by EDB as a major area of focus in Singapore's "urban solar" approach to complement the SolarNova efforts to deploy solar systems on rooftops and help address the lack of space for solar deployment. Furthermore, a test in Malaysia have found that the cooling effect of water can improve energy generation by 20 per cent. To prove this further, SERIS had installed conventional rooftop solar panels on the testbed's substations for reference.
SERIS is also testing how the system might degrade over time, so the test could last as long as three to six years. 
When asked about the three-year delay in getting the test-bed up and running, the Economic Development Board's (EDB) executive director of Cleantech Goh Chee Kiong cited the logistical and technical complexities involved, including the difficulty in securing the "sensitive location" and the need to ensure that there are substations big enough to accept huge electrical loads.
Public Utilities Board's (PUB) Chief Sustainability Officer Tan Nguan Sen said there were "hiccups" in connecting the generated solar power to the national grid. "This is something new that is done for the first time in Singapore," he said. "It was a learning process we had to go through unfortunately."
"Floating (photovoltaic panels) have caught on in the past one to two years, we have seen developments in Japan, China, Europe, America, Australia and even India. So what this means is that it is a highly exportable knowhow, highly exportable sector that we want to groom, and we are seeing that by the strong interest by the various companies wanting to participate in the testbed in Singapore… (even) energy giants," said Mr Goh.
"The selling point is that we want them to establish their business hub in Singapore. After which then they will export the knowhow from Singapore."