Singapore intends to buy four F-35s, with option for eight more: Ng
SINGAPORE — Singapore intends to buy four F-35 Joint Strike Fighter aircraft, with the option of purchasing eight more, Defence Minister Ng Eng Hen said in Parliament on Friday (March 1).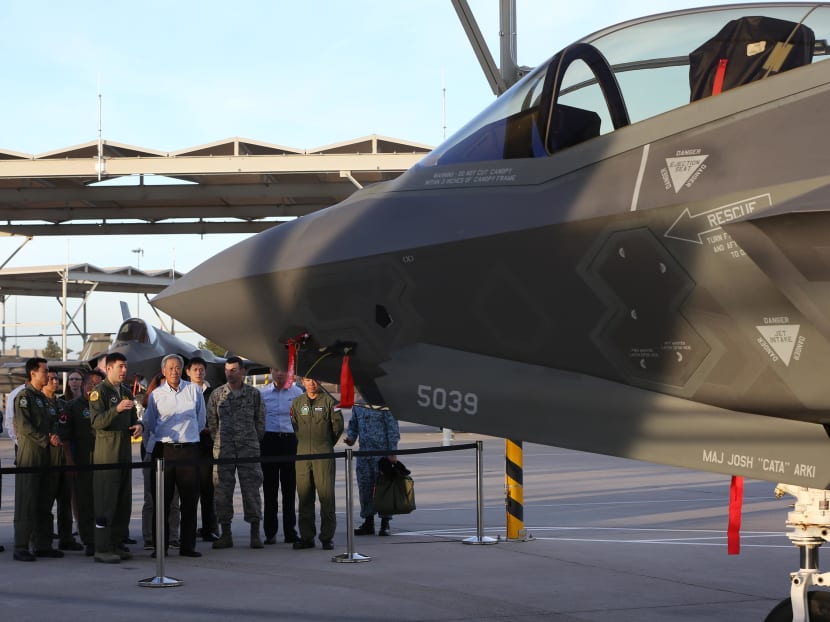 SINGAPORE — Singapore intends to buy four F-35 Joint Strike Fighter aircraft, with the option of purchasing eight more, Defence Minister Ng Eng Hen said in Parliament on Friday (March 1).
The Defence Ministry (Mindef) had said in January that it expected to acquire a small number of F-35s after identifying the jet as the most suitable replacement for its ageing F-16 aircraft, which will become obsolete after 2030.
This followed a five-year technical evaluation by the Republic of Singapore Air Force and the Defence Science and Technology Agency (DSTA).
Speaking during the debate on his ministry's budget on Friday, Dr Ng said the F-35's price has been falling steadily owing to healthy orders from the United States and 10 other countries, including the United Kingdom, Japan and South Korea.
The DSTA has assessed that it is an opportune time to submit Singapore's request, Dr Ng added.
He said the F-35's unit price now was comparable with what the authorities paid for the F-15SG fighter aircraft — ranging from US$90 million (S$122 million) to US$115 million.
The total cost of owning a fleet of F-35s, including maintenance across their lifespan, will also be similar to that of the F-15SGs, Dr Ng said.
READ ALSO:
What to make of Singapore's move to buy F-35 fighter jets
Day 3 of Budget debate: MPs call for S'pore to remain committed to security needs, anticipate new threats
Workers' Party chief Pritam Singh asked Dr Ng whether the F-35s Singapore expects to purchase would be the ones designed to operate from conventional runways, or those capable of short take-offs and vertical landings, which can function from short-field bases and air-capable ships. Responding, Dr Ng confirmed that Mindef would not be buying the "aircraft-carrier version" of the F-35s.
WHAT'S NEXT IN THE F-35 PURCHASE
Mindef will issue a letter of request to the United States to buy the jets, and the US Congress must approve the sale, as required under US law.
Singapore has the endorsement of the US administration and its Department of Defence for the proposed purchase, Dr Ng said, with President Donald Trump writing to Prime Minister Lee Hsien Loong last month welcoming Singapore's plan.
The US Acting Secretary of Defence, Mr Patrick Shanahan, also expressed his appreciation and support for Singapore's decision during his meeting with Dr Ng at the Munich Security Conference two weeks ago.
Here are other highlights of Dr Ng's speech:
WHY DEFENCE SPENDING IS HIGHER THIS YEAR
Mindef is estimated to spend about S$15.5 billion, up 4.8 per cent from S$14.8 billion in the previous financial year.
Dr Ng said the increase is due to certain projects or acquisitions having matured.
This means that in the coming year, the ministry foresees a number of projects or acquisitions would reach certain stages at which it would have to proceed with payment.
He did not specify which ones these are, but cited a slew of hardware improvements that Mindef is investing in.
These include the next-generation Armoured Fighting Vehicle, which will replace the ageing Ultra M113 Armoured Fighting Vehicle from this year.
The authorities also launched in Germany last month the first of four customised submarines meant to replace ageing ones, and are aiming to have the full fleet by 2025, he added.
Dr Ng told Parliament last year that the Singapore Armed Forces' (SAF) capabilities could be maintained with a defence spending that keeps in step with inflation, rising about 3 to 4 per cent yearly in the next decade.
That commitment still holds despite the slightly higher climb this year, and the overall defence expenditure would "even out" in the years to come, the minister said on Friday.
NEW NS HUB
To better respond to the needs of national servicemen, Mindef will also build a National Service (NS) Hub opposite Cashew MRT Station near Bukit Panjang, which will bring services now scattered across Singapore under one roof, Dr Ng said.
Construction on the 7.8ha "one-stop" centre — the size of nine football fields — will begin this year and finish by 2023. There will be direct access from the MRT station, which is along the Downtown Line.
When queried, Mindef did not disclose the cost of building the facility.
Soldiers will have quick access to various Mindef services at the hub, from pre-enlistment procedures to medical reviews and the Individual Physical Proficiency Test.
It will house the services of the Central Manpower Base, the Military Medicine Institute, a fitness conditioning centre, a large e-mart, and other facilities.
It will also tap technology, such as facial recognition, automation and analytics, to make the experience user-friendly for soldiers, Mindef said.