Singapore to launch electric vehicle car-sharing programme in 2017
SINGAPORE — Come next year, you might be able to book an electric car through an app on your phone, pick it up at a Housing and Development Board (HDB) block, and return it to a parking lot booked in advance near your destination, where another driver can pick it up.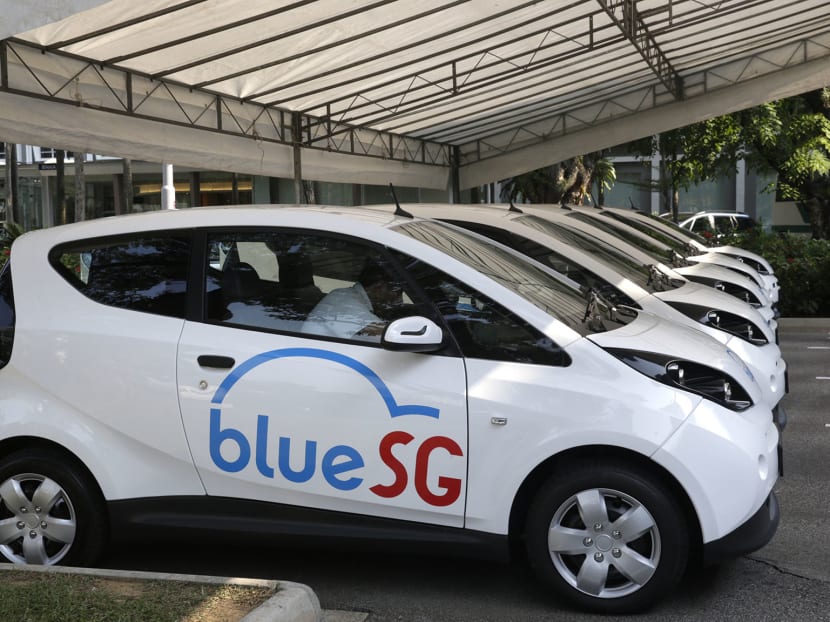 SINGAPORE — Come next year, you might be able to book an electric car through an app on your phone, pick it up at a Housing and Development Board (HDB) block, and return it to a parking lot booked in advance near your destination, where another driver can pick it up. 
This is part of Singapore's first large-scale, nationwide electric car-sharing programme to be launched by the middle of next year, with the first batch of 125 electric vehicles (EV) and 250 charging points to be rolled out in towns such as Ang Mo Kio, Jurong East and Punggol.
The 10-year programme will be developed and operated by BlueSG, a subsidiary of the Bollore Group, which operates the largest fully-electric car sharing programme in the world, with operations in cities such as Paris, Bordeaux, Lyon and Indianapolis.
Pricing details are still being worked out, but the service will operate on a subscription basis, and members could be charged less than S$10 for a 15-minute journey.
Speaking at the signing ceremony on Thursday (June 30) afternoon, Transport Minister Khaw Boon Wan said: "Car sharing allows more people to have access to a car without needing to own one … Most electric vehicles are quieter than conventional vehicles, and do not have tail-pipe emissions. This makes for a better living environment, particularly in a dense city like ours," he said.
There are also plans to conduct fleet-based trials involving e-taxis and e-buses, with details to be released in due course.
Bollore's proposal beat 12 others, after more than a year of "careful evaluation" by government agencies such as the Land Transport Authority (LTA) and Economic Development Board.
By 2020, a total of 1,000 electric cars will be rolled out under the programme, as well as 500 BlueSG stations and 2,000 charging points. These will be located at all HDB towns, the CBD and key industrial areas. 
A total of 2,000 parking lots will also be set aside. And up to 20 per cent of the charging points will eventually be made available for public use. 
Mr Khaw added: "While car sharing has been widely adopted in Europe, and is growing rapidly in the United States, it is currently a small market in Singapore ... We hope to see car sharing usage rise through collaborations such as (this one)."
He noted that Singapore has a total of 300 shared cars and 10,000 users, a number he hopes to raise "10-fold".
As part of efforts to support EV use, the Government will also adopt a nationwide public charging standard from August. All new charging stations installed in publicly accessible areas will use the European Type 2 AC charging standard, which can charge a vehicle in one to two hours.  
The EV fleet by BlueSG will not affect the current demand for cars as they will not be considered within the COE quota system.
Mr Franck Vitte, head of Asia at Blue Solutions, which is part of the Bollore Group, said the take-up rate was a little "slow" when the service was introduced in Paris. 
Now, it has a total fleet size of 4,000 EVs, with more than 120,000 members in the city.  
"We want to be close to where people live, play and work, and where there's a density of population where a lot of people can benefit ... That's where the success comes very quickly," he said. 
BlueSG will also set up a centre here for its partners to develop, test and implement innovations in areas such as mobility and data analysis. It is expected to create about 250 jobs in Singapore in the first five years of the programme.
Dr Park Byung Joon, a senior lecturer at SIM University, called the flexibility of such a system a "good starting point" towards fulfilling Singapore's vision of a car-lite society. 
"If you look at the Western world, that's the direction everyone is heading for … operators can start with a small number, but when it's more successful, they can look at doubling their fleets quickly," he said. 
National University of Singapore transport researcher Lee Der-Horng noted that Singapore's flat landscape and small size is conducive for EV technology to take off, especially with more charging stations available.
But while Singaporeans might be "receptive" to car sharing schemes, price remains an obstacle to EV adoption. "If the Government wants to promote EV ownership in the long term, it would also have to provide different price considerations to make it (cheaper) and more attractive to own," he said.
Communications executive Thrina Tham, 24, who drives the family car once a week, welcomed having an alternative to buying her own car. 
"It's a good alternative if they can find ways to integrate such a system seamlessly with public transport, and make it convenient and accessible …You don't have to pay for petrol, or the parking fees … It's definitely something I would consider as an option," she said.
Correction: In an earlier version of this story, we said the goal was to get 10,000 electric cars on the road under the programme. This is incorrect. We apologise for the error.